Logic is a wonderfully deep, creative piece of software! There's no doubt about that...  It has steadily become easier to setup and use since Apple acquired it from Emagic But, as any software user .
A lógica é uma maravilhosa peça de profundidade, criadora de software! Não há dúvida sobre isso ...
Então, o que você pode fazer? Bem, a tutoriais e fóruns são muitas vezes porta da maioria das pessoas, antes de chamar. Mas o que dizer se você quiser tentar diagnosticar o problema sozinho? Você não precisa ser um gênio da tecnologia para resolver alguns problemas ... equipar-se com uma caixa de ferramentas de
Um dos problemas mais comuns experimentados por usuários Logic é quando você não pode obter qualquer saída de som de um projeto de Logic. Ou não o problema é baixo para o usuário de erro (isso acontece com o melhor de nós!), Baseado em hardware (interface de áudio, superfície de controle, monitores, cabos, ...), carneiro mal ou um erro de software ou recurso, estes dicas vão ajudá-lo a diagnosticá-la, compreendê-lo e, finalmente, resolvê-lo!
Eu recomendo ler as dicas abaixo desses, mesmo se você nunca encontrou um problema como este em Lógica.
Dica 1 - Verifique se o seu Hardware
O 'root' passo é verificar se sua interface de áudio está conectado corretamente, os cabos firewire / USB estão conectados a partir da interface para Mac e todos os cabos, como monitor e fones de ouvido estão conectados corretamente. Certifique-se de níveis de volume são levantadas adequadamente e é uma boa idéia, neste ponto, verifique se os cabos estão ok. Trocá-los. Se você não conseguir trocá-los (o que você não tem nenhum poupa?), Então você pode voltar a esta etapa posterior.
Você também deve verificar se tem os últimos drivers para sua interface de áudio e hardware disponíveis no site do fabricante. Sempre verifique antes de instalar o driver (s) que sejam compatíveis com a versão do Logic e OS X você está executando.
Dica 2 - Audio MIDI Setup

Audio MIDI Setup permite configurar dispositivos MIDI e áudio conectado ao seu Mac. É uma boa idéia para verificar este pequeno aplicativo para fora. Ele está localizado na sua pasta Aplicativos / Utilitários.
Escolha Janela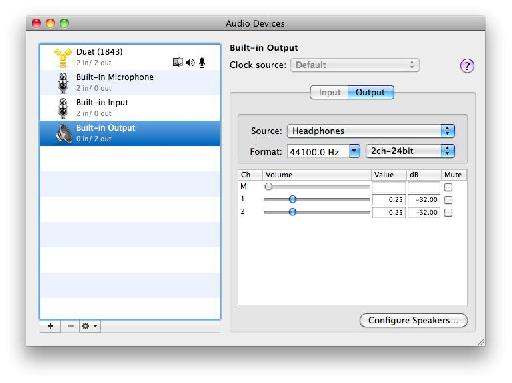 Dica 3 - Configuração de Dispositivo de Saída

Outro bom teste é fazer som certeza está saindo de outros aplicativos em seu Mac, o iTunes, por exemplo ... Mas uma vez que nós estabelecemos que o áudio do seu Mac é reproduzir bem, é hora de virar à Lógica.
In Logic choose Logic Pro > Preferences > Audio

Under the Devices tab, you should see the Core Audio tab (which should be enabled).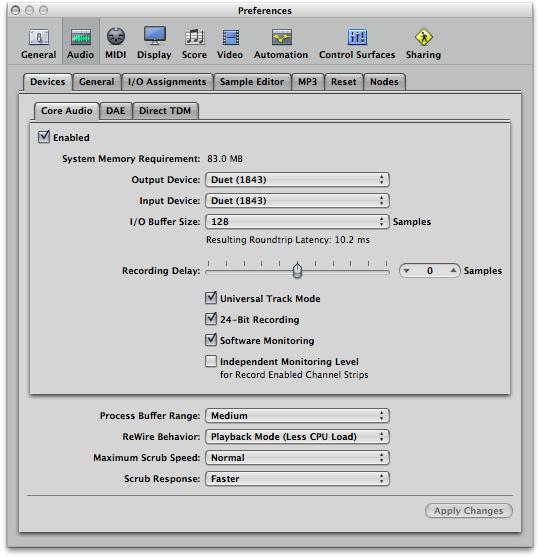 Em Core Audio você vai encontrar o dispositivo de saída e dispositivo de entrada. Certifique-se que estes são configurados apropriadamente para sua interface de áudio.
Na imagem acima, eu tenho meu set Apogee Duet como o de saída e um dispositivo de entrada. Se você tiver uma interface de áudio selecioná-lo. Se não, use a sua saída do Mac Built-In como o seu dispositivo de saída.
Dica 4 - Verifique seus canais

Em Lógica abrir o Mixer e certifique-se saídas de seus canais "ou estão sendo encaminhados para o Stereo Out, ou se você está roteamento-los através de um Bus, que o canal correspondente auxiliar é começar encaminhado para a saída.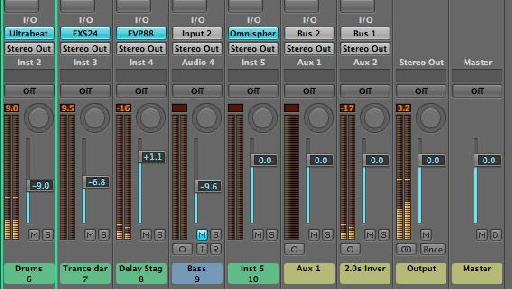 Na foto acima, somos capazes de saber algumas informações:
Som está sendo registrado e reproduzido no motor interno Lógica de áudio em vários canais.

O sinal de cada faixa de canal está sendo encaminhada para a faixa de canal de saída.

A faixa de canal de saída não é silenciado e podemos ver a atividade em que é medidor de nível.

Nenhum dos instrumentos (Ultrabeat, EXS24, EVP88, etc) são ignorados (acinzentado).

O Mestre strip Canal não é nem mudo nem é de baixo nível suficiente para que possamos ouvir a saída de Logic.

Dica 5 - Verifique Mute e Solo

Há maneiras diferentes de mute e solo em Lógica. É possível mute / solo no canal strip nível, o nível de pista, nível de região e até mesmo nível de eventos MIDI (uma única nota MIDI, por exemplo).
Na foto Mixer seguinte eu tenho uma faixa de canal único no modo solo, para que o sinal de outros canais serão impedidos de alcançar a saída. Você pode dizer este é o caso, como os botões de mute estará a piscar.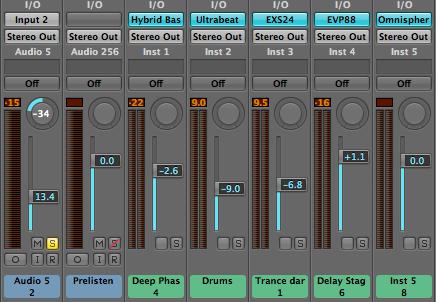 Se por algum motivo você não consegue encontrar a faixa de canal solado, clique na guia Tudo em Mixer e procurar manualmente por ele, ou Option botão qualquer canal de solo duas vezes. Não tiras canal será no modo a solo agora.
Dica 6 - Solo na Organizar

Quando na área Arrange você pode querer solo de uma região ou grupo de regiões, enquanto organizando ou mistura. Alcançar a maioria dos usuários para o botão Solo na Transport ou selecione uma região e pressione a tecla S.
As regiões selecionadas se destacado com uma borda amarela. No entanto, se você desmarcar uma região (clicando no fundo da área Arrange você não vai ouvir nenhum som do seu projeto, pois nenhuma região está selecionada e Logic ainda está em modo de Solo).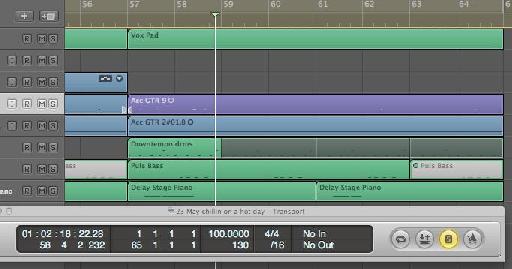 The solution is to check the solo button in the transport is off. If for some reason you've removed it from the Transport, you can tell when solo mode is active as the Bar Ruler is highlighted in yellow.
Dica 7 - Automação Confira

Pode ser que a automação mudo ou solo foi escrito em seu projeto. Escolha Exibir
Você pode também querer verificar o seu canal de saída estéreo para valores de automação ... Primeiro você precisa adicioná-lo à área Organizar, porque, por padrão Aux e tiras canal de saída não são exibidos na área Arrange.
Abra o Mixer, botão direito do mouse sobre a Faixa de Canal de Saída e escolha Criar / Select Organizar Trilha do menu suspenso.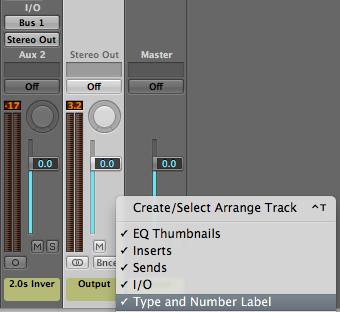 Dica 8 - A prelisten Channel Strip

O prelisten faixa de canal é usado por Logic para visualizar Apple Loops e regiões de áudio a ser reproduzido no Editor de amostra.
Que é normalmente reservada em Áudio Channel Strip 256. Abrir o Mixer e clique na guia ALL no canto superior direito. Rolar em frente até encontrar o canal prelisten.
Agora, abra o navegador de Loop e clique em qualquer loop. Você deve ouvir algum áudio que sai do Logic e através de sua interface de áudio. Se ainda não há um som vindo do resto do seu projeto, verifique os botões de solo e mute ...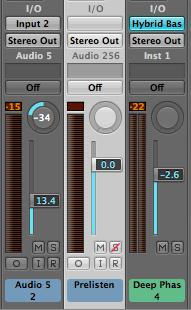 .

Dica 9 - Verifique a sua saída Stereo ... Existe (!)

Este é interessante, e foi trazido a minha atenção por um usuário nos fóruns Logic macProVideo.com. Se você excluir por engano a faixa de canal de saída Stereo no ambiente ou no Mixer você não vai ouvir o áudio de seu projeto a menos que esteja de roteamento de áudio para uma saída diferente ...
Para remediar esta situação, abra o Meio Ambiente e navegue até a camada Mixer. Aqui escolha Novo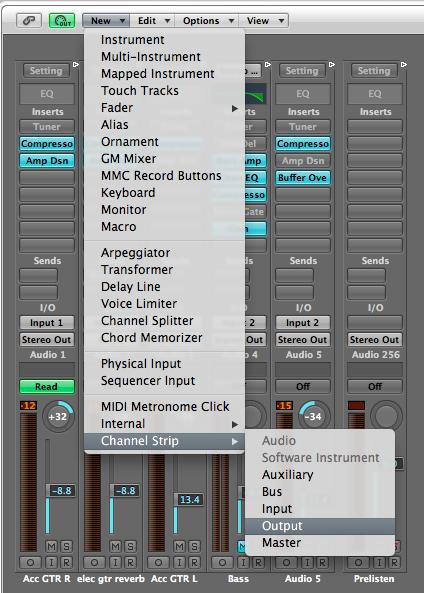 Você deve ouvir a saída de som do seu projeto de novo!
Dica 10 - Considerações finais

É incomum, mas não inédito, que um projeto pode se tornar corrompido. Neste caso, tente criar um novo projeto e usar o prelisten
Logic saves backups of your project file in the Project folder/ Project File Backups sub-folder.
Try opening one of these to see if your project can be recovered. If it can, save as a new project to a new location with a new name and continue working on that version.
Você sabe, eu não vou deixar você ir, até que eu falei sobre como fazer backup de seus arquivos importantes. Então, vá de backup ... use um aplicativo como o Carbon Copy Cloner ou Super Duper ou Time Machine para fazer backup de todo o sistema ... ou copiar seus arquivos importantes para uma unidade externa ou em DVD.
E, finalmente, aqui está um pouco útil procedimentos de manutenção práticos que podem ajudar - e eles não podem fazer mal ...! O OS X Troubleshooting trindade:
Restart your Mac (quit all applications and choose Apple Menu > Restart...)

Repair Permissions (check out this thread on how to repair permissions on the Mac)

Trash/remove the Logic Preferences file: Go to User Home folder/Library/Preferences/Logic/ and move the file: com.apple.logic.pro.plist to the Desktop. Restart Logic...

Equipado com todas as dicas acima Logic resolução de problemas que não só vai ser capaz de descobrir algumas comuns e incomuns "sem som" questões em Lógica, mas você vai vir a ser considerado como o guru Logic para todos seus amigos.
Interested in learning more about Logic? These tutorials will help you to become proficient whether you are starting out or looking for advanced tips, tricks and techniques! We'd love to hear your tricks, shortcuts & opinions. Let us know what you think by writing a comment below!