Поиск и устранение неисправностей 101: Нет Аудио выход из логики? Нет проблем!
Logic is a wonderfully deep, creative piece of software! There's no doubt about that...  It has steadily become easier to setup and use since Apple acquired it from Emagic But, as any software user .
Логика удивительно глубокий, творческий часть программного обеспечения! Там нет сомнений, что ...
Итак, что вы можете сделать? Ну, учебники и форумах часто большинства людей первый порт захода. Но как быть, если вы хотите, чтобы попытаться определить причину проблемы самостоятельно? Вам не нужно быть гением, чтобы технологий решить некоторые вопросы ... оснащение себя инструментарий
Один из наиболее распространенных проблем, которые испытывают пользователи логики, когда вы не можете получить любой звук из логики проекта. Или нет, проблема до пользователем ошибки (это случается с лучшими из нас!), Аппаратная (аудио интерфейс, контроль поверхности, мониторы, кабели, плохо ...), барана или ошибка программного обеспечения или функции, эти советы помогут вам поставить диагноз, понять его и в конечном итоге решить ее!
Я рекомендую прочитать приведенные ниже советы эти, даже если вы никогда не сталкивались вопрос, как это в логике.
Совет 1 - проверьте свое железо
«Корень» шагом будет проверить, что ваши аудио интерфейс подключен правильно, FireWire / USB кабели подключены с интерфейсом для Mac и все кабели, такие как ваш монитор и наушники подключены правильно. Убедитесь, что уровни объема поднял соответствующим, и это хорошая идея, на данный момент проверить, что кабели в порядке. Замена их. Если вы не можете поменять их местами (то, что вы не имеете любые запасные части?), То вы можете вернуться к этому шагу позже.
Вы должны также проверить, что у вас последние драйвера для вашей звуковой интерфейс и соответствующее аппаратное обеспечение можно найти на сайте производителя. Всегда проверяйте, прежде чем устанавливать драйвер (ы), что они совместимы с версией логики и OS X вы используете.
Совет 2 - Audio Setup MIDI

Audio Setup MIDI позволяет вам настроить MIDI и аудио устройства, подключенные к Mac. Это хорошая идея, чтобы проверить это небольшое приложение, из. Он расположен в Applications / Utilities папки.
Выберите Окно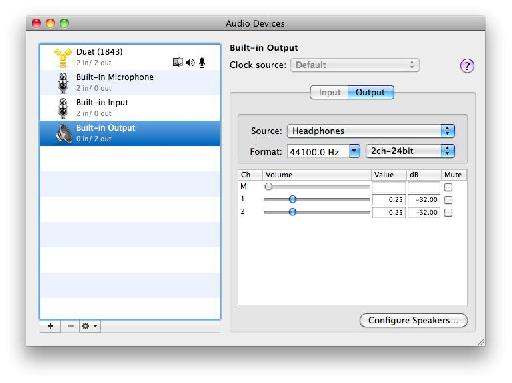 Совет 3 - Настройка выходного устройства

Еще один хороший тест, чтобы убедиться, звук исходит из других приложений на вашем компьютере, например, ITunes ... Но как только мы установили, что звук вашего Мака воспроизводит хорошо, пришло время обратиться к логике.
In Logic choose Logic Pro > Preferences > Audio

Under the Devices tab, you should see the Core Audio tab (which should be enabled).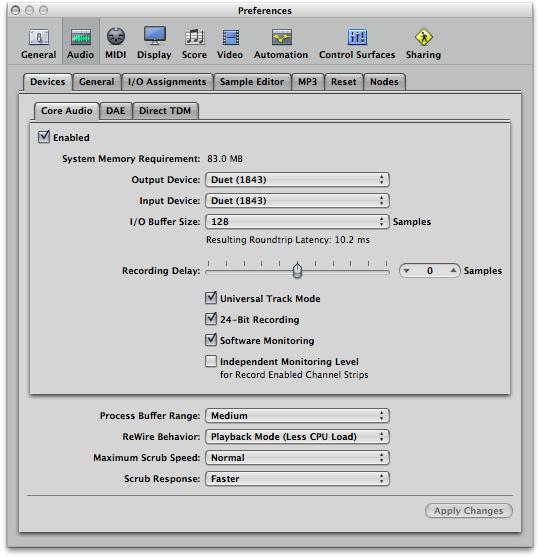 В Core Audio вы сможете найти устройство вывода и устройство ввода. Убедитесь, что эти могут быть сконфигурированы в соответствии с вашим аудио интерфейс.
В изображении выше, у меня есть апогей Дуэт установить в качестве входных и выходных устройств. Если у вас есть аудио интерфейс выбора. Если нет, то использовать встроенный в выходной вашего Мака в качестве устройства вывода.
Совет 4 - Проверьте свои полосы канала

В Логика открытых смесителя и убедиться, что ваш канал выхода полосы ", либо быть направлен на стерео выход, или если вы маршрутизации их с помощью автобусов, что соответствующий вспомогательный канал начинает направляется на выход.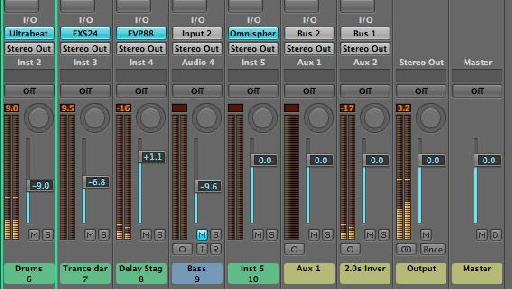 На картинке выше, мы можем установить определенную информацию:
Звук в настоящее время зарегистрированы и воспроизводятся во внутренней звуковой движок Logic, на канале полос.

Сигнал от каждой полосы канала в настоящее время направляются непосредственно в полосе канала вывода.

Полосы выходного канала не отключен, и мы видим активность в это индикатор уровня.

Ни один из инструментов (Ultrabeat, EXS24, EVP88 и т.д.) обходятся (серым цветом).

Мастер полосы канала не является ни приглушенный, ни является его на достаточно низком уровне, что мы можем слышать выход из Logic.

Совет 5 - Проверьте, Mute и Соло

Там по-другому способами немым и соло в Logic. Есть возможность отключения / соло на уровне полосы канала, отслеживание уровня, уровне региона и даже MIDI-событий уровне (одного MIDI отметить, например).
В следующей картине Смеситель я одной полосы канала в одиночном режиме, так что сигнал с других каналов будет остановлен добраться до выхода. Вы можете сказать, дело обстоит именно так, как кнопки отключения звука будет мигать.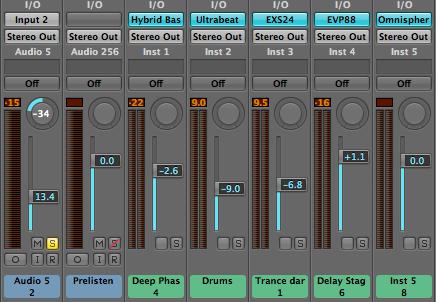 Если по каким-то причинам вы не можете найти соло полосу канала, нажмите на вкладке Все в смеситель и ручного поиска, или Option-нажмите кнопку соло любого канала в два раза. Канал не полос будет в соло режиме.
Совет 6 - Соло в Устройте

Когда в Упорядочить область, которую вы, возможно, пожелают соло региона или группы регионов при организации или смешивания. Больше всего посетителей досягаемости для Соло кнопку транспорта или выберите регион и нажмите клавишу S.
Отдельных регионах стали выделены желтой рамкой. Однако, если вы отмените региона (нажав на фоне Упорядочить область, которую вы не услышите звук из вашего проекта, потому что ни один регион не выбран и логика все еще находится в одиночном режиме).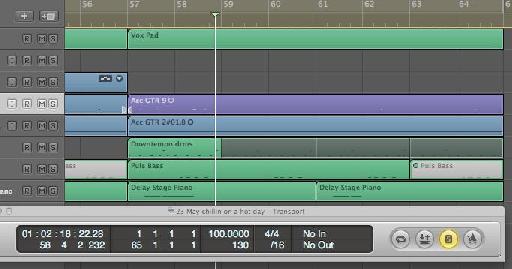 The solution is to check the solo button in the transport is off. If for some reason you've removed it from the Transport, you can tell when solo mode is active as the Bar Ruler is highlighted in yellow.
Совет 7 - Проверка Автоматизация

Не исключено, что отключить или соло автоматизации было написано в проекте. Выберите View
Вы также можете проверить вашу стерео канала Выход для автоматизации ценностей ... Сначала вам нужно, чтобы добавить его Упорядочить области, потому что по умолчанию Aux и полосы выходного канала не отображаются в Упорядочить области.
Открытое Mixer, щелкните правой кнопкой мыши на полосе канала вывода и выберите команду Создать / Выбрать дорожку аранжировки из выпадающего меню.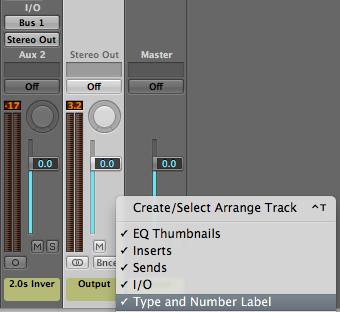 Совет 8 - Prelisten Channel Strip

Полосы Prelisten канал используется для предварительного просмотра логики Apple Loops и аудио регионах воспроизводимого в Sample Editor.
Это обычно защищены от Audio Channel Strip 256. Открытое смесителя и нажмите на вкладке Все в правом верхнем углу. Прокрутка вдоль, пока не найдете Prelisten канала.
Теперь откройте браузер петель и нажмите на любую петлю. Вы должны услышать звуковой выходя из логики и через аудио интерфейс. Если до сих пор нет звука, идущего от остальной части вашего проекта, проверить соло и кнопки отключения звука ...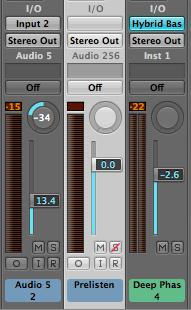 .

Совет 9 - Проверьте стереофонического сигнала ... Существует (!)

Это интересный, и был доставлен в мое внимание пользователей на форумах macProVideo.com Logic. Если вы по ошибке удалить стерео полосы канала Выход в окружающей среде или смеситель вы не услышите звук из вашего проекта, если вы не маршрутизации аудио в различных выходных ...
Чтобы исправить это, откройте окружающей среды и перейдите к Смеситель слоя. Здесь выберите команду Создать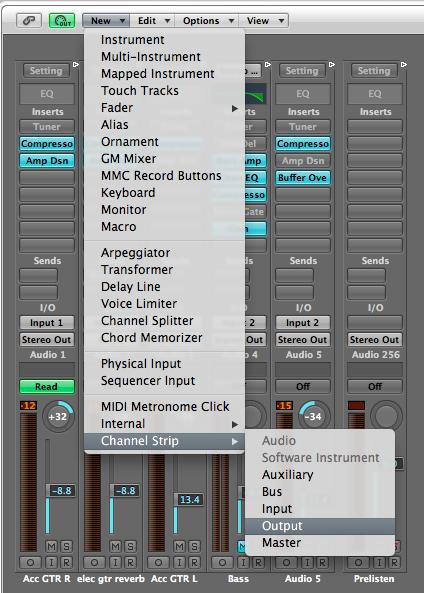 Вы должны услышать звуковой выход из проекта еще раз!
Совет 10 - Заключительные мысли

Это необычно, но не неслыханно, что проект может быть поврежден. В этом случае попробуйте создать новый проект и использовать Prelisten
Logic saves backups of your project file in the Project folder/ Project File Backups sub-folder.
Try opening one of these to see if your project can be recovered. If it can, save as a new project to a new location with a new name and continue working on that version.
Вы знаете, я не отпущу тебя, пока я говорил о создании резервной копии важных файлов. Так, пойдите резервного копирования ... использование приложения, как Carbon Copy Cloner или супер пупер или Time Machine для резервного копирования всей вашей системы ... или скопировать важные файлы на внешний диск или на DVD.
И, наконец, вот некоторые полезные практические процедуры по техническому обслуживанию, которые могут помочь - и они, безусловно, не повредит ...! OS X Устранение неполадок троицы:
Restart your Mac (quit all applications and choose Apple Menu > Restart...)

Repair Permissions (check out this thread on how to repair permissions on the Mac)

Trash/remove the Logic Preferences file: Go to User Home folder/Library/Preferences/Logic/ and move the file: com.apple.logic.pro.plist to the Desktop. Restart Logic...

Оснащенный всеми выше логика советы по устранению неполадок вы будете не только быть в состоянии выяснить некоторые общие и необычные "без звука" вопросы логики, но вам стало рассматриваться как логика гуру всем своим друзьям.
Interested in learning more about Logic? These tutorials will help you to become proficient whether you are starting out or looking for advanced tips, tricks and techniques! We'd love to hear your tricks, shortcuts & opinions. Let us know what you think by writing a comment below!