Learning how to automate levels, pan and virtually any plug-in control in Logic opens a whole world of possibilities when mixing your music. Not only can you draw automation offline but you can also r
Learning how to automate levels, pan and virtually any plug-in control in Logic opens a whole world of possibilities when mixing your music. Not only can you draw automation offline but you can also record automation in real-time in too. Without doubt this can be one of the more fun aspects of Mixing! Thanks to Global Tracks in Logic, it's possible to create tempo changes offline. And, if you're looking to create tempo changes in real-time and record the tempo movements to your Tempo Global Tracks? This would be great for creating a quick Tempo Map or playing live. At first glance it seems like it can't be done. But never say never when it comes to Logic's Environment...
Step 1 - Getting started
Open an existing Logic project or create a new one. Create as many tracks as you need plus an extra one. It doesn't matter what type of track as we'll reassign it later.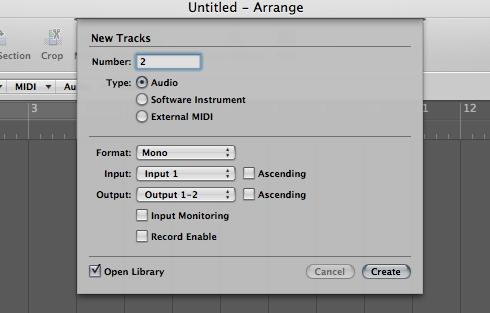 In this case I've created two audio tracks.
Step 2 - Go Environmental
Open a New Environment window from Window > Environment (Command+8).
Navigate to the Clicks & Ports layer.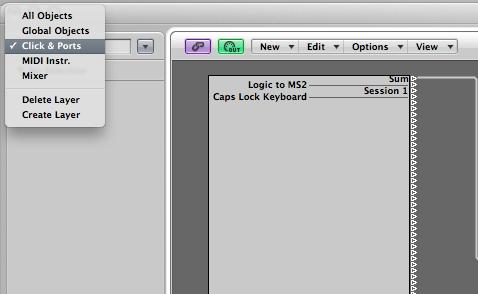 Step 3 - Fader Time
In Logic's Environment you can set the Input and Output for faders to a plethora of different MIDI messages. There, are some 'preset' faders already set up to control certain functions. You can find a fader to control Tempo here in the Environment's local menu:
New > Fader > Specials > Tempo Control
You'll get an alert message which warns you that to use the Tempo Fader to record it's values to Logic's Tempo control it must be cabled directly into the Sequencer Input object. Click OK to continue.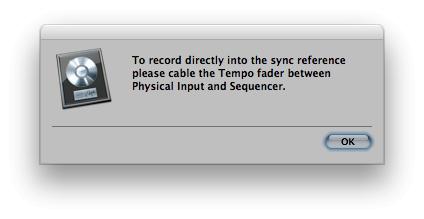 Your Tempo fader should look something like this.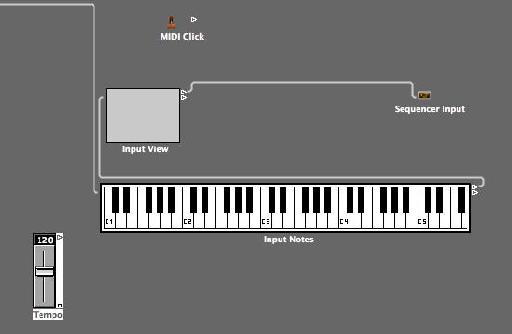 Step 4 - Size is Everything
You can resize any Environment object by selecting it and dragging on the white square in the lower right corner. The larger the Fader the more accurate you can be when creating tempo changes.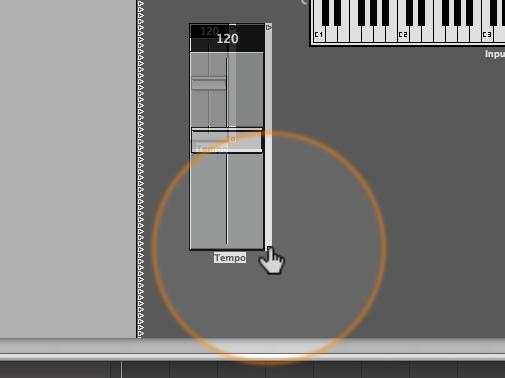 Also, let's make this Environment window in to a Floating window so it always appears on top. Choose: View > Frameless Floating Window
Step 5 - Controlling Tempo
Before we cable the new Fader to any other object, try moving the level and look at your Transport Display. You'll notice that we are controlling Logic's tempo!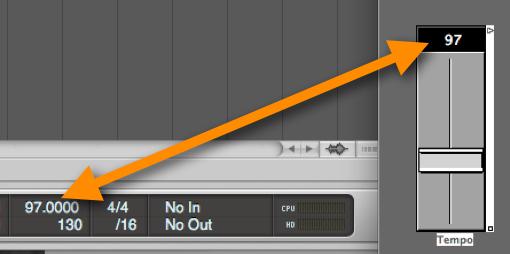 However, if you begin playback move the Transport Fader, press Stop and resume playback again, you'll notice that Logic's Tempo reverts back to the initial value.
Step 6 - Global Tracks
Before we continue and make the connection to allow us to record these Tempo Fader movements into Logic, let's take a look at how to visualize the 'tempo map' in Logic.
First up is the Tempo Global Track. Click on the Global Tracks disclosure triangle (or press "G" on your keyboard) to expand the Global Tracks area. Resize the Tempo Global Track as desired.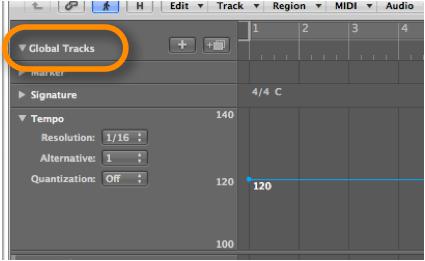 Step 7 - Tempo List
Open the Lists Area and click on the Tempo tab. Both the Tempo Global Track and Tempo List provide alternative ways of viewing (and creating) the tempo map(s) for your project.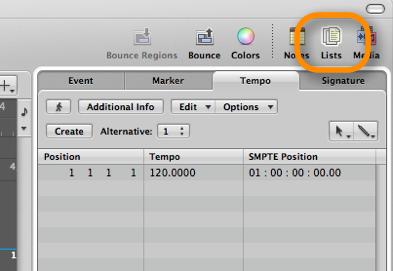 Step 8 - Cable it
Now in order to record the Tempo Fader's BPM value onto the Tempo Global Track we need to cable the output of our Tempo Fader (in the Environment) into the Sequencer Input. The Sequencer Input basically represents Logic's Sequencer.
We don't have to cable it directly as long as the signal from our Tempo Fader reaches the Sequencer Input... So, for example, you could drag from the triangle in the top right of the Fader and connect the resulting cable to the "Input View" or "Input Notes" object as they are cabled to the "Sequencer Input" anyway.
Having said that, I've the cabled the output from my Tempo Fader directly into the Sequencer Input as shown in the image below: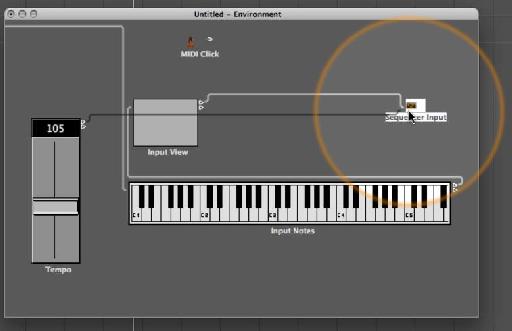 Step 9 - New Tempo track
This isn't a necessary step, but it's one I prefer to do to keep things organized. We're going to assign our Tempo Fader to an existing track in the Arrange area. There are 3 easy ways to do this, but my preferred method is drag-n-drop.
Position the Environment window so that you can see the Arrange area's Track Headers. If you haven't already done so, now is a good time to create an extra track (any type will do). Now simply drag the Tempo Fader in the Environment window on to a Track Header in the Arrange area to reassign it.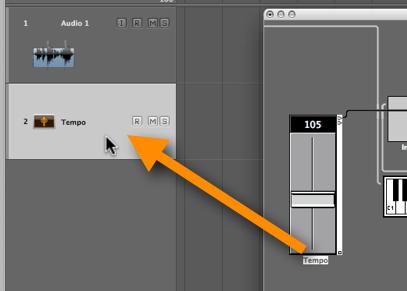 Step 10 - Real-time Tempo Automation
The last step is to place the Play Head where you wish to begin automating the tempo, hit the Record button and begin moving your Tempo Fader as desired.
You will not see any tempo info being written to the Tempo Global Track or Tempo List whilst recording, but when you stop recording, the tempo information will have been added and Logic will respond to this info upon playback!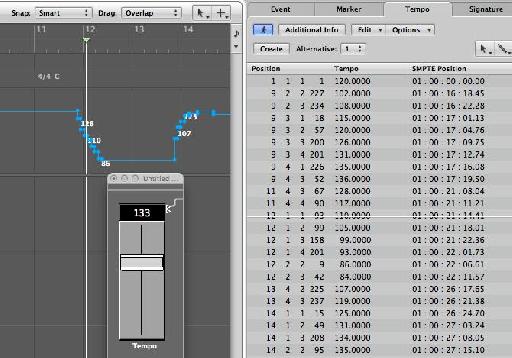 You can now edit this tempo information in either the Tempo List or Tempo Global Track as desired.
Want to learn more Logic and Logic Environment tips and tricks? You'll love this tutorial then!