Learning how to automate levels, pan and virtually any plug-in control in Logic opens a whole world of possibilities when mixing your music. Not only can you draw automation offline but you can also r
Lernen, wie man Ebenen, Schwenk-und praktisch jedes Plug-in-Steuerung in Logic eröffnet eine ganze Welt von Möglichkeiten beim Mischen Ihrer Musik zu automatisieren. Sie können nicht nur zu zeichnen Automatisierung offline, aber Sie können auch aufzeichnen Automatisierung in Echtzeit in auch. Ohne Zweifel kann man die mehr Spaß Aspekte der Mixing werden! Dank Globale Spuren in Logic, ist es möglich, Tempowechsel offline zu erstellen. Und wenn Sie schauen, um Tempowechsel in Echtzeit zu erstellen und zeichnen das Tempo Bewegungen zu Ihrem Tempo Globale Spuren? Das wäre toll für die Schaffung einer schnellen Tempo Map oder live spielen. Auf den ersten Blick scheint es, wie es nicht getan werden kann. Aber sag niemals nie, wenn es um Logic Environment kommt ...
01 - Erste Schritte
Open an existing Logic project or create a new one. Create as many tracks as you need plus an extra one. It doesn't matter what type of track as we'll reassign it later.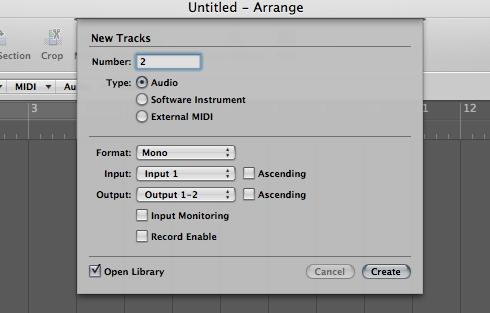 In diesem Fall habe ich zwei Audio-Tracks erstellt.
02 - Go Environmental
Open a New Environment window from Window > Environment (Command+8).
Navigate to the Clicks & Ports layer.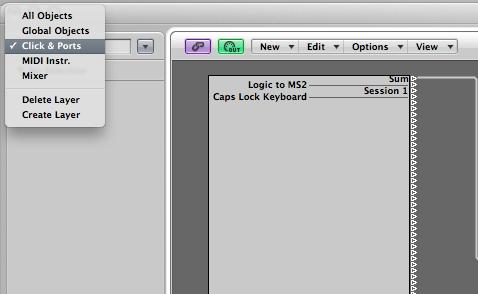 03 - Fader Zeit
In Logic Environment können Sie die Input-und Output für Fader auf einer Vielzahl unterschiedlicher MIDI-Befehle. Es sind einige 'preset' Fader bereits bis zu bestimmten Funktionen steuern gesetzt. Hier finden Sie eine Fader auf Tempo hier Kontrolle in der Umwelt der lokalen Menü:
Neu
You'll get an alert message which warns you that to use the Tempo Fader to record it's values to Logic's Tempo control it must be cabled directly into the Sequencer Input object. Click OK to continue.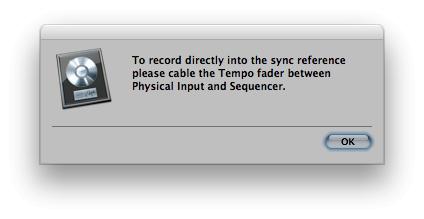 Ihr Tempo Fader sollte in etwa so aussehen.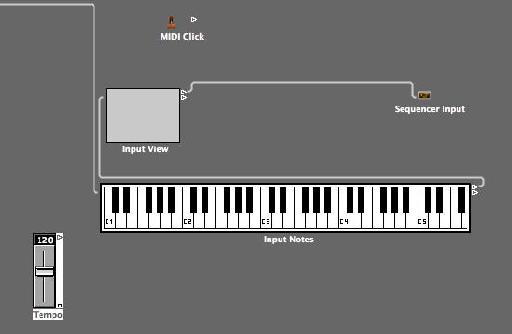 04 - Größe ist alles
You can resize any Environment object by selecting it and dragging on the white square in the lower right corner. The larger the Fader the more accurate you can be when creating tempo changes.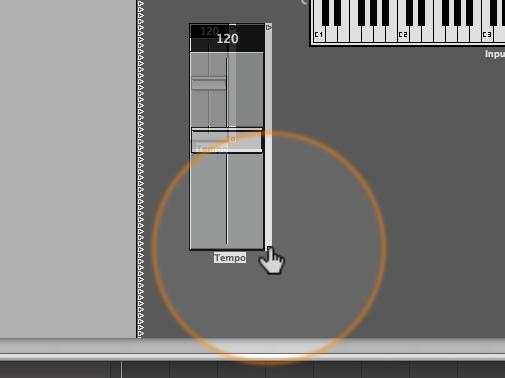 Auch wir machen diese Environment-Fenster in ein schwebendes Fenster so scheint es, immer im Vordergrund. Wählen Sie: anzeigen
05 - Controlling Tempo
Before we cable the new Fader to any other object, try moving the level and look at your Transport Display. You'll notice that we are controlling Logic's tempo!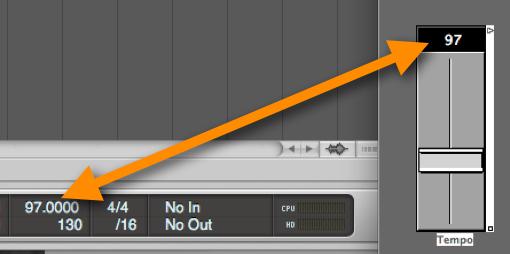 Allerdings, wenn Sie die Wiedergabe zu starten bewegen Sie den Transport Fader, drücken Sie Stop und Fortsetzen der Wiedergabe erneut, werden Sie feststellen, dass Logic Tempo kehrt zurück auf den ursprünglichen Wert.
06 - Globale Spuren
Bevor wir weiter die Verbindung, damit wir diese Tempo Fader Bewegungen in Logic aufnehmen, lassen Sie uns einen Blick darauf, wie die "Tempo-Map" in Logic zu visualisieren.
First up is the Tempo Global Track. Click on the Global Tracks disclosure triangle (or press "G" on your keyboard) to expand the Global Tracks area. Resize the Tempo Global Track as desired.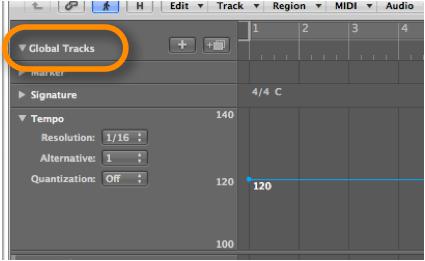 07 - Tempo-Liste
Öffnen Sie die Listen-Bereich und klicken Sie auf die Registerkarte Tempo. Sowohl die Tempo Global Track und Tempo-Liste bieten alternative Sichtweisen (und erstellen) das Tempo Karte (n) für Ihr Projekt.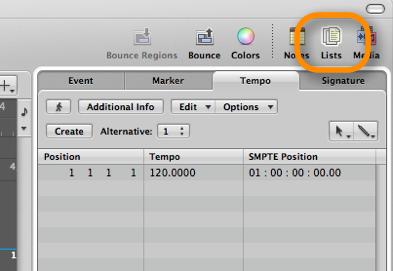 08 - Cable es
Um nun das Tempo Fader BPM-Wert auf das Tempo Global Track Record wir brauchen, um Kabel die Leistung unserer Tempo Fader (in der Umwelt) in den Sequencer-Eingang.
Wir wissen nicht, Kabel haben es direkt, solange das Signal von unserem Tempo Fader erreicht die Sequencer-Eingang ... So zum Beispiel, könnte man aus dem Dreieck in der rechten oberen Ecke des Fader ziehen und schließen Sie das resultierende Kabel an den "Input View" oder "Input Notes" Objekt, wie sie zu den "Sequencer Input" verkabelt sind sowieso.
Having said that, I've the cabled the output from my Tempo Fader directly into the Sequencer Input as shown in the image below: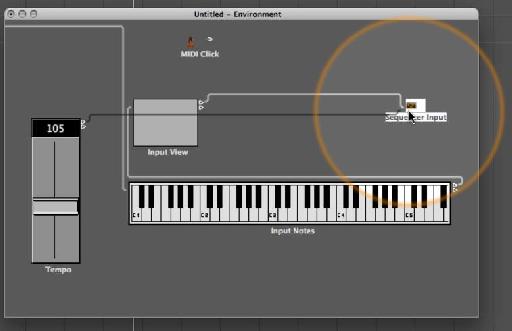 09 - New Tempospur
Dies ist nicht ein notwendiger Schritt, aber es ist, die ich lieber tun, um die Dinge organisiert. Wir werden unser Tempo Fader zu einer bestehenden Spur zuweisen im Arrangierbereich. Es gibt 3 einfache Wege, dies zu tun, aber meine bevorzugte Methode ist die Drag-n-drop.
Position the Environment window so that you can see the Arrange area's Track Headers. If you haven't already done so, now is a good time to create an extra track (any type will do). Now simply drag the Tempo Fader in the Environment window on to a Track Header in the Arrange area to reassign it.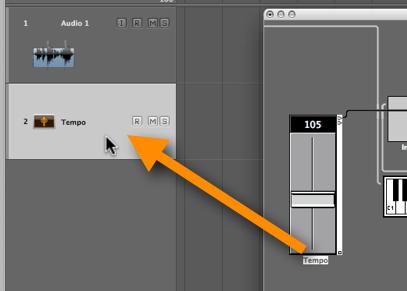 10 - Real-time Tempo Automation
Der letzte Schritt ist, um die Play-Leiter, wo Sie wollen, beginnen die Automatisierung der Tempo statt, drücken Sie die Record-Taste und beginnen Bewegen Tempo Fader wie gewünscht.
Sie werden keine Tempo-Info zu dem Tempo Global Track oder Tempo-Liste geschrieben, während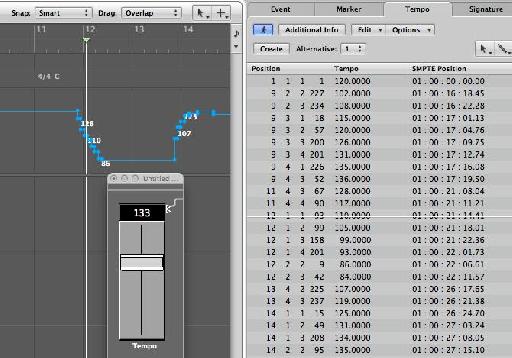 Sie können nun diese Tempo-Informationen entweder in der Tempo-Liste oder Tempo Global Track wie gewünscht.
Möchten Sie mehr Logic und Logic Environment Tipps und Tricks zu lernen? Du wirst dieses Tutorial dann lieben !