ट्यूटोरियल: वास्तविक समय तर्क पर्यावरण में टेंपो स्वचालन
Learning how to automate levels, pan and virtually any plug-in control in Logic opens a whole world of possibilities when mixing your music. Not only can you draw automation offline but you can also r
सीखना कैसे स्तर, पैन और तर्क में नियंत्रण प्लग में लगभग किसी भी संभावनाओं की एक पूरी दुनिया को खोलता है जब अपने संगीत के मिश्रण को स्वचालित करने के लिए. न केवल आप स्वचालन आकर्षित ऑफ़लाइन कर सकते हैं, लेकिन तुम भी वास्तविक समय में स्वचालन रिकॉर्ड भी कर सकते हैं. शक के बिना इस मिश्रण के अधिक मज़ा पहलुओं में से एक किया जा सकता है! तर्क में ग्लोबल ट्रैक्स के लिए धन्यवाद, यह संभव है कि ऑफ़लाइन परिवर्तन करने के लिए गति बनाने के लिए. और, यदि आप वास्तविक समय में गति में परिवर्तन बनाने के लिए और अपने टेंपो ग्लोबल ट्रैक्स गति आंदोलनों रिकॉर्ड के लिए देख रहे हैं? यह एक त्वरित टेंपो का नक्शा बनाने या जीने खेल के लिए बहुत अच्छा होगा. यह पहली नज़र में लगता है जैसे यह नहीं किया जा सकता है. कहना है लेकिन जब यह तर्क पर्यावरण के लिए आता है कभी कभी ...
01 - प्रारंभ करना
Open an existing Logic project or create a new one. Create as many tracks as you need plus an extra one. It doesn't matter what type of track as we'll reassign it later.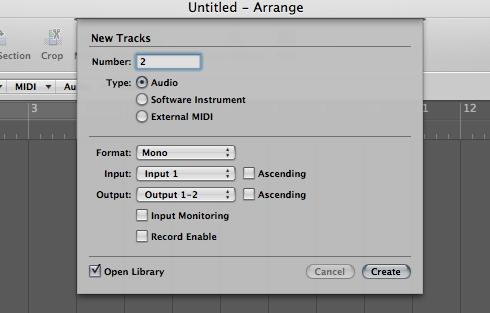 इस मामले मैं दो ऑडियो पटरियों बनाया है.
02 - पर्यावरण जाओ
Open a New Environment window from Window > Environment (Command+8).
Navigate to the Clicks & Ports layer.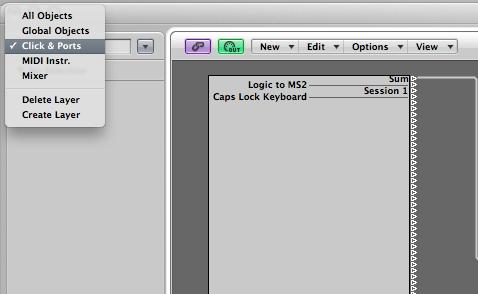 03 - Fader समय
लॉजिक पर्यावरण में आप अलग मिडी संदेश की एक बहुतायत के लिए faders के लिए इनपुट है और आउटपुट सेट कर सकते हैं. वहाँ, 'कुछ पूर्व निर्धारित' पहले से ही स्थापित करने के लिए कुछ कार्यों को नियंत्रित faders हैं. तुम एक टेंपो पर्यावरण स्थानीय मेनू में यहाँ fader नियंत्रण पा सकते हैं:
नया
You'll get an alert message which warns you that to use the Tempo Fader to record it's values to Logic's Tempo control it must be cabled directly into the Sequencer Input object. Click OK to continue.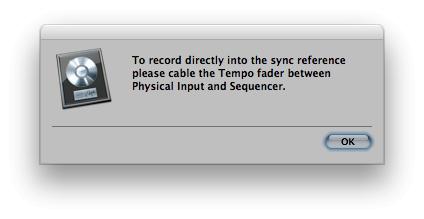 आपका टेंपो fader कुछ इस तरह देखना चाहिए.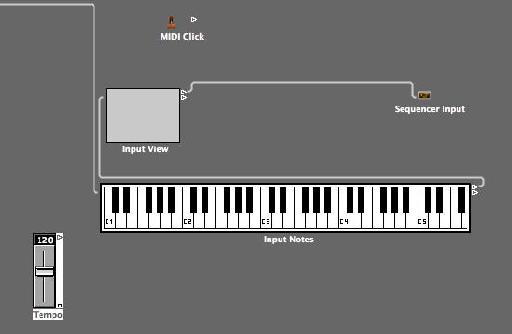 04 - आकार सब कुछ है
You can resize any Environment object by selecting it and dragging on the white square in the lower right corner. The larger the Fader the more accurate you can be when creating tempo changes.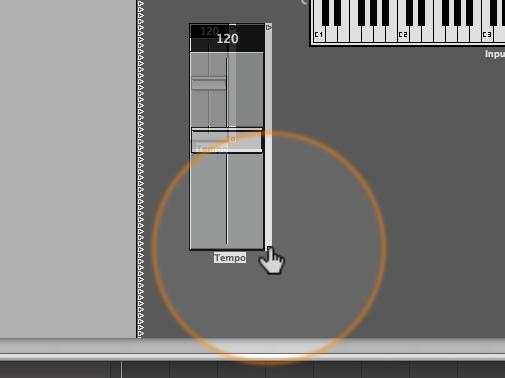 इसके अलावा, एक फ्लोटिंग विंडो में इस पर्यावरण खिड़की बना तो यह हमेशा शीर्ष पर दिखाई देता है. चुनें: देखें
05 - नियंत्रण टेंपो
Before we cable the new Fader to any other object, try moving the level and look at your Transport Display. You'll notice that we are controlling Logic's tempo!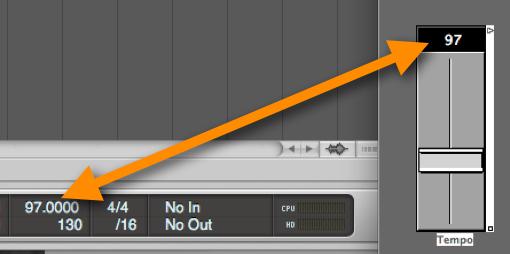 हालांकि, अगर आप शुरू प्लेबैक परिवहन Fader ले जाने के बंद करो, प्रेस और प्लेबैक फिर से फिर से शुरू, तुम नोटिस हूँ कि तर्क टेंपो प्रारंभिक मूल्य के लिए reverts वापस है.
06 - ग्लोबल ट्रैक्स
इससे पहले कि हम जारी रखने के लिए और कनेक्शन बनाने के लिए हमें तर्क में इन टेंपो Fader आंदोलनों को रिकॉर्ड करने की अनुमति है, कैसे कल्पना करने के लिए तर्क में 'गति नक्शा' पर एक नज़र रखना.
First up is the Tempo Global Track. Click on the Global Tracks disclosure triangle (or press "G" on your keyboard) to expand the Global Tracks area. Resize the Tempo Global Track as desired.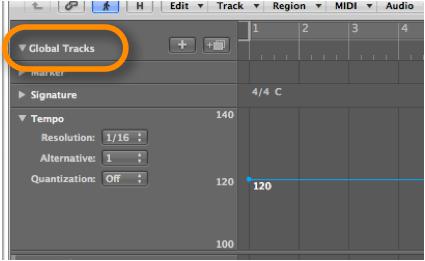 07 - टेंपो सूची
सूचियाँ क्षेत्र खोलें और टेंपो टैब पर क्लिक करें . दोनों टेंपो ग्लोबल ट्रैक और टेंपो सूची अपनी परियोजना के लिए देखने के वैकल्पिक तरीके (और बनाने) गति नक्शा () प्रदान करते हैं.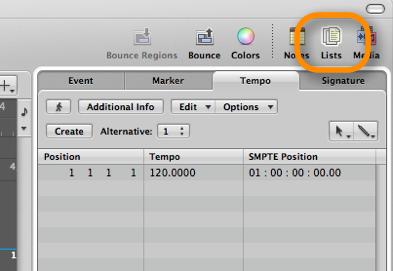 08 - स्थल यह
अब आदेश में टेंपो ग्लोबल ट्रैक पर टेंपो Fader BPM मूल्य को रिकॉर्ड करने के लिए हम Sequencer इनपुट में हमारे टेंपो Fader (पर्यावरण) के उत्पादन में केबल की जरूरत है.
हम केबल करने के लिए नहीं है यह सीधे के रूप में लंबे समय के रूप में हमारे टेंपो Fader से संकेत के रूप में Sequencer इनपुट तक पहुँच ... तो, उदाहरण के लिए, आप Fader के ऊपरी दाएँ भाग में त्रिकोण से खींचें और "इनपुट" देखें या "इनपुट नोट्स" वस्तु परिणामस्वरूप केबल कनेक्ट के रूप में वे "Sequencer इनपुट" तार कर रहे हैं वैसे भी
Having said that, I've the cabled the output from my Tempo Fader directly into the Sequencer Input as shown in the image below: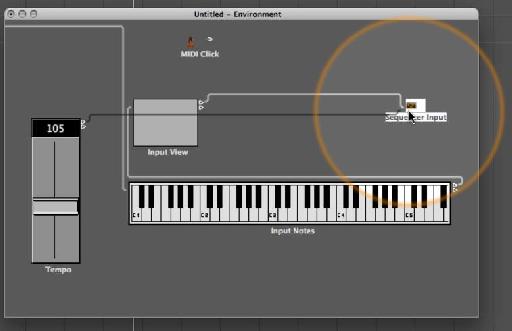 09 - नई टेंपो ट्रैक
यह एक आवश्यक कदम नहीं है, लेकिन यह एक मैं रखने के लिए चीजों का आयोजन करना पसंद करते हैं. हम व्यवस्थित क्षेत्र में एक मौजूदा ट्रैक करने के लिए हमारी टेंपो Fader असाइन करने के लिए जा रहे हैं. 3 आसान तरीके से ऐसा कर रहे हैं, लेकिन मेरी पसंदीदा विधि खींचें-n-ड्रॉप है .
Position the Environment window so that you can see the Arrange area's Track Headers. If you haven't already done so, now is a good time to create an extra track (any type will do). Now simply drag the Tempo Fader in the Environment window on to a Track Header in the Arrange area to reassign it.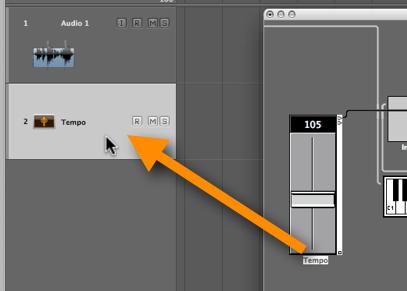 10 - वास्तविक समय टेंपो स्वचालन
पिछले कदम चलायें प्रमुख जगह जहाँ आप गति स्वचालित शुरू करना चाहते हैं, रिकॉर्ड बटन हिट और अपने टेंपो Fader चलती वांछित के रूप में शुरू की है.
आप whilst किसी भी गति टेंपो ग्लोबल ट्रैक टेंपो या सूची के लिए लिखा जा रहा है पता नहीं देखेंगे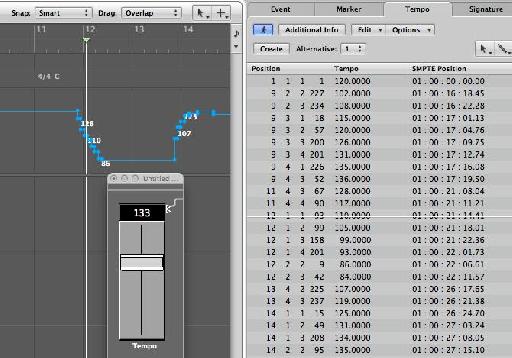 अब आप या तो टेंपो सूची या टेंपो ग्लोबल ट्रैक के रूप में वांछित में इस गति दी गई जानकारी को संपादित कर सकते हैं.
अधिक तर्क तर्क और पर्यावरण युक्तियाँ और चालें सीखने चाहते हैं? आप इस ट्यूटोरियल तो प्रेम !