A frequently overlooked workflow enhancer in Logic Pro 9 is the Alias. These MIDI regions contain no actual data, they refer to another MIDI region or Folder and say 'Look over there!"
A frequently overlooked workflow enhancer in Logic Pro 9 is the Alias. An alias (MIDI) is a region that contains no actual data, it just refers to another MIDI region or Folder and says 'Look over there!'
Why is this helpful? I am glad you asked!
In Pic 1, you see a simple line that I have played in for a violin 1 part.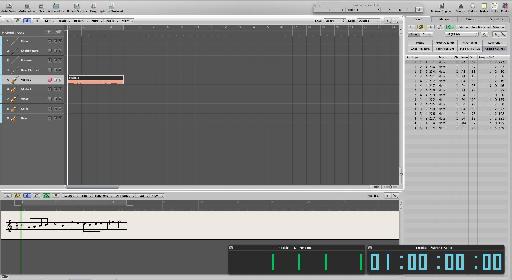 Pic. 1
In Pic 2, you can see that I have quantized with some very specific settings. I want violin 2 to play the same line, but I am going to want to use different quantize settings so that it does not sound like an accordion. An alias is just what I need.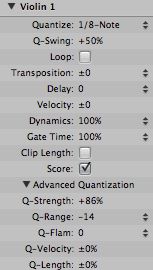 Pic. 2
It is quite simple to create one and of course Logic Pro being Logic Pro, there are several ways to do so. First thing I need to do is to select the destination track for the Alias and the region that I want it to refer to. Then I can go under the MIDI pull down menu and choose Alias > Make, as you see in Pic 3.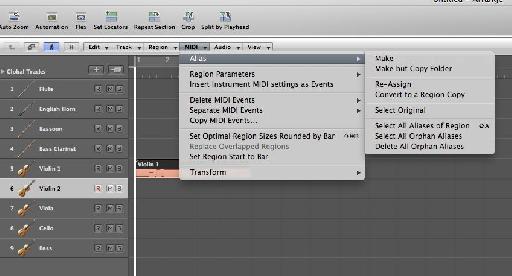 Pic. 3
In Pic 4, you can see the result. In the alias' text it very clearly tells you which region, track and beginning bar number it is referring to.

Pic. 4
Looking back at Pic 3, notice that there is no key command assigned to this. A quick search in the Key Commands window will guide to the opportunity to create one if, like me, you are a key commands kind of guy rather than a mouse-dragging guy. See Pic 5.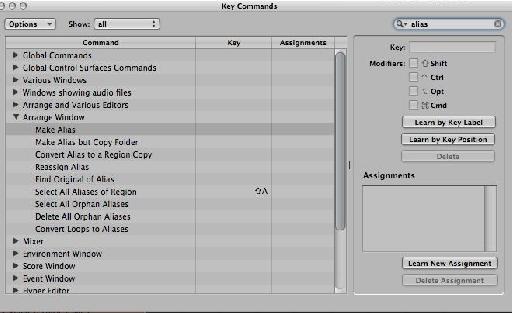 Pic. 5
If however, you are a mouse-dragging guy then simply holding the Shift and Option keys allows you to drag it to the desired track to create the alias, as I have done with the viola.
Now I am free to change my quantization numbers for violin 2. However, after listening back I decide that violin 1 should have been an octave higher. No problem, I transpose the notes up an octave and I now hear violins 1 & 2 as well as the viola all playing the line, all with different quantization settings and it is sounding good.
This is a good beginning but sophisticated composer that I am, I have decided I want violin 2 to be an octave lower and I want the viola to play a harmony. I select the Alias for violin 2 and in the Region Parameter Box, I set the Transpose to -12. Then I select the viola alias and transpose it to -16.
Look out John Williams! Now that I listen back though, I think this would work better if the F# in the first measure were an F natural. I make the change and all the transposed aliases change accordingly. Beautiful!
I now play in a spiccato cello part and a held bass pedal note, as you see in the Score Editor in Pic 6. Notice that the aliases are not reflected in the Score Editor (more on that later.)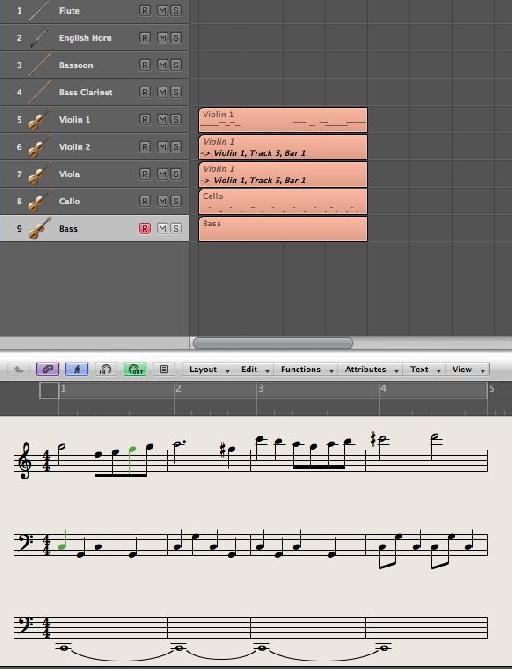 Pic. 6
I want to double all five string parts with the woodwinds I have instantiated in my first 5 tracks. Either using a key command or shift-option dragging it is so simple. See Pic 7.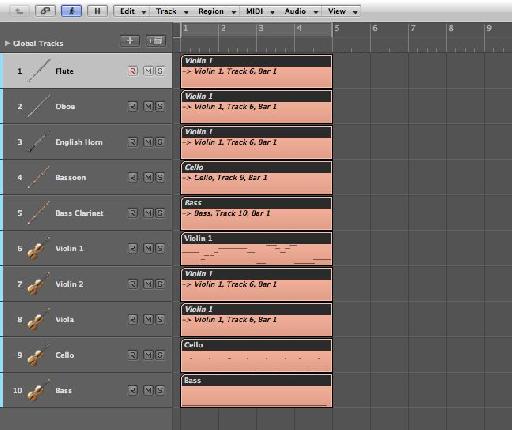 Pic. 7
I can now re-quantize the woodwinds, and transpose them to my hearts content. My only complaint is that they are not named consistent with the instrument. No biggie. Press Command-A to select them all and under the Region menu, choose Name Regions by Tracks/Channel Strips (or by key command) as you see in Pic 8, and in Pic 9, voila!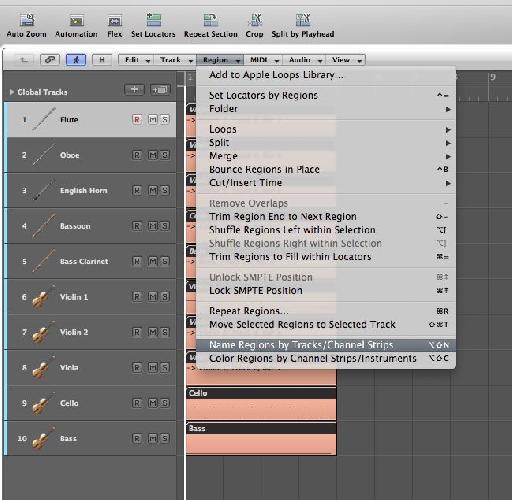 Pic. 8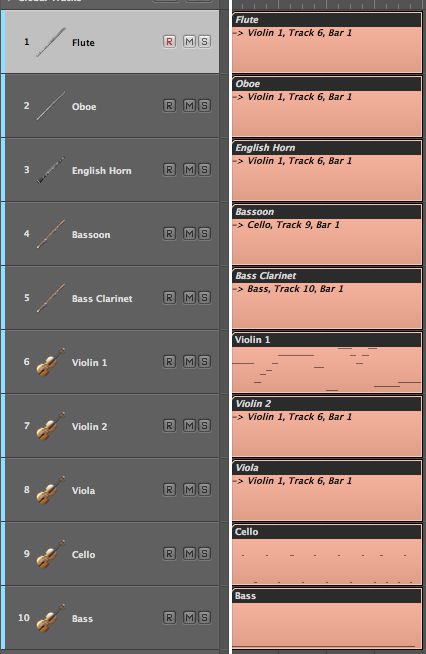 Pic. 9
One last issue remains for me. I want to see them all in the score as I may print them out or change the notes further. It is time to change the aliases to real copies perhaps.
With all the regions still selected, under the MIDI menu, I navigate to Alias > Convert to a Region Copy, and in Pic 10, it is clear that they are now copies rather than aliases, and in Pic 11. There they all are in the Score Editor.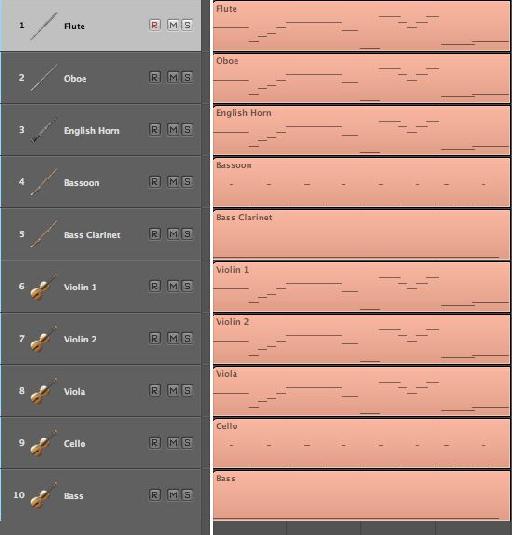 Pic. 10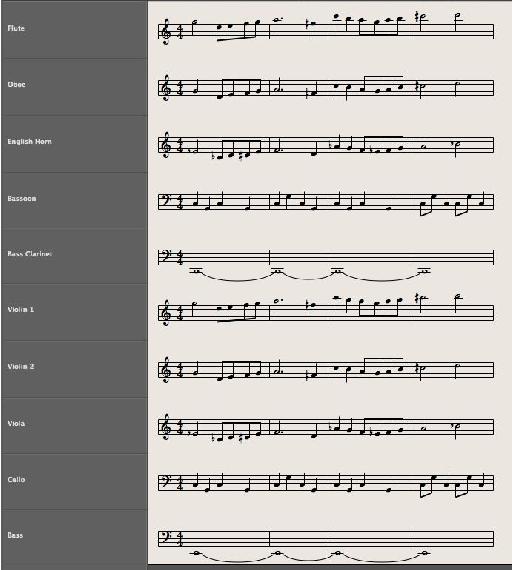 Pic. 11
I hope this help you see just what a powerful workflow tool Logic Pro's aliases can be.