A frequently overlooked workflow enhancer in Logic Pro 9 is the Alias. These MIDI regions contain no actual data, they refer to another MIDI region or Folder and say 'Look over there!"
Un spesso trascurato workflow enhancer in Logic Pro 9 è l'alias. Un alias (MIDI) è una regione che non contiene dati reali, si riferisce solo ad un'altra regione MIDI o una cartella e dice: Guarda là !
Perché è utile? Sono contento che hai chiesto!
In Fig. 1, si vede una semplice linea che ho giocato in un violino 1 parte.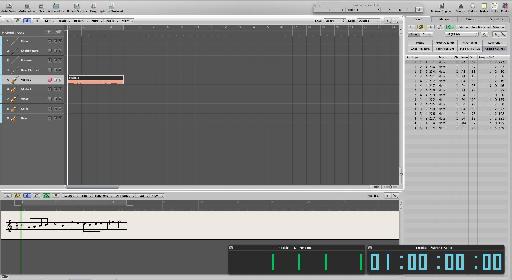 Pic. 1
In Fig. 2, si può vedere che ho quantizzato con alcune impostazioni molto specifiche. Voglio violino 2 per riprodurre la stessa linea, ma ho intenzione di voler utilizzare diverse impostazioni di quantizzazione in modo che non suona come una fisarmonica. Un alias è proprio quello che mi serve.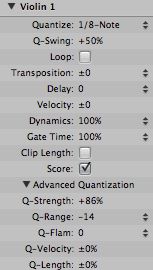 Pic. 2
E 'abbastanza semplice per creare uno e naturalmente Logic Pro essendo Logic Pro, ci sono diversi modi per farlo. La prima cosa che devi fare è selezionare la traccia di destinazione per l'alias e la regione che lo voglio vedere. Allora posso andare sotto il tiro MIDI menu a discesa e scegliere Alias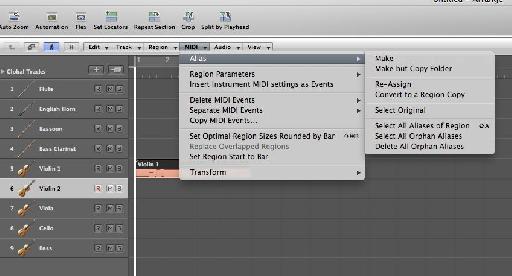 Pic. 3
In Pic 4, è possibile vedere il risultato. Nel testo alias ti dice molto chiaramente che numero di regione, pista e bar dall'inizio si fa riferimento.

Pic. 4
Guardando indietro al Pic 3, si noti che non vi è alcun comando tasto assegnato a questo. Una rapida ricerca nella finestra Comandi chiave guiderà per l'opportunità di creare uno se, come me, sei un comandi di tipo fondamentale del ragazzo, piuttosto che un ragazzo del mouse e trascinando. Vedi foto 5.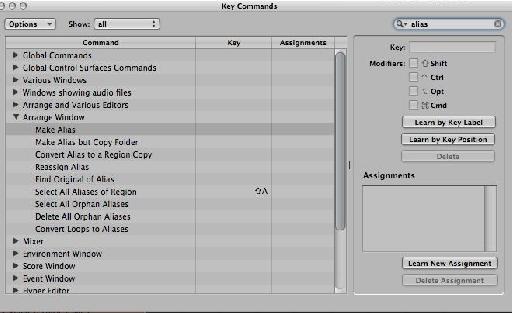 Pic. 5
Se invece, sei un ragazzo del mouse e trascinando poi semplicemente tenendo premuto il tasti Maiuscole e Opzione consente di trascinare alla traccia desiderata per creare l'alias, come ho fatto con la viola.
Ora sono libero di cambiare i miei numeri di quantizzazione per violino 2. Tuttavia, dopo aver ascoltato indietro decido che violino 1 avrebbe dovuto essere un'ottava più alta. Nessun problema, ho trasporre le note di un'ottava ed io ora sento violini 1
Questo è un buon inizio, ma compositore sofisticato che io sono, ho deciso che voglio violino 2 per essere un'ottava più bassa e voglio la viola di svolgere un armonia. I selezionare l'alias per violino 2 e nella Regione casella dei parametri, ho impostato la trasposizione a -12. Poi scelgo l'alias viola e la trasposizione in -16.
Attento John Williams! Ora che ascolto indietro, però, credo che questo avrebbe funzionato meglio se la F # nel primo provvedimento fosse un naturale F. Faccio il cambio e tutti gli alias trasposti cambiano di conseguenza. Bella!
Io ora suono in un violoncello parte spiccato e un basso pedale nota tenuta, come si vede nel Editor Score in Pic 6. Si noti che gli alias non si riflettono nel Editor Score (ne riparleremo più avanti.)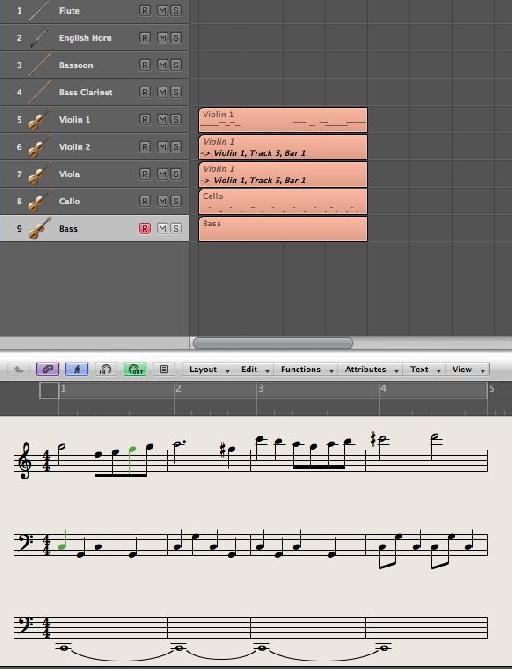 Pic. 6
Voglio raddoppiare tutte le parti di stringa cinque con i fiati ho istanziati nelle mie prime 5 tracce. Sia utilizzando un comando chiave o shift-opzione trascinandolo è così semplice. Vedi foto 7.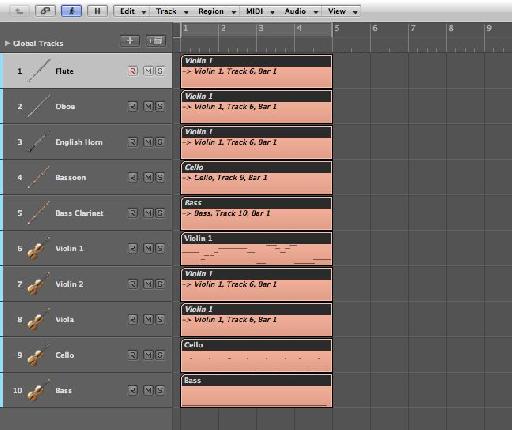 Pic. 7
Ora posso ri-quantizzare i fiati, e recepite nel mio cuore di contenuti. La mia unica lamentela è che non sono chiamati coerentemente con lo strumento. Nessuna grossa delusione. Premi Comando-A per selezionare tutti e sotto il menu Regione, scegliere Nome Regioni da Tracks / Channel Strip (o con il comando chiave), come si vede in Fig. 8, e in Pic 9, voilà !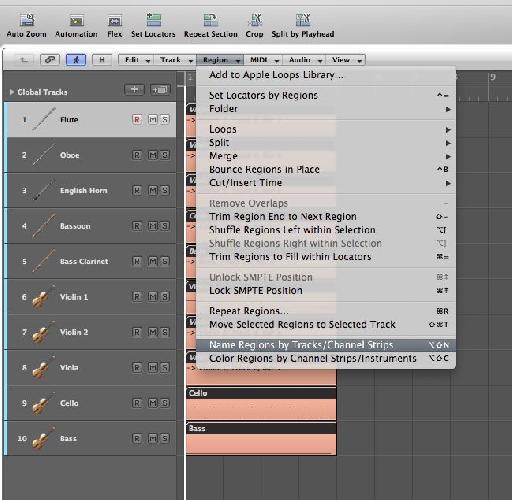 Pic. 8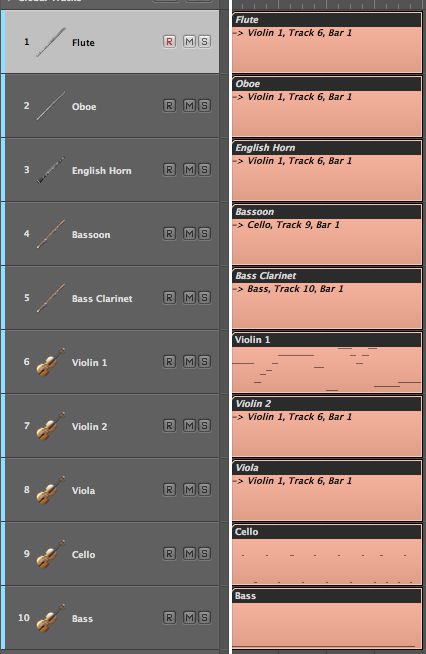 Pic. 9
Un ultimo problema rimane per me. Voglio vederli tutti in partitura come posso stamparle o modificare ulteriormente le note. E 'tempo di cambiare gli alias di copie reali forse.
Con tutte le regioni ancora selezionate, dal menu MIDI, ci si dirige a Alias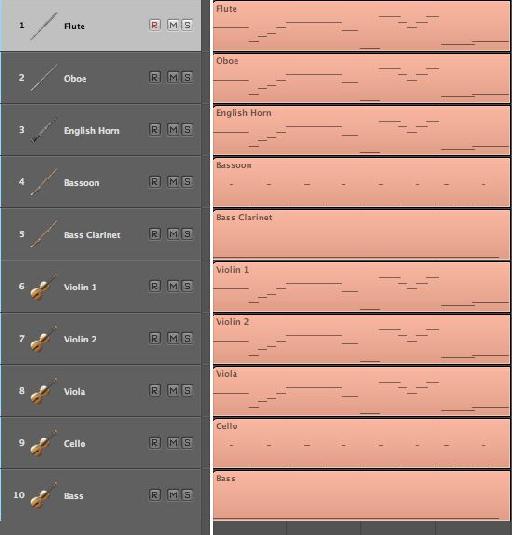 Pic. 10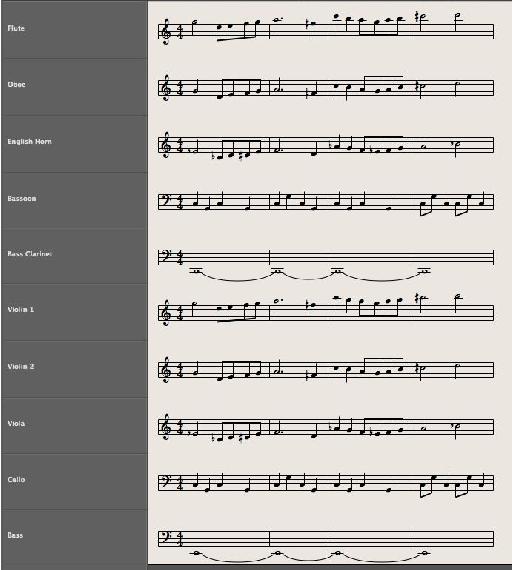 Pic. 11
Spero che questo aiuta a vedere solo ciò che un flusso di lavoro potente strumento di Logic Pro alias possono risultare.