A frequently overlooked workflow enhancer in Logic Pro 9 is the Alias. These MIDI regions contain no actual data, they refer to another MIDI region or Folder and say 'Look over there!"
A freqüentemente negligenciado fluxo de trabalho potenciador em Logic Pro 9 é o Alias. Um alias (MIDI) é uma região que não contém dados reais, apenas se refere a uma outra região ou pasta MIDI e diz: Olha lá!
Por que isso é útil? Estou feliz que você pediu!
Em Pic 1, você verá uma linha simples que eu joguei em um violino 1 parte.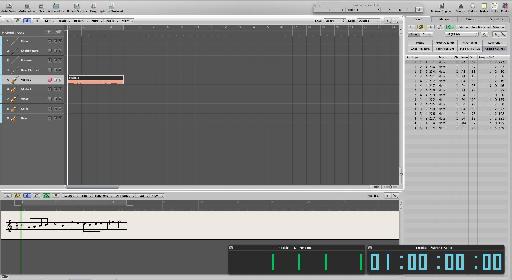 Pic. 1
Em Pic 2, você pode ver que eu tenho quantificada com algumas configurações muito específicas. Quero violino 2 para jogar na mesma linha, mas eu vou querer usar diferentes configurações de quantização para que ele não soa como um acordeão. Um alias é exatamente o que eu preciso.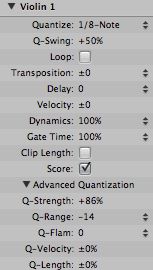 Pic. 2
É muito simples para criar um e, claro, Logic Pro sendo Logic Pro, existem várias maneiras de fazer isso. A primeira coisa que precisa fazer é selecionar o caminho de destino para os Alias ​​e da região que eu quero que ele se refere. Então eu posso ir sob a puxar MIDI menu e escolher Alias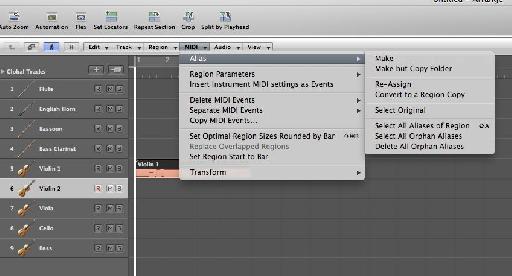 Pic. 3
Em Pic 4, você pode ver o resultado. No texto, apelido que lhe diz muito claramente que a região, pista e bar início número ele está se referindo.

Pic. 4
Olhando para trás, Pic 3, observe que não há nenhum comando de tecla atribuído a este. Uma busca rápida na janela Comandos Chave guiará para a oportunidade de criar um, se, como eu, você é uma chave de comandos tipo de cara ao invés de um cara mouse arrastando. Veja Pic 5.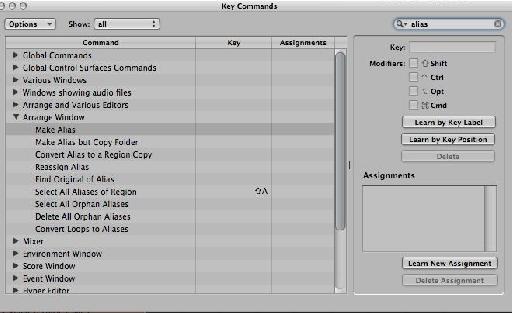 Pic. 5
Se, no entanto, você é um cara mouse-arrastar, então, simplesmente segurando as teclas Shift e Option permite que você arraste-o para a faixa desejada para criar o alias, como eu fiz com a viola.
Agora eu sou livre para mudar meus números de quantização para violino 2. No entanto, depois de ouvir de volta eu decidir que um violino deveria ter sido uma oitava acima. Não tem problema, eu transpor as notas uma oitava acima e agora estou a ouvir violinos 1
Este é um bom começo, mas compositor sofisticado que eu sou, eu decidi que eu quero violino 2 ser menor de uma oitava e eu quero que a viola para jogar uma harmonia. Eu seleciono os Alias ​​2 para violino e na caixa de parâmetro Região, eu definir a transposição para -12. Então eu selecione o alias Viola e transpô-la para -16.
Olhe para fora John Williams! Agora que eu escuto de volta, porém, eu acho que isso funcionaria melhor se o F # na primeira medida fosse um F naturais. Eu fazer a mudança e todos os aliases transpostas alterar em conformidade. Beautiful!
Agora eu jogar em uma parte spiccato cello e um baixo nota pedal realizada, como você vê no Editor de Pontuação em Pic 6. Observe que os aliases não são refletidas no Editor de Pontuação (mais sobre isso mais tarde.)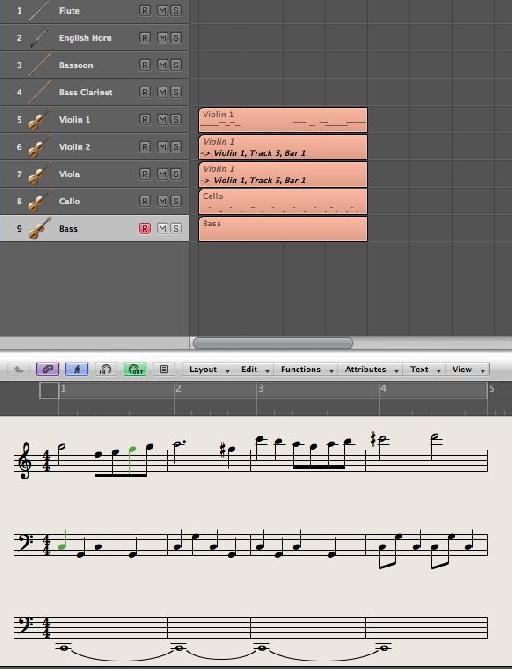 Pic. 6
Quero dobrar todas as cinco partes de cordas com os sopros eu instanciado em meus primeiros cinco faixas. Ou usando um comando de tecla ou a opção de mudança de arrastá-lo é tão simples. Veja Pic 7.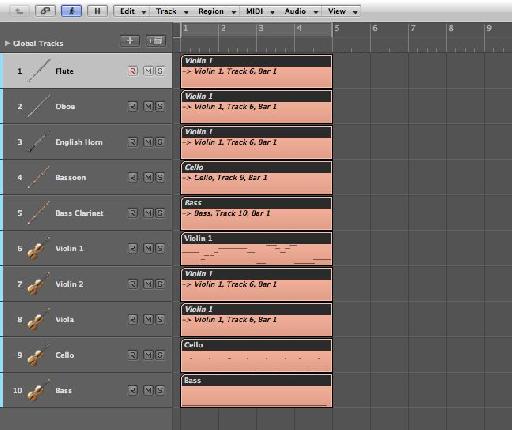 Pic. 7
Agora posso voltar a quantificar os sopros, e transpô-los para o conteúdo do meu coração. A única reclamação é que eles não são nomeados de acordo com o instrumento. Nada demais. Pressione Command + A para selecionar todos eles e no menu Região, escolha Nome Regiões por faixas / faixas de canal (ou por comando de chave) como você vê na foto 8, e no Pic 9, voila!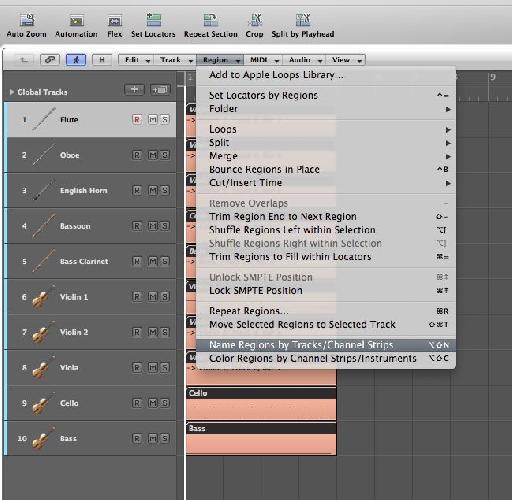 Pic. 8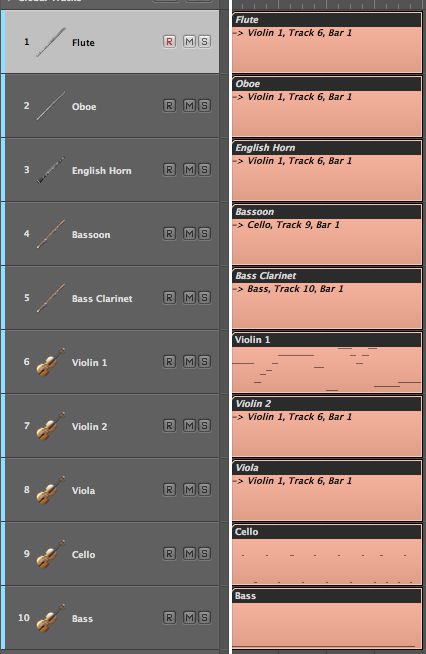 Pic. 9
Uma última questão permanece para mim. Quero vê-los todos na pontuação como eu pode imprimi-los ou alterar as notas mais. É hora de mudar os aliases de cópias reais, talvez.
Com todas as regiões ainda selecionados, no menu MIDI, navego para Alias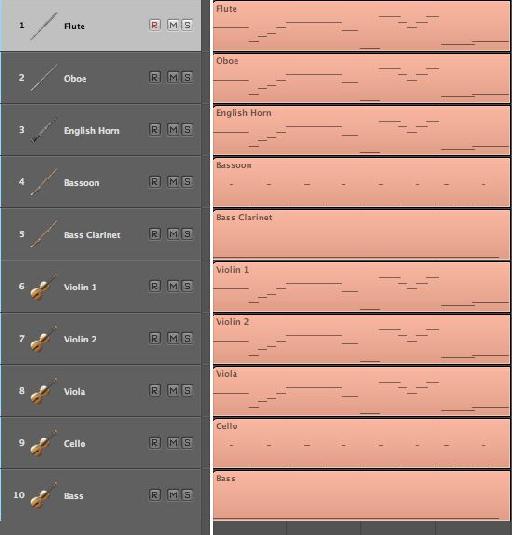 Pic. 10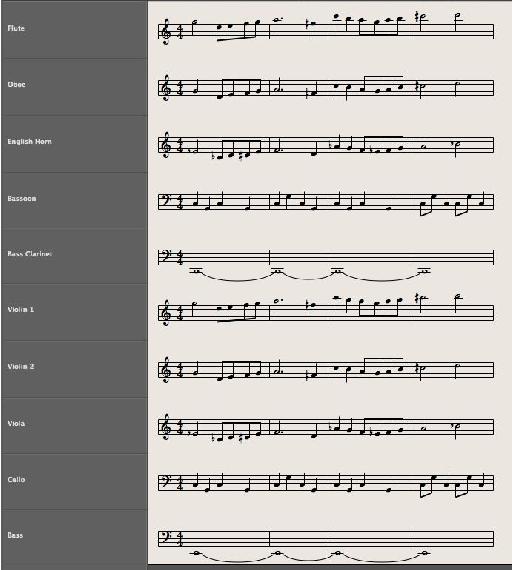 Pic. 11
Espero que isso ajude a ver apenas o que um fluxo de trabalho poderosa ferramenta de Lógica Prós aliases pode ser.