The time of being tangled up by wires connecting the various devices in your studio together is coming to an end. Adam Goldberg takes a wireless approach when connecting devices to Logic Pro.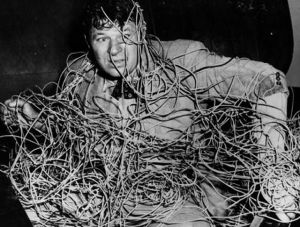 Wires, wires, wires! Yes, we all love the now age-old tradition of being wired, don't we?! Of course, we have to make sure we're properly wired before we start our gigs, lest our sound severely suffer!
But as our technological tools and knowledge advance, we find that being wired isn't quite what it used to be. Our gigs can now go quite smoothly without all of this twisted and confused wiring. Indeed, we can now use reliable wireless networks to connect with our music much more'¦ soberly. (Or, comfortably, if you're into Pink Floyd). Most notable are the recent advances in Wi-Fi MIDI networks.
Enter the Crouching Tiger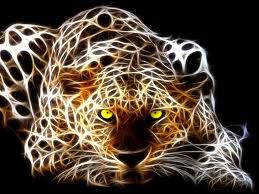 OSC and DSMidiWifi, for example, have come along to make Wi-Fi MIDI a viable reality. But Apple have had their own RTP-based Network since OS X Tiger. And since Logic 9.1.2, they streamlined the process for connecting OSC-based apps like TouchOSC, making wireless MIDI connections more reliable, very low latency, and a breeze to set up. It's not a perfect world yet, but it surely beats strangulation by MIDI cable!
The Simplicity of
iOS

Wi-Fi Networking

The most sophisticated technologies are those that work the most simply. Apple products have always been consummate examples of this. The ease with which one can create their own network using a Mac and other Apple devices, described in this article [Creating Order from Chaos with Logic Pro and NodeBeat HD, Part 1] epitomize this sophistication. The procedures described in the above referenced article can be followed to connect multiple devices wirelessly into Logic for multi-channel MIDI fun. In this case, however, instead of having NodeBeat HD transmitting on multiple MIDI channels from one device, we now have the option of using any number of apps that transmit MIDI wirelessly. The obvious advantage to this option, especially considering the explosion of iOS apps onto the professional music scene, is that more devices and musicians can take part in this Wi-Fi fest. I have been able to reliably use eight iPads simultaneously, all sending MIDI into Logic via separate MIDI channels.



Success Through Trial and Error
Through some nerve racking experiences, I have found that following a specific procedure for setting up this network is the key to its reliability. I'd like to share that with you.
On your Mac, create a computer-to-computer network. (To do this, select Create Network... in the Network-name drop-down menu in System Preferences > Network.)

Go into Settings > Wi-Fi on each device that you want to include in that network, one after the other, and select your computer as the network.

Go back to your first device, and choose the app that you'll be using to transmit Wi-Fi MIDI data. Select preset, MIDI channel, etc. within the app, for each device.

On your Mac, go into '˜Audio MIDI Setup', and you should see all your devices listed in the Directory. Select each one, then click '˜Connect'. You'll now see them appear as Participants.

Now, if you go back to your devices, the app will indicate that it is connected to the session. I've been using MidiTouch, where the session status is indicated in the center of the app's Menu Bar.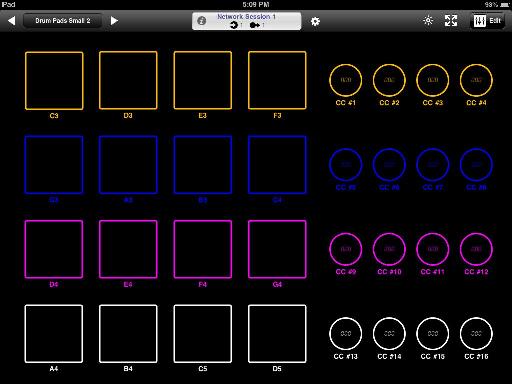 MidiTouch is now on the network.
At this point, I test the app for responsiveness, and occasionally find a delay in the app's response. This is not latency, but a glitch that I've found to sometimes occur in MidiTouch. Simply closing the app, then immediately restarting it fixes this.
Try this. Let me know how it goes. Enjoy!