العمل مع التوقيع والمسارات الرئيسية في المنطق العالمي
By default a new Logic project's Key signature is set to "C". Of course not all your compositions need to remain in the Key of C! You can adjust this for your entire project and create key changes at
افتراضيا يتم تعيين توقيع مشروع المنطق الجديد مفتاح "C". بالطبع ليس كل ما تبذلونه من المؤلفات بحاجة للبقاء في أهم من C! يمكنك ضبط هذا لمشروعك بالكامل وإحداث تغييرات رئيسية في نقاط مختلفة في المشروع الخاص بك. هذا هو الكمال عند إنشاء نقاط في المنطق.
وهذه التغييرات الرئيسية في جميع أنحاء التوقيع مشروعك تؤثر فقط على عرض الملاحظات MIDI في محرر نقاط. سوف ومع ذلك ، لا يكون لها أي تأثير أو إجراء أي تغييرات على قراءة الملاحظات MIDI.
إذا كنت تريد أن تؤثر على مفتاح التشغيل من الملاحظات MIDI يمكنك استخدام الأساليب التالية استبدال المسار والتحول العالمي من أجل التوقيع على المسار العالمي.
القراءة لاكتشاف المزيد...
01 -- التوجه العالمي
انقر على المثلث الكشف بجوار كلمة المسارات العالمية فوق قائمة المسار. يمكنك أيضا استخدام الأمر المفتاح الافتراضي (الألغام "G").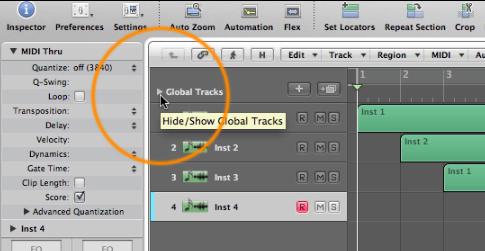 02 -- اختيار المسار العالمي
يجب أن تشاهد مجموعة مختارة من المسارات العالمية المتاحة. ومع ذلك ، يمكن أن تكون طبيعية مثل المسارات التوسع فيها أو تغيير حجمها. اما النقر على المثلث الكشف بجوار المسار التوقيع :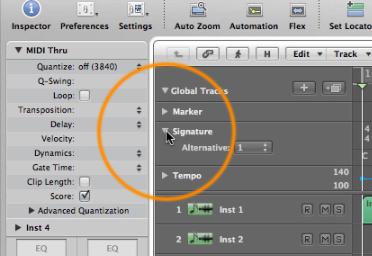 أو موضع مؤشر الفأرة على خطوط الحدود بين المسار الأفقي العالمية. ستلاحظ تحول مؤشر الماوس الخاص بك إلى أداة تغيير الحجم.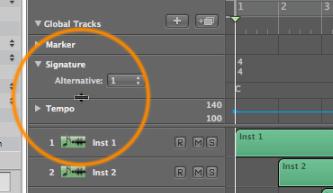 اسحب لتغيير المسار العالمي :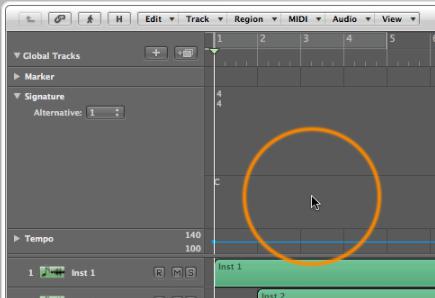 03 -- إنشاء مفتاح التغيير
لإنشاء مفتاح التغيير ، انقر بالزر الايمن في اي مكان في الممر مفتاح لمعرفة هذه القائمة :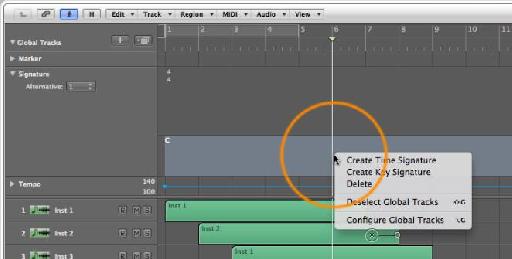 اختيار "إنشاء مفتاح التغيير" ، وسترى مفتاح الحوار توقيع تظهر نافذة :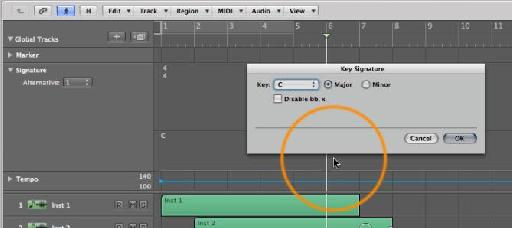 ملاحظة : بدلا من ذلك ، استخدم أداة القلم الرصاص وانقر فوق مفتاح في الممر حيث تريد إجراء تغيير على التوقيع على المشروع.
04 -- إيجاد المسارات العالمية المخفية
بمجرد تحديد المفتاح ، انقر فوق موافق. وهنا لدينا أهم تغيير في المشروع :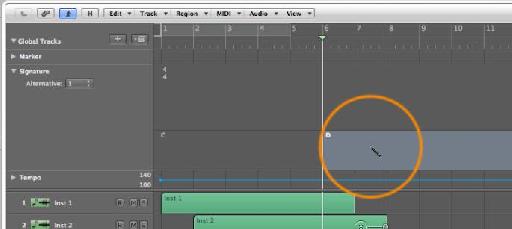 NOTE: You can customise the Global Tracks to view by right-clicking (control-clicking) on any Global Track to see this menu, where you can choose which ones to view and which ones to hide: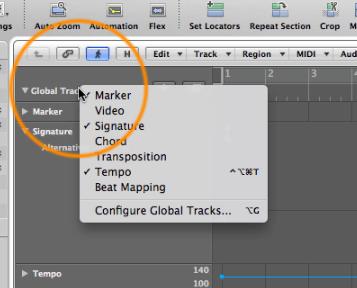 تريد معرفة المزيد عن المسارات العالمية والمنطق؟ تحقق من المنطق 101!