By default a new Logic project's Key signature is set to "C". Of course not all your compositions need to remain in the Key of C! You can adjust this for your entire project and create key changes at
Standardmäßig wird ein neues Logic Projekts Key Signatur ist auf "C" gesetzt. Natürlich sind nicht alle Ihre Kompositionen müssen in der Tonart bleiben C! Sie können diese für das gesamte Projekt einstellen und schaffen wichtige Änderungen an verschiedenen Stellen in Ihrem Projekt. Dies ist ideal bei der Erstellung einer Partitur in Logic.
Diese Tonart Änderungen in Ihrem Projekt nur auf die Anzeige von MIDI-Noten im Noten-Editor. Sie werden jedoch nicht irgendwelche Auswirkungen oder Änderungen vornehmen, um die Wiedergabe der MIDI-Noten.
Wenn Sie die Wiedergabe-Taste des MIDI-Noten beeinflussen wollen, können Sie die folgenden Techniken verwenden Substitution der Umsetzung globaler Spur für die Unterschrift global verfolgen.
Lesen Sie weiter, um mehr zu erfahren ...
01 - Going Global
Klicken Sie auf das Dreieck neben dem Wort Globale Spuren über die Track-Liste. Sie können auch die Standard-Tastaturbefehl (bei mir ist "G").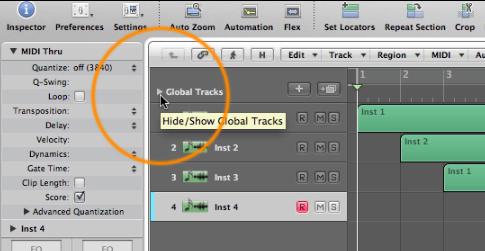 02 - Wählen Sie ein Global Track
Sie sollten eine ausgewählte Reihe von Globale Spuren zur Verfügung. Doch wie normale Spuren können sie erweitert oder geändert werden. Entweder auf das Dreieck neben dem Signature Track klicken: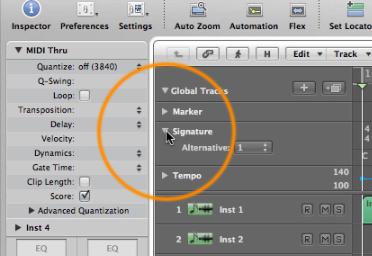 oder positionieren Sie den Mauszeiger über der horizontalen Grenzlinien zwischen den globalen Spur. Sie Ihren Mauszeiger verwandelt sich in ein Werkzeug zur Größenanpassung kündigen.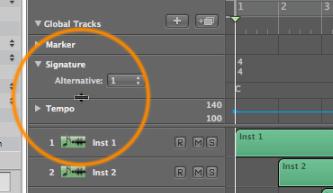 Ziehen Sie den Global Track Größe: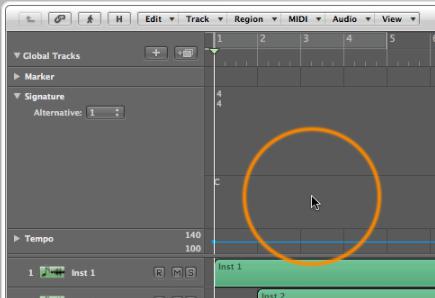 03 - Erstellen einer Key ändern
So erstellen Sie einen Schlüssel zu ändern, überall mit der rechten Maustaste in das Key Spur, um dieses Menü zu sehen: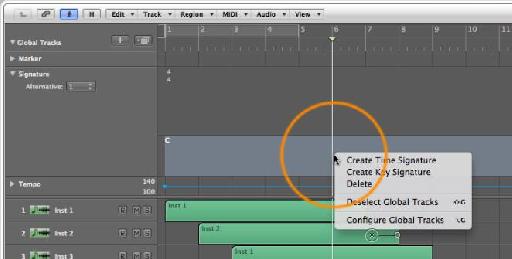 Wählen Sie "Create Key ändern", und Sie sollten sehen, die Tonart Dialogfenster angezeigt: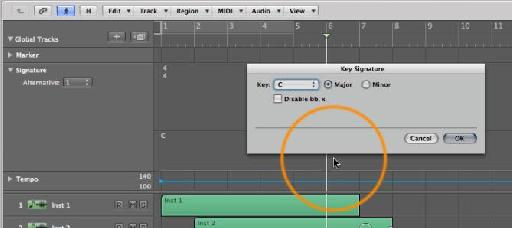 Hinweis: Alternativ können Sie das Stift-Werkzeug und in der Key Fahrspur, wo Sie wollen eine Änderung an dem Projekt Unterschrift zu klicken.
04 - versteckte Globale Spuren
Sobald Sie den Schlüssel ausgewählt haben, klicken Sie auf OK. Und hier haben wir die Key Änderungen des Projekts: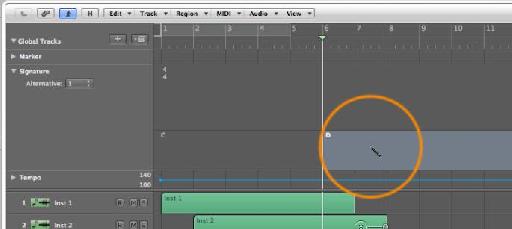 NOTE: You can customise the Global Tracks to view by right-clicking (control-clicking) on any Global Track to see this menu, where you can choose which ones to view and which ones to hide: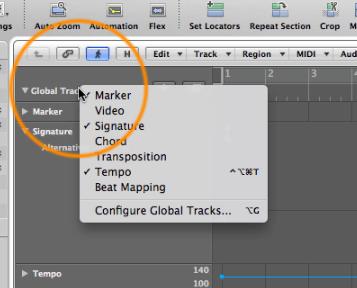 Möchten Sie mehr über Global Tracks und Logic? Schauen Sie sich die Logic 101!