By default a new Logic project's Key signature is set to "C". Of course not all your compositions need to remain in the Key of C! You can adjust this for your entire project and create key changes at
Par défaut la signature d'un projet clé logique nouvelle est fixé à "C". Bien sûr, tous vos compositions doivent rester dans la clef de C! Vous pouvez ajuster ce pour votre projet dans son ensemble et de créer des changements importants à différents points dans votre projet. C'est parfait lorsque vous créez un score dans Logic.
Ces changements de signature à clé tout au long de votre projet n'affectera que l'affichage des notes MIDI dans l'éditeur de partition. Ils ne seront pas, cependant, ont un impact ou apporter des modifications à la lecture des notes MIDI.
Si vous souhaitez affecter la clé de lecture des notes MIDI, vous pouvez utiliser les techniques suivantes substituant la piste de transposition globale pour la piste Signature mondiale.
Lisez la suite pour en découvrir plus ...
01 - Going Global
Cliquez sur le triangle à côté du mot Pistes mondiale au-dessus de la liste. Vous pouvez également utiliser le raccourci clavier par défaut (le mien est "G").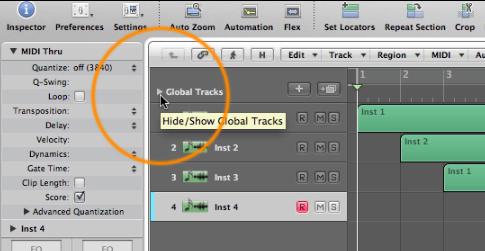 02 - Choisir un Global Track
Vous devriez voir un éventail de pistes sélectionnée mondiales disponibles. Toutefois, comme les pistes normales, ils peuvent être développés ou redimensionnés. Soit cliquer sur le triangle à côté de la piste Signature: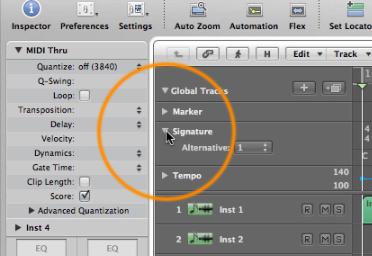 ou la position de votre curseur de souris sur les lignes de démarcation horizontale entre la piste mondiale. Vous noterez que votre curseur de la souris se transforme en un outil de redimensionnement.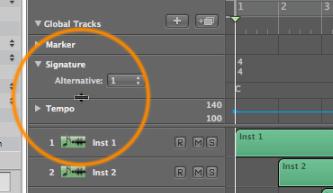 Faites glisser pour redimensionner la piste mondiale: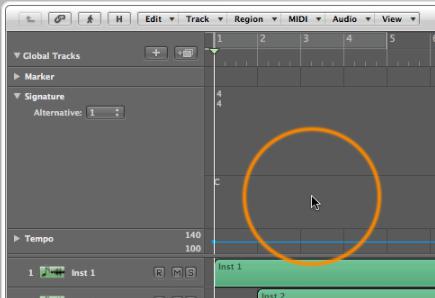 03 - Créer un changement de clé
Pour créer un changement de clé, faites un clic droit n'importe où dans la voie de touche pour voir ce menu: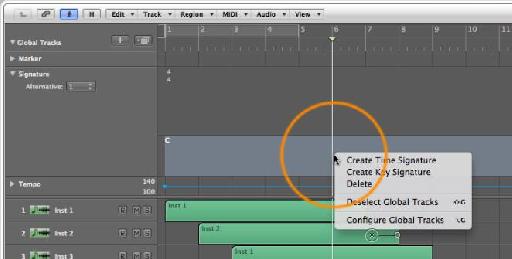 Choisissez "Créer le changement clé" et vous devriez voir la fenêtre de dialogue apparaîtra Signature clés: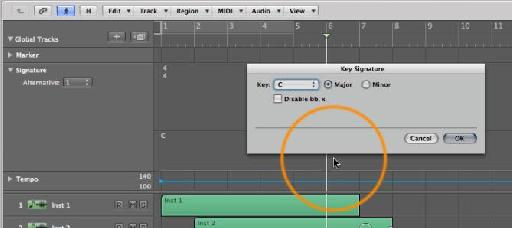 REMARQUE: Vous pouvez également utiliser l'outil Crayon et cliquez dans la voie de clés où vous voulez faire un changement à la signature du projet.
04 - Trouver Invisible Pistes globales
Une fois que vous avez sélectionné la clé, cliquez sur OK. Et ici nous avons le changement de clé dans le projet: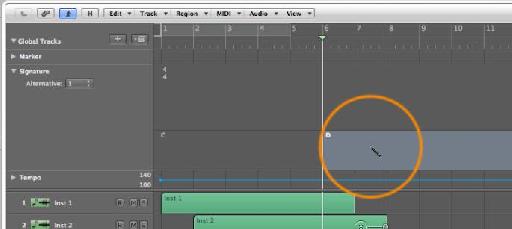 NOTE: You can customise the Global Tracks to view by right-clicking (control-clicking) on any Global Track to see this menu, where you can choose which ones to view and which ones to hide: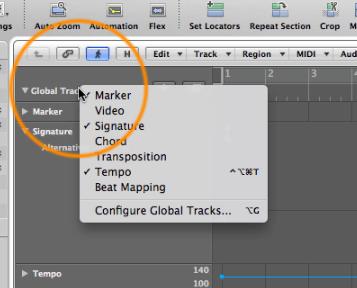 Vous voulez en savoir plus sur les pistes globales et logique? Vérifiez la logique 101!