By default a new Logic project's Key signature is set to "C". Of course not all your compositions need to remain in the Key of C! You can adjust this for your entire project and create key changes at
Por padrão assinatura chave de um projeto novo Logic é definido como "C". Claro que não todas as suas composições precisam permanecer na chave de C! Você pode ajustar isso para o seu projeto inteiro e criar mudanças-chave em diferentes pontos do seu projeto. Isto é perfeito quando se cria um Pontuação em Lógica.
Estas mudanças armadura de clave todo o seu projeto só vai afetar a visualização das notas MIDI no Editor de Score. Eles não irão, no entanto, ter qualquer impacto ou fazer qualquer alteração para a reprodução das notas MIDI.
Se você deseja afetar a chave de reprodução das notas MIDI você pode usar as seguintes técnicas substituindo a pista Transposição global para a faixa de assinatura global.
Leia mais para descobrir mais ...
01 - Going Global
Clique no triângulo ao lado da palavra Faixas global acima do Track List. Você também pode usar o comando de chave padrão (o meu é "G").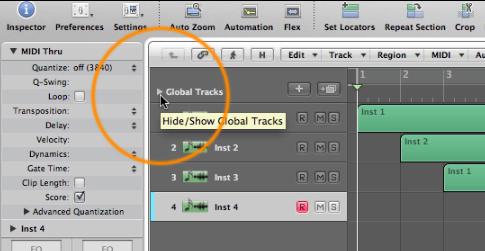 02 - Escolha um Global Track
Você deverá ver uma série selecionada de Faixas globais disponíveis. No entanto, como faixas normais, elas podem ser expandidas ou redimensionada. Ou clique no triângulo ao lado da faixa Assinatura: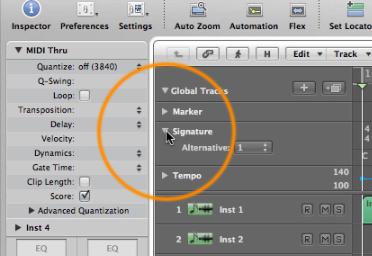 ou posicione o cursor do mouse sobre as linhas de fronteira entre a faixa horizontal global. Você vai notar o seu cursor do mouse se transforma em uma ferramenta de redimensionamento.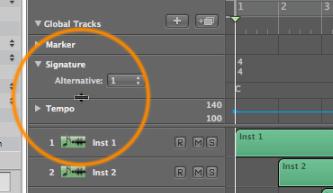 Arraste para redimensionar a Global Track: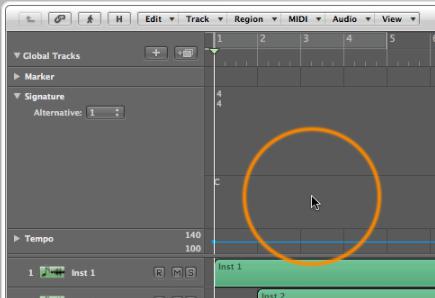 03 - Criar um Alterar chave
Para criar uma mudança chave, botão direito do mouse em qualquer lugar na pista chave para ver este menu: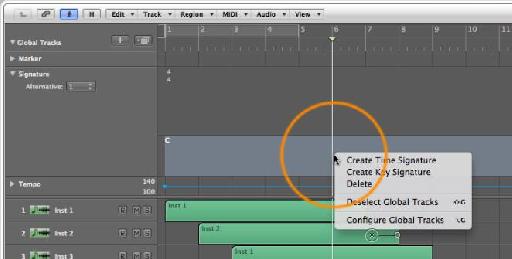 Escolha "Criar mudar Key" e você verá a janela de diálogo chave de assinatura aparecer: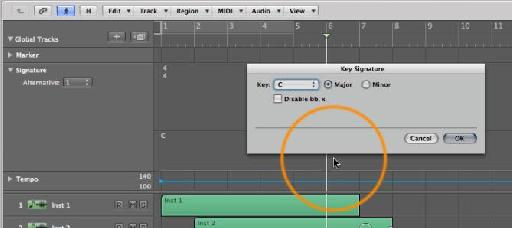 NOTA: Como alternativa, use a ferramenta Lápis e clique na faixa da chave onde você quer fazer uma mudança para a assinatura do projeto.
04 - Encontrando Invisível Faixas global
Depois de selecionar a chave, clique OK. E aqui temos a mudança chave no projeto: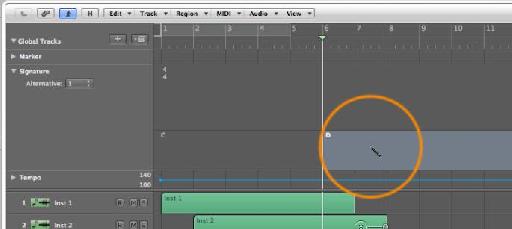 NOTE: You can customise the Global Tracks to view by right-clicking (control-clicking) on any Global Track to see this menu, where you can choose which ones to view and which ones to hide: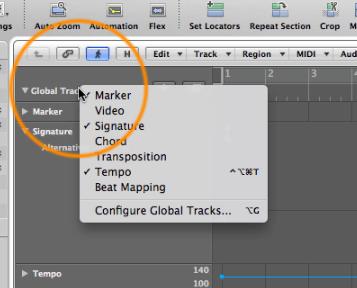 Quer saber mais sobre Faixas Global e Logic? Confira o Logic 101!