Rather than run multiple instances of a virtual instrument to access multiple sounds learn how to use them in multi-timbral mode. Toby Pitman unravels the mystery behind how to set these up in Logic.
Multitimbral synthés virtuels sont une partie importante de l'arsenal de tout le monde de Sonic et je suis sûr tous ceux qui lisent ceci aura au moins un instrument logiciel multitimbral comme Omnisphere , Kontakt ou Play.
Dans la logique il ya plusieurs façons d'accéder aux canaux individuels de ces instruments et dans cet article Ill se pencher sur des solutions différentes pour l'utilisation de multi-timbre synthés virtuels.
L'instrument multi
Logiques objet multi environnement instrument a été conçu pour une utilisation avec externe multitimbral postes synthé hardware comme le Wavestation Roland JV-1080 ou de Korg.
L'idée était d'accéder à 16 canaux MIDI en un seul objet l'environnement qui serait alors connecté à un port sur une interface MIDI matériel à partir de Logic (via la baisse de Port dans la liste déroulante dans la boîte de paramètres). Le port que vous avez sélectionnée sur l'interface matérielle est ensuite connecté au synthé avec un câble MIDI (souvenez??) Et vous avez été bon d'aller.
L'idée était que vous aviez un modèle avec un chargement d'instruments multi qui correspondait à la configuration de votre studio synthé hardware.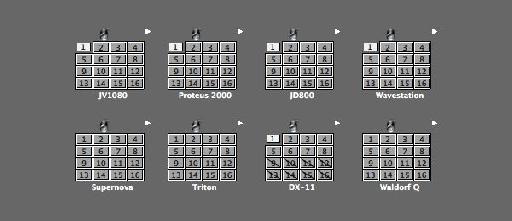 Cet objet a été beaucoup plus simple que d'avoir à créer 16 objets Instrument et attribuer leur canal MIDI et port individuellement. A ce jour, l'Instrument Multi est encore la meilleure façon d'utiliser un matériel externe multitimbral synthé.
Hook Me Up!
Alors, quand multitimbral Synthés soft a commencé à émerger de la seule vraie solution logique pour répondre à leurs multiples canaux MIDI interne était de câbler un objet Instrument Multi pour la bande de canaux d'instruments logiciels dans l'environnement. Tout ce que vous avait à faire était de s'assurer que le canal MIDI sur la bande de la Manche a été mis à Tous pour qu'il puisse recevoir les 16 canaux MIDI de l'instrument multi.
Vous pouvez ensuite créer les voies pour l'Instrument Multi dans la page Organiser et hors vous êtes allé.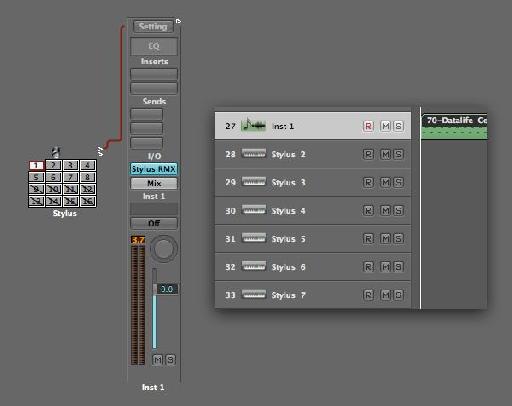 Now this object was never really intended for internal use, mainly because there were no soft synths in existence when 'Logic' came into being in 1993! Let's not forget that VSTi didn't even appear until 1999 and the first multi-timbral soft synth I can think of was Kontakt which appeared in 2002.
One tell tale sign of this not being it's intended use is the warning sign you get when you connect a Multi Instrument to a Channel Strip.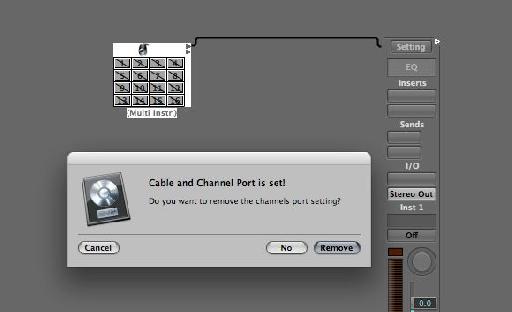 I'm sure you've all seen this warning and idea of this is to let you know that by default the Multi Instrument wants to connect to the outside world via a Port. You can see all the available Ports I have in the image below. I managed to dig out an Emagic MT4 for effect!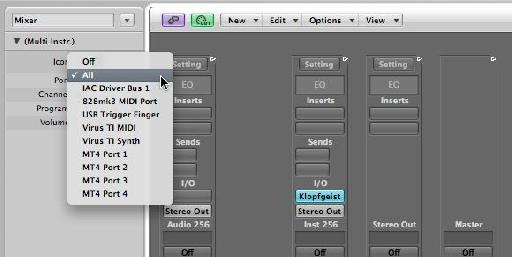 By default the Multi Instrument will connect itself to 'all' those Ports on creation. Removing the Port settings ensures that any MIDI you pipe through the Multi Instrument can't escape Logic into the outside world.
Although the Multi Instrument works well internally it's a a pain to set up especially if you like starting from a blank slate. There's also the issue of MIDI CC7 (Volume) not being able to control the levels of each part in your synth, as no matter what channel your send this message on it always ends up controlling the overall channel strip volume fader! So not perfect!
La mort de l'Instrument Multi?

Now up until Logic 8 this was your only real option for using multi-timbral soft synths in Logic. Then Apple had a bright idea!

Inside the 'New Tracks' dialogue box a small checkbox appears when you select Software Instrument. The checkbox is marked 'Multi-timbral'.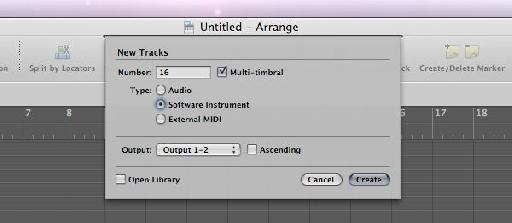 It is now possible to create multiple copies (between 1-16 in the dialogue box) of your Software Instrument track in the Arrange page each with it's own discrete MIDI channel thus eliminating the need for wiring up a Multi Instrument object! Hooray!! Well not quite!
Despite this looking quite fancy in the Arrange area, behind the scenes in the Environment object numbers are starting to add up! For this to work Logic has to duplicate the 'Channel Strip' in the environment for each discrete MIDI channel you want.
Now if you never go in the Environment that's fine. If you do you'll have to wade through reams of duplicate faders. Don't forget this also adds to Logics memory consumption too!
Below are some of the faders for 'four' 16 channel software instruments (64 channel strips).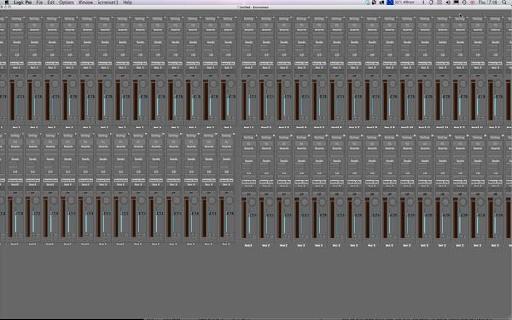 The weird thing is you don't actually gain any advantages over the 'Multi Instrument' object technique as far as control goes. If you move the fader for one the other 15 duplicates move as well. You still can't use CC7 or CC10 (pan) as it will effect channel strip volume and pan on all 15 copies.
Saying that it is a big leap forward in convenience. But still not quite perfect!
Intelligente Synthés Virtuels

Now one plugin in particular that is quite clever in the way it deals with multi-timbrality is
Stylus RMX
.
I came across this by accident when editing a MIDI file I'd dragged from Stylus into the Arrange page in the Event List.
I noticed that if I dragged a MIDI file from say 'Part 4' in Stylus that it actually bought the MIDI channel (Ch 4) information with it inside the region (MIDI file).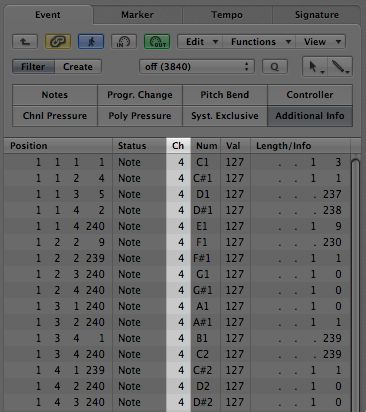 It dawned on me that as long as my Software Instrument track was set to channel 'All' there was no need to create and wire up a 'Multi Instrument' or create 'Multi-timbral' tracks
as the MIDI was automatically speaking to the right part in Stylus via the MIDI channel information in the region!
All I had to do was duplicate the track using Option + Command + S (Track > New With Same Channel Strip/Instrument). Each new part I dragged from Stylus sent the information over it's own discrete MIDI channel! This is now how I use Stylus.
Envoyer des signaux mixtes

So what if you want to trigger each discrete part from a keyboard? Well by default every MIDI controller transmits on MIDI Ch 1. There is however no reason why you can't change this! All controllers have the ability to change their MIDI Transmit (TX) channel.

If I want to access the sounds on say Part 4 of Stylus from a duplicated track I could just set my controller keyboard to Transmit on Ch 4 so it's on the right channel before it enters Logic! Simple!
In fact I've found this to be an really quick way to program with Stylus. Triggering another 'Part' is as simple as pressing a + or - key on my controller to switch the MIDI channel.
In the image below you can see 4 Parts of Stylus being triggered from one region. Have a look at the note information. In the 'Ch' column you can see the notes are on different MIDI channels.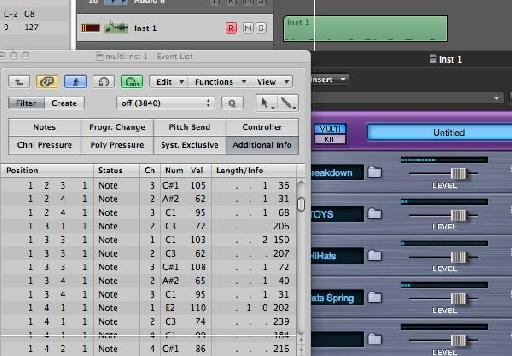 This also cuts my track count although I can easily separate these by selecting the region and going to MIDI > Separate MIDI Events > By Event Channel.
It even automatically duplicates the tracks for me too.

You could even go as far as to build a MIDI channel switcher using some Transformers before the Sequencer Input in the Environment hooked up to a hardware fader. Just move the fader to access any channel of a multi-timbral synth instantly.
Note: This might be a project for the more (ahem!).... adventurous Logic user!
Encore du chemin à faire!

For me there's still a way to go in Logic before multi-timbral and multi 'output' synths are integrated in a harmonious way.

For instance if I want to have a multi-timbral soft synth with 16 MIDI channels and 16 stereo outputs (and automate those outputs) I need a whopping 32 tracks in the Arrange just for that one instrument!!
What I'd like to see is a setup where 'Auxiliary' audio objects that were created from a Software Instrument (for multi output usage) were also able to be used as 'sequencer tracks', each with their own unique MIDI channel.
Maybe in
Logic 10
? In the meantime check out SteveH's
Logic TNT2
and
Logic TNT3
series for specific tips on working with multi-timbral instruments and much, much more!