Rather than run multiple instances of a virtual instrument to access multiple sounds learn how to use them in multi-timbral mode. Toby Pitman unravels the mystery behind how to set these up in Logic.
Multi-Timbral soft synths são uma parte importante do arsenal sonoro everyones e Im certeza de que todos lendo este terá pelo menos um instrumento de software multi-timbral como Omnisphere , Kontakt ou Play.
Em Logic existem várias maneiras de acessar os canais individuais desses instrumentos e neste artigo vou estar olhando para algumas soluções diferentes para o uso multi-timbral synths macio.
O instrumento multi
Lógicas objeto ambiente multi instrumento foi projetado para uso externo com multi-timbral workstations synth hardware como o Wavestation JV-1080 ou Korg Roland.
A idéia por trás dele era para acessar discreto 16 canais MIDI em um objeto ambiente que seria, então, conectado a uma porta em uma interface de hardware MIDI da Logic (via a queda Porto down list na caixa Parâmetros). A porta selecionada na interface de hardware foi, então, conectado ao sintetizador com um cabo MIDI (lembra deles?) E você era bom para ir.
A idéia era que você tinha um modelo com uma carga de instrumentos multi que combina com seus estúdios de configuração synth hardware.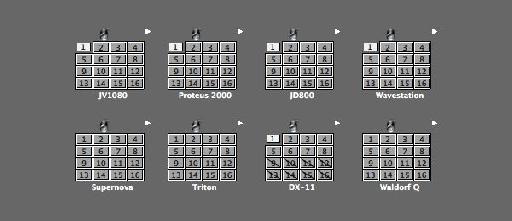 Este objeto foi muito mais simples do que ter que criar 16 objetos Instrumento e atribuir o seu canal MIDI e Port individualmente. Até hoje o instrumento multi ainda é a melhor maneira de utilizar um hardware externo synth multi-timbral.
Hook Me Up!
Então, quando multi-timbral soft synths começaram a surgir a única solução real em Lógica para resolver as suas múltiplos canais MIDI internamente era conectar um objeto multi Instrumento para a faixa de canal Software Instrumento dentro do ambiente. Tudo o que você tinha que fazer era garantir que o canal de MIDI na Faixa de Canal foi criado para Todos para que pudesse receber todos os 16 canais MIDI do instrumento Multi.
Você, então, criar as faixas para o Instrumento de multi na página Organizar e fora de você foi.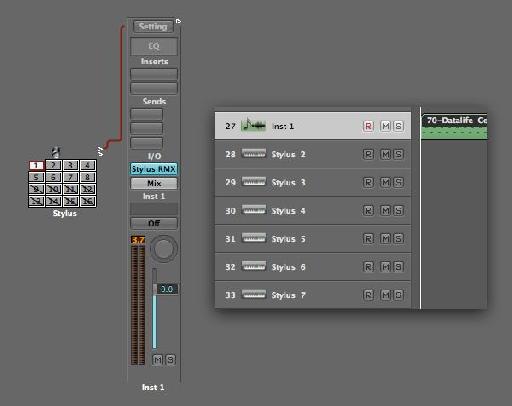 Now this object was never really intended for internal use, mainly because there were no soft synths in existence when 'Logic' came into being in 1993! Let's not forget that VSTi didn't even appear until 1999 and the first multi-timbral soft synth I can think of was Kontakt which appeared in 2002.
One tell tale sign of this not being it's intended use is the warning sign you get when you connect a Multi Instrument to a Channel Strip.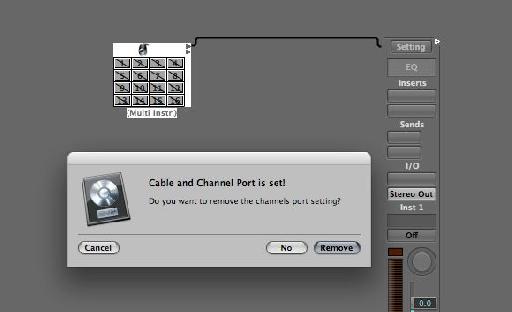 I'm sure you've all seen this warning and idea of this is to let you know that by default the Multi Instrument wants to connect to the outside world via a Port. You can see all the available Ports I have in the image below. I managed to dig out an Emagic MT4 for effect!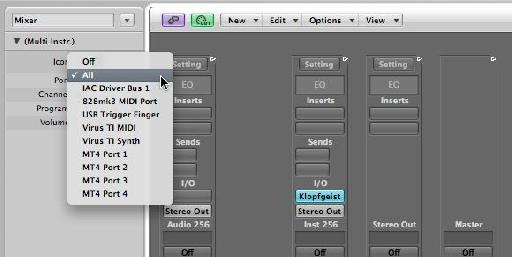 By default the Multi Instrument will connect itself to 'all' those Ports on creation. Removing the Port settings ensures that any MIDI you pipe through the Multi Instrument can't escape Logic into the outside world.
Although the Multi Instrument works well internally it's a a pain to set up especially if you like starting from a blank slate. There's also the issue of MIDI CC7 (Volume) not being able to control the levels of each part in your synth, as no matter what channel your send this message on it always ends up controlling the overall channel strip volume fader! So not perfect!
A Morte do Instrumento de multi?

Now up until Logic 8 this was your only real option for using multi-timbral soft synths in Logic. Then Apple had a bright idea!

Inside the 'New Tracks' dialogue box a small checkbox appears when you select Software Instrument. The checkbox is marked 'Multi-timbral'.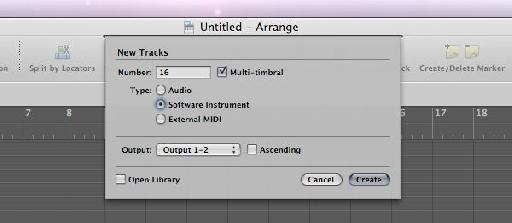 It is now possible to create multiple copies (between 1-16 in the dialogue box) of your Software Instrument track in the Arrange page each with it's own discrete MIDI channel thus eliminating the need for wiring up a Multi Instrument object! Hooray!! Well not quite!
Despite this looking quite fancy in the Arrange area, behind the scenes in the Environment object numbers are starting to add up! For this to work Logic has to duplicate the 'Channel Strip' in the environment for each discrete MIDI channel you want.
Now if you never go in the Environment that's fine. If you do you'll have to wade through reams of duplicate faders. Don't forget this also adds to Logics memory consumption too!
Below are some of the faders for 'four' 16 channel software instruments (64 channel strips).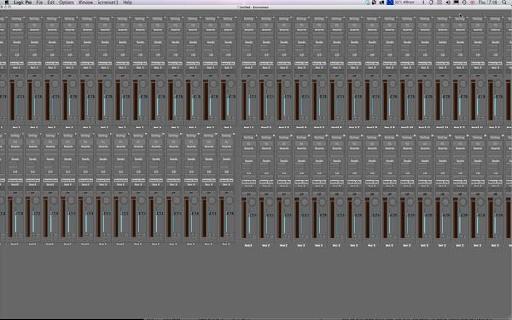 The weird thing is you don't actually gain any advantages over the 'Multi Instrument' object technique as far as control goes. If you move the fader for one the other 15 duplicates move as well. You still can't use CC7 or CC10 (pan) as it will effect channel strip volume and pan on all 15 copies.
Saying that it is a big leap forward in convenience. But still not quite perfect!
Inteligente soft synths

Now one plugin in particular that is quite clever in the way it deals with multi-timbrality is
Stylus RMX
.
I came across this by accident when editing a MIDI file I'd dragged from Stylus into the Arrange page in the Event List.
I noticed that if I dragged a MIDI file from say 'Part 4' in Stylus that it actually bought the MIDI channel (Ch 4) information with it inside the region (MIDI file).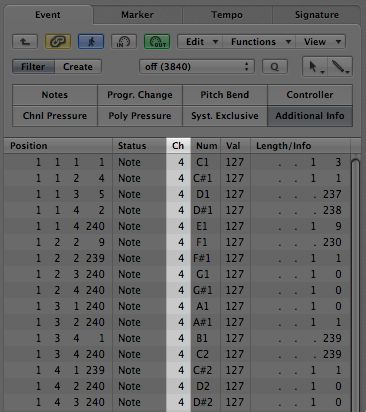 It dawned on me that as long as my Software Instrument track was set to channel 'All' there was no need to create and wire up a 'Multi Instrument' or create 'Multi-timbral' tracks
as the MIDI was automatically speaking to the right part in Stylus via the MIDI channel information in the region!
All I had to do was duplicate the track using Option + Command + S (Track > New With Same Channel Strip/Instrument). Each new part I dragged from Stylus sent the information over it's own discrete MIDI channel! This is now how I use Stylus.
Enviando sinais mistos

So what if you want to trigger each discrete part from a keyboard? Well by default every MIDI controller transmits on MIDI Ch 1. There is however no reason why you can't change this! All controllers have the ability to change their MIDI Transmit (TX) channel.

If I want to access the sounds on say Part 4 of Stylus from a duplicated track I could just set my controller keyboard to Transmit on Ch 4 so it's on the right channel before it enters Logic! Simple!
In fact I've found this to be an really quick way to program with Stylus. Triggering another 'Part' is as simple as pressing a + or - key on my controller to switch the MIDI channel.
In the image below you can see 4 Parts of Stylus being triggered from one region. Have a look at the note information. In the 'Ch' column you can see the notes are on different MIDI channels.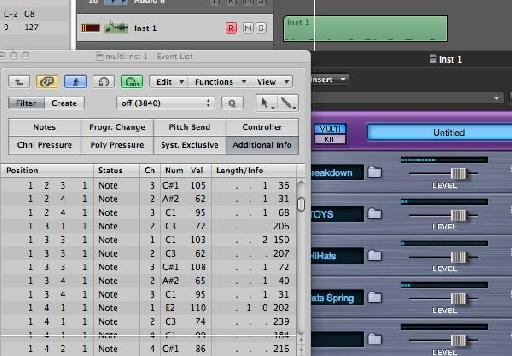 This also cuts my track count although I can easily separate these by selecting the region and going to MIDI > Separate MIDI Events > By Event Channel.
It even automatically duplicates the tracks for me too.

You could even go as far as to build a MIDI channel switcher using some Transformers before the Sequencer Input in the Environment hooked up to a hardware fader. Just move the fader to access any channel of a multi-timbral synth instantly.
Note: This might be a project for the more (ahem!).... adventurous Logic user!
Ainda uma maneira de Go!

For me there's still a way to go in Logic before multi-timbral and multi 'output' synths are integrated in a harmonious way.

For instance if I want to have a multi-timbral soft synth with 16 MIDI channels and 16 stereo outputs (and automate those outputs) I need a whopping 32 tracks in the Arrange just for that one instrument!!
What I'd like to see is a setup where 'Auxiliary' audio objects that were created from a Software Instrument (for multi output usage) were also able to be used as 'sequencer tracks', each with their own unique MIDI channel.
Maybe in
Logic 10
? In the meantime check out SteveH's
Logic TNT2
and
Logic TNT3
series for specific tips on working with multi-timbral instruments and much, much more!