If you're wondering why your boss growls at you after you've sent the 70th reminder email that day, or you're wondering how to get your employees to stop copying you in all emails, read this!
I'm a boss.

I get literally hundreds of emails a day from employees, partner companies, lawyers & accountants, customers, internal monitoring systems, support issues, site comments, and etc. Each of these emails requires a bit of my attention, and they add up to several hours out of my day, 7 days a week.
Most bosses are just like me: busy people that want to spend as little time as possible in their email client, and as much time as they can thinking about and running their company. Good employees help their bosses efficiently maximize the time spent emailing, while bad employees sap the boss's strength by committing the following common email etiquette errors.
1. Did you get that mail?
I got 200 emails already this morning, and 10 of them were from you. There's another few dozen we're both included on. With 30 potential emails to choose from, asking me if I 'got that mail' isn't very helpful. And even if there's only 2 emails so far today, it's still a question that's always going to be answered by: 'What mail?!'

Save your boss the hassle of having to say those words and explain which mail you're referring to, right from the beginning. Something like, 'Did you get that mail about the new home page wireframes?' Put context into your questions and you'll make your boss a lot happier (BTW, this doesn't only apply to emails!).

2. Subject: FYI '¦ Fwd: [a 15 page email thread with 7 different contributors]
You're kidding, right? You just forwarded me a huge email thread with your only comment being 'FYI '¦' in the subject line?!?

Your boss is going to open that mail, scroll down until the scrolling becomes irritating, and then just simply fire you. No boss (or anyone else for that matter) has enough time in the day to read through a giant email thread and try to figure out what *you* think might be interesting to them.

Instead, tell your boss what's interesting about the thread. Better still, cut out the interesting sections, and paste them clearly at the top of the email with an explanation of why theses sections are interesting. Similar to 'Did you get that mail?' above, by providing the boss with proper context you make their life easier and save them time '¦ which they can use to think about giving you a promotion, rather than playing Sherlock Holmes to figure out what you're getting at.

3. Subject Line Only Emails
While I'm at it, subject line only emails are a real drag. I know it's trendy, and some people think it's kind of clever. But really, the boss is expecting something in the body of the message, so you should reward them for taking the time to open your email by giving them what they expect.

If I open a message and it's blank, it simply looks like you forgot to type what you intended. I then have to figure out that the subject line *is* the message, or ask you to clarify your meaning. Most likely I don't have time for either, so I just delete your email and move on.
4. Wrong Subject (Or No Subject) Emails
Speaking of subject lines, this single little line has an important purpose: it tells you what's in the mail. It's also what most email clients use to thread emails into collections. If you're like me, you find Apple Mail's search features to be rudimentary at best (if not just plain irritating). So when you're looking for information, the subject line is the most commonly searched item.
Help your boss find things quicker by avoiding the generic, and always creating descriptive subject lines. Most important of all, don't reply to a message with other information that has nothing to do with that message, thereby rendering that subject line useless (and if you do, change the subject line).
5. Reply All - Check Twice, Send Once.
Okay, we're all guilty. We've all done it. We all know that heart-stopping chill that comes when you think you're replying just to the sender, but you actually 'reply all' and send your funny comment to everyone that's copied'"including the boss!!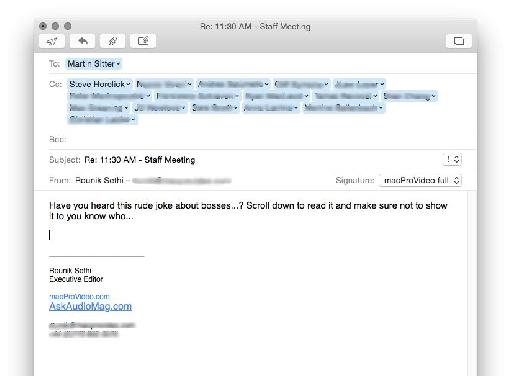 These sorts of errors can range from the merely humorous, to cause for termination. With that in mind, it always pays in spades to check the header of your email at least twice before clicking the send button. Make sure the subject line is correct. And of course, make doubly sure the message is only going to those whom you intended.
And Finally ...
These mistakes are annoying time vampires. We all have to deal with them every day ... and it's not just employees that shoulder the blame - bosses do these things too.
So what should you do if the boss makes any of these mistakes? Well ... nothing! The boss gets too '" that's why they're the boss!