So you've got a shiny new Mac, the latest Mac OS running in 64-bit mode. Potentially musicians can utilize almost unlimited amounts of RAM, right? Mo Volans shows how to make the most of 64-bit mode!
Il passaggio a 64-bit non sarebbe stato qualcosa che hai pensato. Per molti la sua una mossa abbastanza trasparente, ma ci sono alcune cose vale la pena pensare per assicurarsi che il sistema funziona al meglio ... Inoltre il suo bello sapere cosa sta succedendo sotto il cofano!

1 - Utilizzo di un 64-Bit Utility
Ci sono alcuni programmi di utilità fresco poco che non solo dirvi se il vostro Mac
Io uso Startup Mode Selector, che può essere scaricato da MacUpdate qui: http://www.macupdate.com/app/mac/32252/32--or-64-bit-kernel-startup-mode-selector
Come si può vedere quando questo viene eseguito su un MacBook Pro Core2Duo tutto è 64-bit e compatibile, ma quando un vecchio Mac Pro 2,1 è usato ci sono alcune cose mancanti. Si tratta di informazioni utili e consente veramente sapere cosa sta facendo il vostro sistema.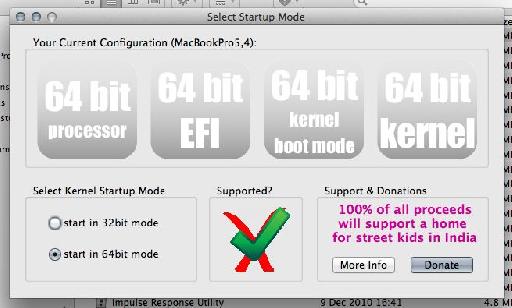 Un nuovo MacBook Pro si presenta con un completo sistema a 64 bit.
Con il sistema avviato in 64-bit è possibile sfruttare le applicazioni in grado o 64-bit e, soprattutto, indirizzare più di 4GB di RAM che sistemi a 32 bit sono limitati a.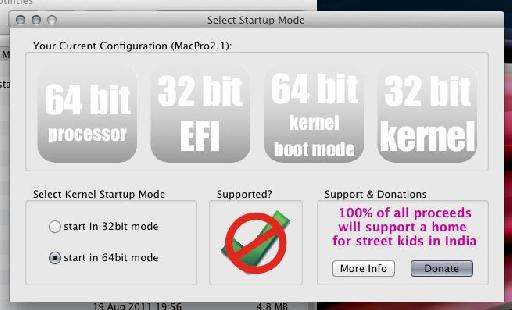 Mentre un vecchio Mac Pro è in grado di eseguire applicazioni a 64-bit che mostra ancora un po 'architettura a 32 bit.
2 - Garantire le tue applicazioni si aprono a 64-bit
Anche se il sistema è tutto impostato per funzionare a 64-bit e anzi viene avviato in modalità a 64 bit, se le vostre apps arent 64-bit in grado o in esecuzione in modalità di destra è solito essere sfruttando le aumento delle prestazioni possibili.
Il primo passo è quello di garantire si esegue la versione più recente di qualsiasi applicazione vostra corsa. Se si esegue Logic Pro (o qualsiasi altra app di Apple), questo sarà curato attraverso aggiornamento software, altrimenti youll bisogno di visitare il sito web produce.
Una volta che tutte le tue applicazioni sono all'altezza è possibile controllare se sono impostate per aprire in 64-bit, selezionando l'applicazione e l'intenzione di ottenere informazioni. Ora dovreste vedere un Open in a 32-bit box mode. Assicurarsi che questo non è spuntato come a volte viene selezionata per impostazione predefinita.
Garantire Pro Logic si apre in 64-bit.
Ovviamente si può barrare questa casella se mai hai bisogno di aprire le applicazioni in modalità a 32 bit.
Modalità a 32 bit può essere inserito in qualsiasi momento.
3 - Aggiornamento del Plug-ins
Può sembrare un po 'ovvio, ma semplicemente aggiornando le tue applicazioni abituato garantire che qualsiasi plug-in ed estensioni sono in esecuzione in 64-bit. Questi dovranno essere aggiornato.
Molti plug-in produce stanno iniziando a fare il passaggio a 64-bit ora, quindi è possibile che alcuni dei vostri preferiti sono completamente a 64-bit pronto. Native Instruments sono stati pionieri in questo settore e hanno già fatto in modo che la loro linea di prodotti tutta funziona perfettamente nel 64.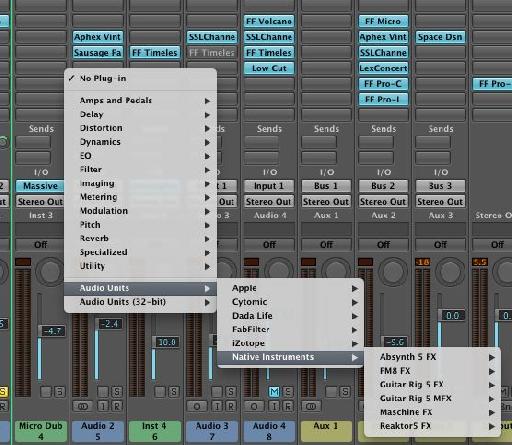 Molte aziende hanno già aggiornato i loro prodotti a 64-bit.
Se il plug-ins non sono ancora aggiornati a 64-bit offrono la maggior parte delle DAW una sorta di bridge a 32 bit, che consente di eseguire il DAW in modalità a 64 bit, ma ancora eseguito 32-bit plug-in e strumenti.

A 32-bit bridge vi permetterà di eseguire 32-bit plug-ins in un ambiente a 64 bit.
4 - Verificare che si sta svolgendo in 64-bit
Se siete curiosi di vedere esattamente quali applicazioni e le utility sono in esecuzione in 64 o 32 bit sul sistema è possibile utilizzare il monitor Activity che è incluso in OSX [Potete trovare Monitor attività in Applicazioni / Utility / cartella - Ed.]. Basta aprirlo e in fondo a destra si vede una colonna di tipo. Qui è possibile visualizzare quali modalità di ogni specifica attività è in esecuzione in: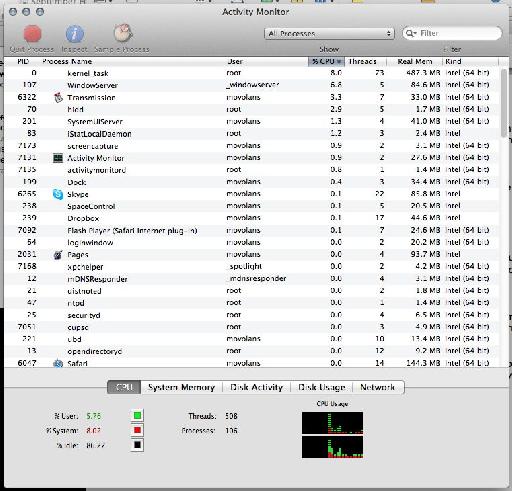 Il Monitoraggio Attività vi permetterà di vedere che cosa è esattamente l'esecuzione a 64-bit.
5 - Ora aggiornare la RAM!
Ora che sapete che cosa è in esecuzione in 64-bit (e cosa non lo è), ad approfittare del vostro sistema aggiornato è necessario essere in esecuzione quanta più RAM possibile mettere le mani su.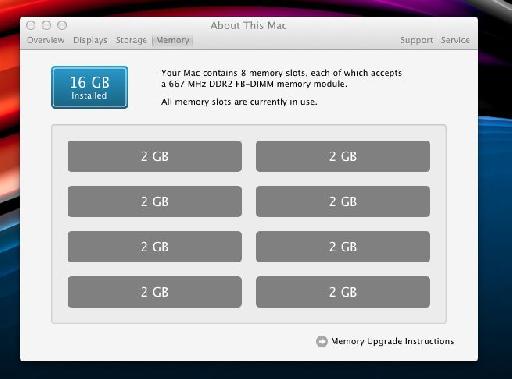 Esecuzione di quanta più RAM possibile, aiuterà a trarre vantaggio da un sistema a 64 bit.
Alcune applicazioni beneficeranno di più da questo aggiornamento di altri, ma se si esegue sessioni pesanti con strumenti che utilizzano grandi quantità di campioni si dovrebbe davvero vedere e sentire il beneficio. Sono andato avanti e caricato il mio Mac Pro con 16 GB e il mio portatile con 8 GB e ho notato dei miglioramenti su entrambi utilizzando Logic Pro a 64-bit.