So you've got a shiny new Mac, the latest Mac OS running in 64-bit mode. Potentially musicians can utilize almost unlimited amounts of RAM, right? Mo Volans shows how to make the most of 64-bit mode!
A transição para 64 bits não poderia ter sido algo que você pensou. Para muitos o seu movimento muito transparente, mas há algumas coisas que vale a pena pensar em se certificar que seu sistema está executando no seu melhor ... Além disso, seu bom saber o que está acontecendo sob o capô!

1 - Usando um utilitário 64-Bit
Há alguns pequenos utilitários interessantes sobre isso não apenas dizer-lhe se o seu Mac é
Eu uso o Seletor de Modo de inicialização que pode ser baixado a partir de MacUpdate aqui: http://www.macupdate.com/app/mac/32252/32--or-64-bit-kernel-startup-mode-selector
Como você pode ver quando este está sendo executado em um MacBook Pro Core2Duo tudo é 64-bit e compatível, mas quando um velho Mac Pro 2,1 é usado há algumas coisas que faltam. Esta é uma informação útil e realmente permite que você saiba o que seu sistema está fazendo.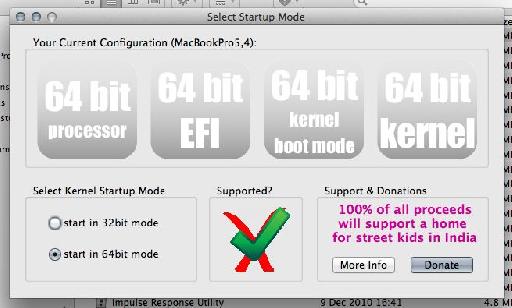 Um novo MacBook Pro apresenta um sistema totalmente 64-bit.
Com o sistema iniciado em 64-bit você pode tirar vantagem ou 64-bit capazes e mais importante endereçar mais de 4GB de RAM que sistemas 32-bit estão limitadas a.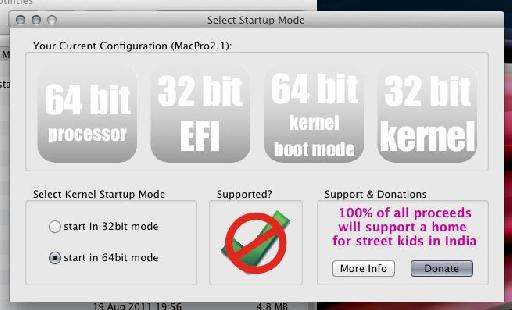 Enquanto um velho Mac Pro é capaz de executar aplicações 64-bit mostra ainda algumas arquitetura de 32-bit.
2 - Assegurar a seus aplicativos estão se abrindo em 64 bits
Mesmo se seu sistema está tudo pronto para ser executado em 64 bits e de fato é inicializado em modo de 64 bits, se seus aplicativos Arent 64-bit capaz ou em execução no modo certo você não vai estar se aproveitando dos aumentos de performance possíveis.
O primeiro passo é garantir que você estiver executando a versão mais recente de qualquer app sua corrida. Se você estiver executando o Logic Pro (ou qualquer outro aplicativo da Apple) o que será tomado cuidado de, através de atualização de software, caso contrário, você precisará de visitar a fabrica website.
Uma vez que todos os seus aplicativos são até zero você pode verificar se eles estão previsto para estrear em 64 bits, selecionando o aplicativo e indo para Obter Informações. Agora você deve ver um Open in 32-bit caixa modo. Certifique-se este estiver desmarcada como às vezes é marcada por padrão.
Garantir Pro Logic será aberto em 64 bits.
Obviamente, você pode marcar esta caixa se você precisar abrir seus aplicativos em modo 32-bit.
Modo de 32 bits pode ser contratado a qualquer momento.
3 - Atualização do seu plug-ins
Pode parecer um pouco óbvio, mas a simples atualização de seus aplicativos não vai garantir que qualquer plug-ins e extensões estão rodando em 64 bits. Estes terão que ser atualizados também.
Muitos plug-in fabricantes estão começando a fazer a mudança para 64 bits agora, então você pode descobrir que alguns dos seus favoritos são totalmente 64-bit pronto. Native Instruments foram pioneiros nesta área e já fez com que sua linha de produtos toda roda perfeitamente em 64.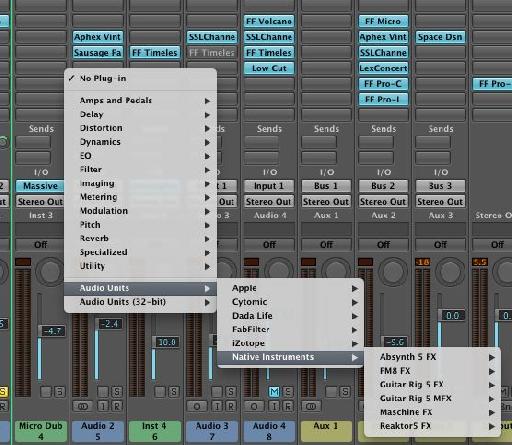 Muitas empresas já atualizou seus produtos para 64 bits.
Se os seus plug-ins ainda não estão atualizados para 64 bits a maioria dos DAWs apresentam algum tipo de 32-bit ponte, permitindo que você execute o DAW no modo de 64 bits, mas ainda executar 32-bit plug-ins e instrumentos.

Uma ponte de 32-bit irá permitir que você execute 32-bit plug-ins em um ambiente 64-bit.
4 - Verifique o que está sendo executado em 64 bits
Se você está curioso para ver exatamente quais aplicativos e utilitários estão rodando em 64 ou 32 bits em seu sistema você pode usar o monitor de atividade que está incluído no OSX [Você pode encontrar o Activity Monitor na pasta Aplicativos / Utilitários / pasta - Ed]. Basta abri-lo e na extrema direita você vê uma coluna do tipo. Aqui você pode ver o modo de cada atividade específica está sendo executado em: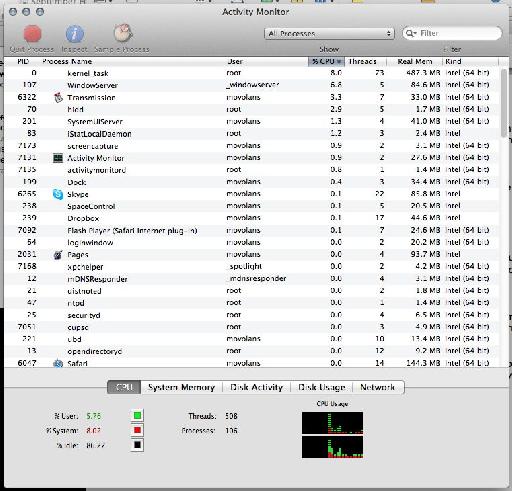 O Monitor de Atividade lhe permitirá ver exatamente o que é executado em 64 bits.
5 - Agora upgrade da memória RAM!
Agora que você sabe o que está sendo executado em 64 bits (eo que não é), para realmente tirar proveito de seu sistema atualizado você precisa estar executando mais memória RAM quanto você pode colocar suas mãos.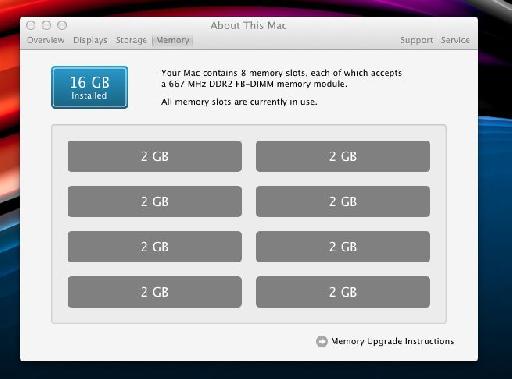 Correndo mais memória RAM quanto possível vai ajudar a tirar proveito de um sistema 64-bit.
Algumas aplicações irão beneficiar mais com esta atualização do que outros, mas se você executar sessões pesadas com instrumentos que utilizam grandes quantidades de amostras que você deve realmente ver e sentir o benefício. Fui em frente e carregado o meu Mac Pro com 16 GB e meu laptop com 8 GB e tenho notado melhorias em ambos Pro Logic usando em 64 bits.