A FrankenRAID might sound like something out of a horror movie scene... but, as Iain Anderson explains, the FrankenRAID could prevent any horror stories by providing fast storage on a budget.
If you're looking for fast, large storage, but don't want to spend a lot of money, you have a few choices, but not many great ones. There is, however, a way to do it. Along the way, we'll look at how to use Disk Utility, which will save you money on every external drive you buy for your Mac. Cool? Thought so. Let's dig in.

A real RAID drive
Many companies make real RAID drives these days, combining many drive bays with some smarts to make the whole thing faster and/or safer. Though historically RAID has been an enterprise product with its corresponding unknown names and forgettable industrial design, that's changed. These days even the big guns are getting in on the act, selling 2 drive combos and 5-drive behemoths. Why not go for one of those?
Well, most of them aren't that fast, and cost a fair bit extra. If USB3 is on the menu, and it usually is, then the interface seems to top out at around 300 MB/s. That's very good but not blinding, and not much better than twice the performance of a single drive. You'll want Thunderbolt for truly awesome speed, and that hasn't really hit the mainstream yet. Even LaCie, who make a 5-bay drive with Thunderbolt, don't give it any smarts, so it's not a true hardware RAID. It's just five bays, and you have to patch it into a RAID array yourself with Disk Utility. If you're doing that, can you get good results without spending the Thunderbolt premium? Maybe. You'll need at least two identical blank drives for best results.
Disk Utility
This workhorse has been around for years in the Applications > Utilities folder, and it handles everything from secure erasing to creating sparse disk images. It's a handy thing to know, especially if you want to try out raid on the cheap. It's also the key to getting the most out of cheap PC USB3 drives.
In times past, you'd pay a premium as a Mac user to get a FireWire drive instead of USB2. That was somewhat fair, as the interface was simply better, but today you can pay more money for the same physical product, simply because it's formatted for Mac instead of PC. It's clearly not worth paying $50 or so for the privilege if you know how to turn the cheap drive into the pricey one.
Note: Before you go any further, make sure you copy anything important off the drive, as some free software may have been included with it. We are about to wipe it, so be sure.
Different formats
Many different ways to slice and dice a drive are out there. NTFS is the default Windows way, and you'll find most drives are set up like this. Mac users should probably go for HFS+ (Journaled) instead, not least because Macs can't write data to an NTFS drive. There is a common PC-Mac format, exFAT, which is OK but not as fast as it could be, so you'd only choose that if you really need to shift a lot of data across platforms. The older FAT32 has some severe limitations with regard to larger files (over 4 GB) and should be avoided except where necessary, such as on SD cards for use in DSLRs.
HFS+ (Journaled) it is, then. How to change that NTFS disk to an HFS+ one?
Reformatting PC disks for Mac
It's easy. Launch Disk Utility. Select your drive (not any partitions lower than the drive name itself) on the left pane. Choose the Erase tab (not erase) and 'Mac OS Extended (Journaled)' from the Format drop-down menu in the main area.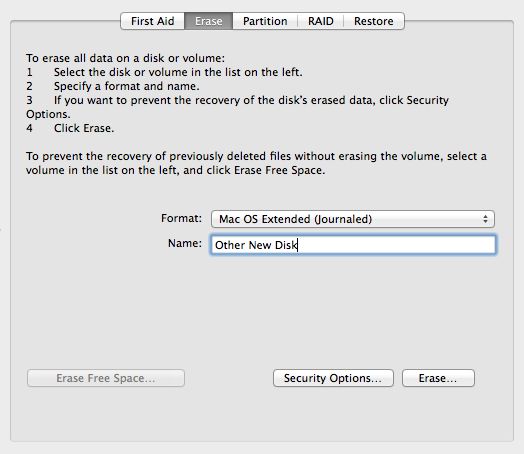 Call your disk whatever you want, just make sure there's nothing on it.
Give your new disk a name, and press Erase. This is a blank disk, so there's nothing to lose. Right?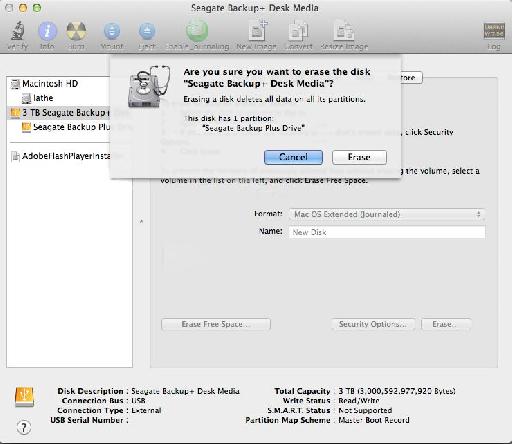 When you press Erase, the format changes to HFS+ and the partition map changes to GUID '" but that's all good.
Wait a little while, and you'll have a shiny new drive to play with. Repeat those operations with your other blank drive if you want to make it into a RAID in the next step.
RAID standards
Recapping the RAID standards from last article:
RAID 0 (striped): data is split up written to multiple drives at once, for maximum speed, but if any drive in the RAID set fails, all data is lost. Provides the space of all drives combined.

RAID 1 (mirrored): the same data is written to two drives at once, for maximum security but with a slight speed loss compared to a single drive. Only half the total space of the drives is usable.

RAID 10 (collated): RAID 0 and 1 are combined to provide the speed of RAID 0 but with full redundancy. Requires four drives, but you only get the space of two.

We're going to set up a RAID 0 for maximum speed. Because it's not safe, you'll need backups'"and we've got another article dealing with archiving FCP X 10.1 projects too. For other kinds of media, just know that a RAID 0 is somewhat fragile. Using one doubles its chance of failure, but also doubles its size and (nearly) doubles its speed. For backed-up data, it may be a worthwhile risk.
Setup a RAID 0
This part is relatively easy. With both drives still connected, select the first drive on the left, then the RAID tab on the right.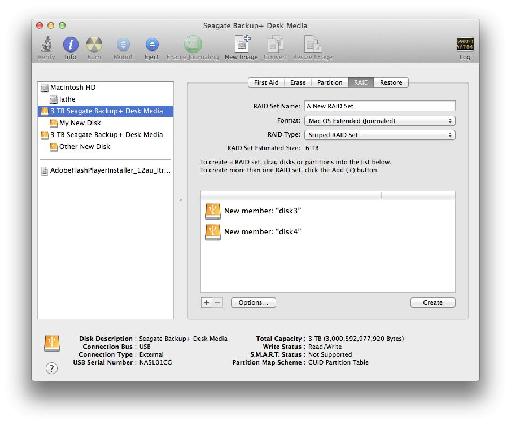 A new RAID set ready to go.
Give it a name, then drag in the second drive on the left to the large empty space below. Press Create, then confirm.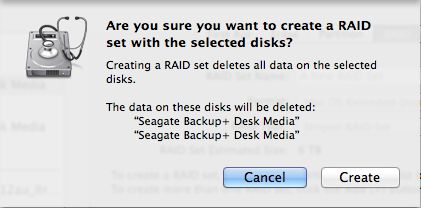 Are you sure?
Remember that you'll need to plug in both drives before the set will be recognised. You can add more than two drives if they're all the same size, but the added speed and space comes with more risk.
Speed Testing
While a single disk was able to achieve 180'"200 MB/s on read and write speeds with Blackmagic Disk Speed Test, the new RAID0 set managed 320'"340 MB/s when each USB3 drive was plugged straight into the Mac.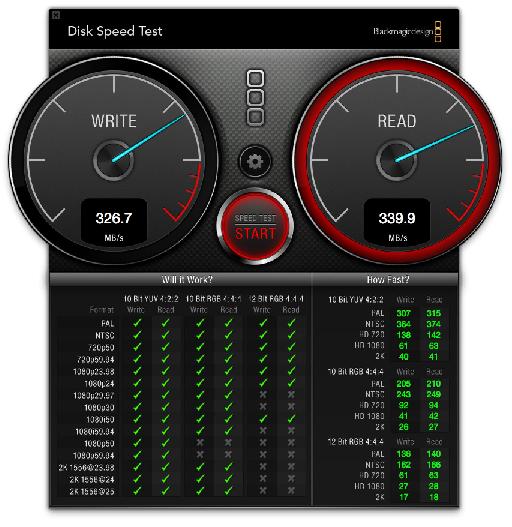 Straight into the Mac and brand new '" hello!
When connected to a hub (likely if you don't have enough ports on your Mac) the RAID0 set can offer around 300 MB/s read but just 200 MB/s write.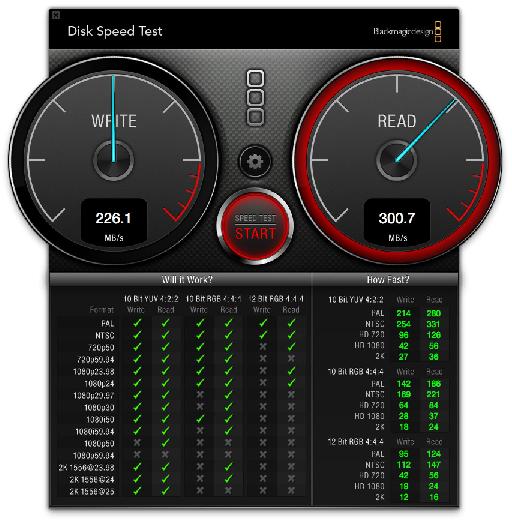 Through a hub, a little slower.
All these numbers are very variable, and can change hugely from run to run. It's not 'real world' but it's pretty good.
It's fast now...
An empty drive is always faster than a full one, and your magically fast new RAID will become merely a moderately fast RAID when full. Now that there's less than 1TB free out of the original six, the speeds have dropped quite a bit, and vary a lot more. A good run might still offer 240'"250 MB/s, but don't be surprised when performance falls away as the drive fills up. (Single drives get slower too, of course.) The fix? Archive your old files to other disks, then remove them from your RAID.
When does this matter anyway?
Everyone should have an SSD (or Fusion Drive) for their boot drive, as it's faster than any spinning disk simply because it's much quicker at finding data. For general data storage, though, if the drive is fast enough to keep up with your requests, it's fast enough. Few tasks will require lots of files delivered quickly, but multicam editing with several high quality angles is one: you will need a big, fast disk if you don't want to use proxies.
When copying files, speed does matter, but only if you are moving data from one really fast drive to another. Any copy goes at the speed of the slowest of the two disks you're copying between. Theoretically, if you constantly move your data to a fast SSD and off again, then it could matter. But chances are you'll back it up to a slower single spinning disk instead, and that sets the speed.
Sadly then, an incredibly fast RAID probably won't speed you up (much) unless you have two of them, and have a need to copy between them fairly frequently. It's a great idea if you have a need for it (big files under sustained load) but not worth the risk if you're not tackling higher-end formats just yet.
Still, those higher-end formats are just around the corner. If you might have to deal with a 4K edit soon, or you want to tackle a big fat multicam that your current drive can't handle, then this is an easy way to dip your toes in that RAID pool. You get the speed of a dedicated USB3 RAID0 box for free. Just back it up, OK?