If there is one utility tool that every Mac user should have, it's DiskWarrior. This is an amazing maintenance Mac tool that assists in repairing disk directories, repairs invalid file permissions...
If there is one utility tool that every Mac user should have, it's DiskWarrior by Alsoft. This is an amazing maintenance Mac tool that assists in repairing disk directories, repairs invalid file permissions & corruptions, repairs boot blocks which prevent your Mac from booting up, and just general unknown issues that Mac's Disk Utility fails to resolve. DiskWarrior eliminates the risk of losing data, but always make sure to backup your data as well on a regular basis.

01 - Why Use It?

Have you ever had times where your Mac fails to boot up? Or wouldn't you love to get a warning before your hard drive fails? These are two common problems, which DiskWarrior can help with quite easy. And these are just two out of many DiskWarrior's many features.
02 - If Your Mac Doesn't Boot Up

Often times when you Mac won't boot up, it is due to the drive directory getting damaged. Sure there are other disk utility tools out there which help, but DiskWarrior handles this in a different and less harmful way. Disk Warrior searches your directory data for invalid data or corruptions, then it attempts to rebuild the directory structure to resolve this issue, allowing you to boot up once again when the directory has been repaired and replaced. This process is fast and will have your Mac up and running again in a few minutes.
My Mac would not boot into the operating system so I ran DiskWarrior and in 20 minutes, my Mac was back up and running again. Without DiskWarrior I would have had to reinstall my whole operating system again, costing me both time and frustration. So, let's run through some of the features of DiskWarrior.
03 - How To Use It

You can use Disk Warrior in two ways. You can boot up from the DiskWarrior boot up disk by holding down Option (Alt) during startup which will allow you to choose from the boot up options. Alternatively you can run it from another Mac. From the one Mac, run the DiskWarrior application and then run the Mac you wish to repair from Target mode (when you startup the Mac hold down T to boot into Target mode). Connect a Firewire between the two Macs, and the hard drive of the Mac you wish to repair will mount on the Mac that is running the DiskWarrior application.
Once DiskWarrior is running, it allows you to choose the disk/volume you wish to repair.
Under the Directory Tab you can scan the chosen disk for directory issues, and repair the old/damaged directory with the new directory.
With the directory build you can first scan your disk to see the percentage of the disk directory that is not running at its optimum.
Here is a scan of my Data disk before I ran the DiskWarrior rebuild. You can see that the graph is not continuous in color.

Then I run the DiskWarrior Rebuilding Directory Utility.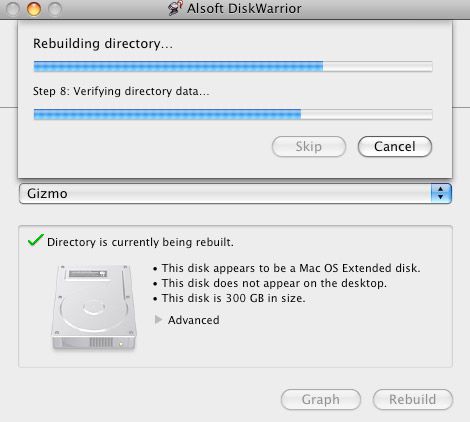 Here is what the disk looks like on the graph after the rebuild. You can see now that the graph depicts a continuous color spectrum representing a better directory structure of the disk.

Before DiskWarrior runs the directory rebuild, it shows you a report of what will be replaced. You can also save the report after the rebuild for reference later if needed.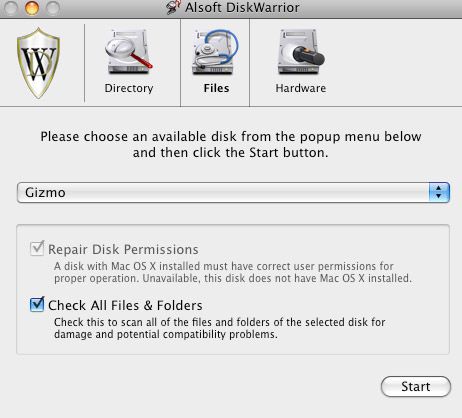 On the File Tab you can choose to scan the files and folders of the chosen disk to check for any damage or potential compatibility problems.
04 - Let DiskWarrior Warn You On Your Disk Status

DiskWarrior can also, on a continual basis, scan your disks and warn you if a disk is about to fail. On the Hardware Tab under the Automatic Diagnostics section you can ask DiskWarrior to send you an email if it detects any hardware problems or potential failures on a disk. You can also run a manual check on a disk if wished in this section.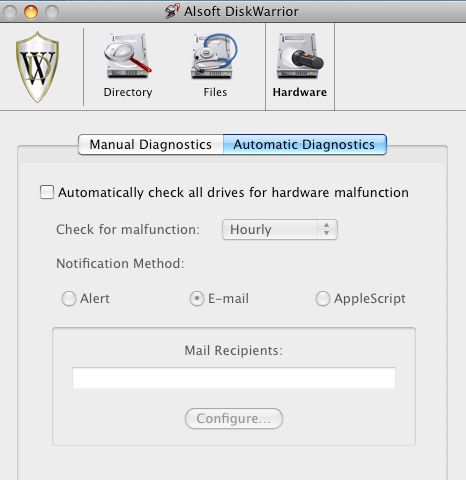 05 - Conclusion

DiskWarrior is a great troubleshooting Mac utility. It has saved me so many times, I don't know what I would have done without it. I probably would have pulled all my hair out. Try it out for yourself.
You can check out the macProVideo.com tutorials on other features within the Mac OS:
http://www.macprovideo.com/tutorial/macos10101
http://www.macprovideo.com/tutorial/macos10201
And please make sure to backup your system software and data on a regular basis in case DiskWarrior cannot repair a too badly damaged disk. You can use Time Machine which is explained in depth in Tobias Escher's article here:
http://www.macprovideo.com/hub/logic-pro/backup-logic-system-find
Or you can use other backups applications like Carbon Copy Cloner (free) to make a cloned copy of your system disk.