Mac OS X Snow Leopard is widely thought to be the most advanced operating system currently available. It is indeed beautifully designed, intuitive to use, stable and secure. Snow Leopard can also be
Mac OS X Snow Leopard is widely thought to be the most advanced operating system currently available. It is indeed beautifully designed, intuitive to use, stable and secure. Snow Leopard can also be setup to automate repetitive common tasks and give you control of these tasks using a keyboard shortcut. In today's tip we're going to build our own Service in Automator. Services are built-in to your Mac's OS and are context sensitive commands that allow you to achieve a task or perform a function without needing to open the associated application.

For example, let's say you have downloaded some pictures from your camera and you're browsing through them in the Finder. You notice some of them are displayed incorrectly and need to be rotated. To rectify this you may choose to open those images in Preview, rotate them, save them and then quit Preview. Services takes out the hassle by allowing you to apply an operation found in one application (e.g. Preview) to an item in another application (in this case the Finder).
You can access the Services contextual menu by right-clicking on a file or folder in the Finder or from the Application menu in the Mac's Menu Bar. So, right-clicking on an image file in the Finder would show you Services at the bottom of the drop down menu relating to image files. e.g. Set Desktop Picture. Right-click on an audio file and the Services displayed would be different and only relevant to audio files. For more info on Automator, Services and how to utilize them check out my Mac OS X 201 Advanced Snow Leopard tutorial.
In the following tip you'll quickly (and painlessly) create your very own Service in Automator which will allow you to launch an Application using a keyboard shortcut of your choice.
Step 1 - Going Automatic

Fact: Computers were designed to make out lives easier. With that in mind let's launch Automator (in the Applications folder). Automator is designed to automate repetitive tasks on your Mac. It enables you to create and specify workflows out of pre-made Actions. No programing knowledge is required! Automator, in Snow Leopard, can then turn your workflows into Services...
After launching Automator, choose Service from the template window.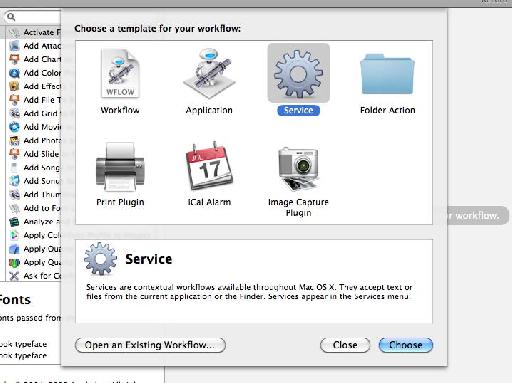 Step 2 - Set the Input

The way a Service works is by specifying in what situation and in what application it will be displayed. For example, we don't want a service that is designed to copy the text from an email address and create a new Address Book entry to appear when selecting a picture in any application outside of Apple Mail.
This is an important point to remember. However, for our Service, bearing in mind it's purpose is to launch an application using a shortcut, we want to disable the Input so we can launch our chosen application regardless of which application we are running and no matter what item(s) are currently selected.

From the
Services receives
selected
drop-down menu choose
No Input
. Leave the next selection as
Any Application
.
Step 3 - Taking Action

In Automator we can create a workflow by combining actions. An action is a self-contained single task. By building a combination of actions complex workflows can be created. Sometimes, like in this situation, a workflow may be quite simple and consist of only one action.
Type in application into the Search box above the Actions Library area on the left. Only actions relating to an "application" will be displayed in the Library.

Find the action called Launch Application and drag it into the Workflow area.
In the Launch Application action in the Workflow area choose an application. I'm going to choose Safari.
Step 4 - Save as a Service

You can test the workflow by clicking Run in the Toolbar. The application you selected should launch. Quit the application and return to Automator. Now we know the workflow functions correctly, we can save it as a Service.
Choose File > Save as...
Choose a name, such as Launch Safari and click Save when you're done. You can quit Automator.

Your Service can now be accessed from any application's menu in the OS X Menu Bar.
Choose Finder > Services to see if it is available.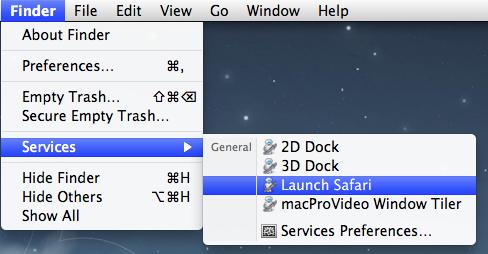 Step 5 -Assign a Keyboard Shortcut to your Service

In our case navigating to the Service menu to launch our selected application is not as convenient as using Spotlight or the Dock. However, we can assign a keyboard shortcut to launch the application very easily.
Open System Preferences and choose Keyboard > Keyboard Shortcuts [Services]
In the right window scroll down until you find your newly created service. Now double-click to the right of the Service name. When the text field appears hold down your shortcut of choice (I've chosen Control + Option + Command + S).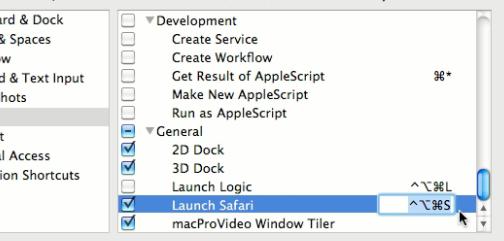 Make sure that the check box next to your Service is ticked. You can always return to this window and turn off the check box to disable this Service. You're now good to go. You can quit System Preferences. Now whatever application you are running you can use your shortcut to run the Service which will launch the application. Congratulations, you've just programmed your first OS X Service!


Interested to learn more about Mac OS X? These tutorials will help you to become proficient in using your Mac whether you're starting out or want to become a power user!