In Part 1 of this Blog Tip we learned how to encrypt a PDF in Preview. In today's tip we'll cover how to convert virtually any document to a PDF and explore some advanced encryption techniques. Step 1
In Teil 1 dieses Blog Tipp haben wir gelernt, wie man ein PDF in der Vorschau zu verschlüsseln. In der heutigen Spitze werden wir behandeln, wie man praktisch jedes beliebige Dokument in eine PDF zu konvertieren und zu erkunden einige erweiterte Verschlüsselungstechniken.
Schritt 1 - Konvertieren Sie beliebige Dokument in eine PDF-

Sie können nahezu jede Anwendung in Mac OSX, um ihr natürliches Dokumenttyp ein PDF zu konvertieren, wenn es Druck unterstützt. Für dieses Beispiel habe ich eine Webseite in Safari navigiert, aber Sie können dies mit jeder anderen Anwendung zu versuchen. Wählen Sie die folgenden:
Datei
Klicken Sie auf das PDF-Symbol unten links, um Ihre Druck-Workflows ansehen und aus dem Drop-Down-Menü wählen:
Speichern als PDF ...
Wählen Sie einen Namen und Speicherort und klicken Sie auf Speichern. Ihr Dokument ist jetzt im PDF-Format gespeichert wurden!
2. Schritt - Kennwortschutz jedem Dokument

Befolgen Sie die oben genannten Schritte. Bevor Sie auf die Schaltfläche Speichern wählen Security Options ...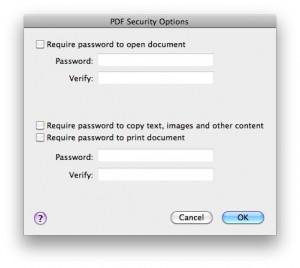 Aktivieren Sie das Kontrollkästchen Kennwort zu dokumentieren Checkbox zu öffnen. Geben Sie dann Ihre gewählte Passwort. Nachdem Sie das Dokument speichern sie den Inhalt nicht sichtbar wird mittels Quick Look oder in den Finder und das korrekte Passwort eingegeben es in der Vorschau geöffnet werden.
Schritt 3 - Passwort für das Kopieren von Inhalt und / oder Drucken eines PDF

Das sind meine absolute Lieblings-Passwörter zu einem PDF anwenden. Es ist oft der Fall ist, dass ich möchte meine Entwürfe meine Schulungsunterlagen mit anderen zu teilen, so dass sie und nur sie, sie lesen kann, aber nicht einen einfachen Zugang zu jedem meiner Inhalte zu kopieren. In dieser Situation ist die Schaffung eines PDF die ein Passwort benötigt, um geöffnet werden nicht meine Daten schützen.
In der PDF-Sicherheitsoptionen Fenster klicken Sie auf das Kennwort erforderlich, um zu kopieren, Texte, Bilder und andere Inhalte Kontrollkästchen, um den Benutzer von Kopieren und Einfügen Ihre harte Arbeit oder urheberrechtlich geschützten Materialien in ihre eigenen Dokumente zu deaktivieren.
Klicken Sie auf das Kennwort erforderlich, um Dokument Checkbox drucken Sie Ihre PDF davon entfernt, über einen physischen Drucker gedruckt oder als eine PDF Gedruckt zu verhindern.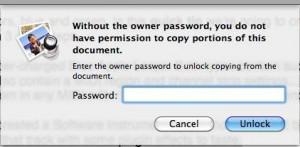 Das netter Trick hier ist, können Sie ein Passwort festlegen, damit das Dokument geöffnet und ein eigenes Passwort, damit Druck oder Kopieren von Inhalten. So stellen Sie sicher Ihre Kennwörter sind nicht leicht zu erraten sind aber einfach für Sie zu erinnern!
Ich würde auch bitten Sie, noch leistungsfähiger Verschlüsselungsverfahren für extrem sensible Daten wie Bankverbindung, Visa-Karte PIN-Nummern, etc. Möchten Sie mehr darüber, wie Sie Ihren Computer und Dateien sicher und geschützt wissen zu beachten? Dieses Tutorial zeigt Ihnen den Weg.