In Part 1 of this Blog Tip we learned how to encrypt a PDF in Preview. In today's tip we'll cover how to convert virtually any document to a PDF and explore some advanced encryption techniques. Step 1
En la Parte 1 de este Consejo de blog nos enteramos de cómo cifrar un archivo PDF en Vista Previa. En la punta de hoy vamos a cubrir en la forma de convertir prácticamente cualquier documento en un PDF y explorar algunas de las técnicas avanzadas de cifrado.
Paso 1 - Convierta cualquier documento en un PDF

Usted puede utilizar casi cualquier aplicación de Mac OS X para convertir es el tipo de documento nativo a un PDF si es compatible con la impresión. Para este ejemplo, he navegado a una página web en Safari, pero se puede probar esto con cualquier otra aplicación. Seleccione lo siguiente:
Expediente
Haga clic en el botón PDF en la parte inferior izquierda para ver los flujos de trabajo de impresión y seleccione en el menú desplegable:
Guardar como PDF ...
Elija un nombre y una ubicación y haga clic en Guardar. El documento ha sido guardado en formato PDF!
Paso 2 - La contraseña protege cualquier documento

Siga los pasos anteriores. Antes de hacer clic en el botón Guardar elegir las opciones de seguridad ...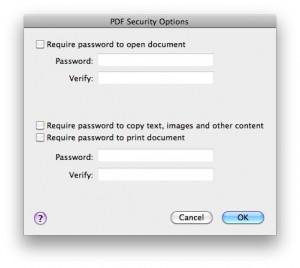 Activar la contraseña para abrir casilla Requerir documento. A continuación, especifique la contraseña elegida. Una vez guardado el documento, su contenido no se puede ver con Quick Look, o en el Finder y la contraseña correcta se debe introducir para que se abra en la vista previa.
Paso 3 - Contraseña para copiar el contenido y / o impresión de un PDF

Estos son mis contraseñas absoluta favorita para aplicar a un PDF. A menudo es el caso de que quiero compartir mis borradores de los materiales de mi formación con otros para que ellos y sólo ellos, pueden leer pero no tienen fácil acceso a cualquier copia de mi contenido. En esta situación, la creación de un PDF que requiere una contraseña para ser abierto no protege mis datos.
En la ventana Opciones de seguridad, haga clic en PDF requieren la contraseña de copia, texto, imágenes y otros contenidos que casilla de verificación para desactivar al usuario de copiar y pegar su trabajo o materiales con copyright en sus propios documentos.
Haga clic en la clave requieren para imprimir casilla de verificación de documentos para evitar que el PDF se imprima a través de una impresora física o que se imprime en un archivo PDF.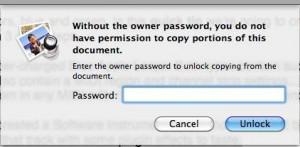 El truco aquí es que se puede establecer una contraseña para poder abrir el documento y una contraseña diferente para permitir la impresión o copia de contenido. Sólo asegúrese de que las contraseñas no son fáciles de adivinar, pero son fáciles de recordar para usted!
También le proponemos que se consideren los métodos de cifrado más potente para los datos extremadamente sensibles, como claves bancarias, números de PIN de la tarjeta Visa, etc interesados ​​en saber más sobre cómo mantener a su equipo y los archivos protegidos y seguros? Este tutorial te mostrará el camino.