In Part 1 of this Blog Tip we learned how to encrypt a PDF in Preview. In today's tip we'll cover how to convert virtually any document to a PDF and explore some advanced encryption techniques. Step 1
Dans la Partie 1 du présent Astuce blog nous avons appris à crypter un fichier PDF dans Aperçu. Dans la pointe d'aujourd'hui, nous allons couvrir comment convertir pratiquement n'importe quel document au format PDF et d'explorer certaines techniques avancées de cryptage.
Étape 1 - Convertissez n'importe quel document au format PDF

Vous pouvez utiliser presque n'importe quelle application sous Mac OSX pour convertir ce type de document natif à un fichier PDF si elle supporte l'impression. Pour cet exemple, j'ai navigué vers une page web dans Safari, mais vous pouvez essayer avec une autre application. Sélectionnez les paramètres suivants:
Fichier
Cliquez sur le bouton PDF en bas à gauche pour afficher vos flux d'impression et dans le menu déroulant choisissez:
Enregistrer au format PDF ...
Choisissez un nom et un emplacement et cliquez sur Enregistrer. Votre document est maintenant enregistré au format PDF!
Étape 2 - Protection par mot de tout document

Suivez les étapes ci-dessus. Avant de cliquer sur le bouton Enregistrer choisissez Options de sécurité ...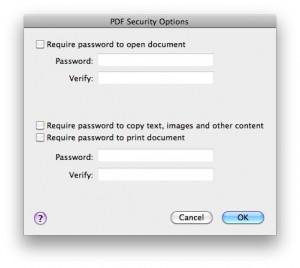 Activer le mot Exiger d'ouvrir case document. Puis indiquez votre mot de passe choisi. Une fois que vous enregistrez le document de son contenu ne sera pas visible à l'aide de Quick Look ou dans le Finder et le mot de passe correct doit être saisi pour qu'il soit ouvert dans Aperçu.
Étape 3 - Mot de passe pour copier du contenu et / ou impression d'un PDF

Ce sont mes préférées absolue des mots de passe à appliquer à un fichier PDF. C'est souvent le cas que je veux partager mes ébauches de mon matériel de formation avec les autres afin qu'ils, et eux seuls, peuvent les lire mais ne pas avoir un accès facile à copier tout le contenu de mon. Dans cette situation, la création d'un fichier PDF qui requiert un mot de passe afin d'être ouvert ne protège pas mes données.
Dans la fenêtre de sécurité PDF cliquez sur Options dans le mot de passe exigent de copier, texte, images et autres contenus case pour désactiver l'utilisateur de copier et de coller votre travail dur ou matériel sous copyright dans leurs propres documents.
Cliquez sur le mot Exiger d'imprimer case pour éviter que votre document de format PDF d'être imprimées via une imprimante physique ou en cours d'impression au format PDF.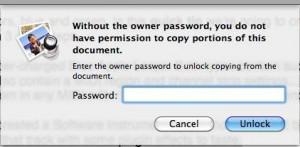 L'astuce ici est que vous pouvez définir un mot de passe pour permettre l'ouverture du document et un mot de passe distinct pour permettre l'impression ou la copie de contenu. Assurez-vous juste vos mots de passe ne sont pas faciles à deviner, mais sont faciles à mémoriser pour vous!
Je voudrais aussi vous inviter à examiner les méthodes de cryptage encore plus puissant pour des données extrêmement sensibles, comme les coordonnées bancaires, numéros de cartes Visa PIN de la carte, etc Intéressé à en savoir plus sur la façon de garder votre ordinateur et vos fichiers en sécurité? Ce tutoriel va vous montrer le chemin.