In Part 1 of this Blog Tip we learned how to encrypt a PDF in Preview. In today's tip we'll cover how to convert virtually any document to a PDF and explore some advanced encryption techniques. Step 1
Nella Parte 1 del presente Suggerimento blog abbiamo imparato a crittografare un file PDF in Anteprima. In punta di oggi vedremo come convertire qualsiasi documento in formato PDF ed esplorare alcune tecniche di crittografia avanzate.
Fase 1 - convertire qualsiasi documento in PDF

È possibile utilizzare quasi tutte le applicazioni in Mac OSX per la conversione è tipo nativo documento in un file PDF se supporta la stampa. Per questo esempio, ho navigato a una pagina web in Safari, ma si può provare questo con qualsiasi altra applicazione. Scegli la seguente:
File
Fare clic sul pulsante PDF in basso a sinistra per visualizzare i flussi di lavoro di stampa e dal menu a discesa scegliere:
Salva come PDF ...
Scegliere un nome e una posizione e fare clic su Salva. Il documento è stato salvato in formato PDF!
Fase 2 - Protezione password qualsiasi documento

Seguire la procedura di cui sopra. Prima di cliccare sul pulsante Salva scegliere Opzioni di protezione ...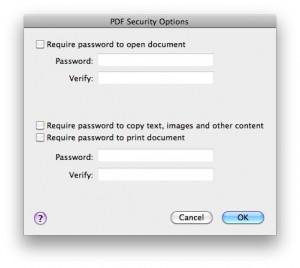 Attivare la password per aprire casella Richiedi documento. Quindi specificare la password scelta. Una volta che si salva il documento è contenuto non sarà visualizzabile con Quick Look o nel Finder e la password corretta deve essere inserito per poter essere aperto in anteprima.
Fase 3 - Password per la copia dei contenuti e / o stampa di un PDF

Questi sono i miei preferiti in assoluto password da applicare a un file PDF. E 'spesso il caso che voglio condividere le mie bozze del mio materiale di formazione con gli altri così, e solo loro, possano essere letti ma non hanno facile accesso a copiare qualsiasi dei miei contenuti. In questa situazione, creando un file PDF che richiede una password per essere aperto non protegge i miei dati.
Nel PDF fare clic su Protezione finestra Opzioni Richiedi la password per copiare, testo, immagini e CheckBox altri contenuti per disabilitare l'utente da copiare e incollare il vostro duro lavoro o di materiali protetti da copyright nei propri documenti.
Fare clic sul Richiedi password per stampare casella di controllo per evitare che il documento PDF da stampare tramite una stampante fisica o in fase di stampa a un PDF.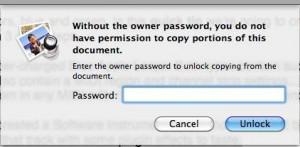 Il trucco è possibile impostare una password per permettere l'apertura del documento e una password diverse per consentire la stampa o la copia dei contenuti. Basta fare in modo le password non sono facili da indovinare, ma sono facili da ricordare per te!
Vorrei anche vi esorto a prendere in considerazione metodi ancora più potente crittografia di dati estremamente sensibili, come ad esempio coordinate bancarie, numeri di pin della carta Visa, ecc interessati a sapere di più su come mantenere il vostro computer e file sicuro e protetto? Questa guida vi mostrerà la strada.