In Part 1 of this Blog Tip we learned how to encrypt a PDF in Preview. In today's tip we'll cover how to convert virtually any document to a PDF and explore some advanced encryption techniques. Step 1
Na Parte 1 deste Dica Blog aprendemos como criptografar um PDF no Preview. Na ponta de hoje vamos cobrir como converter praticamente qualquer documento para PDF e explorar algumas técnicas de criptografia avançada.
Passo 1 - converter qualquer documento para PDF

Você pode usar quase todas as aplicações no Mac OSX para converter tipo de documento é nativo para um PDF se ele suporta impressão. Para este exemplo, eu já navegou para uma página web no Safari, mas você pode tentar isso com qualquer outro aplicativo. Escolha o seguinte:
Arquivo
Clique no botão PDF no canto inferior esquerdo para ver a sua impressão e fluxos de trabalho a partir do menu drop-down escolher:
Salvar como PDF ...
Escolha um nome e local e clique em Salvar. O documento já foi salvo em formato PDF!
Passo 2 - senha proteger qualquer documento

Siga os passos acima. Antes de clicar no botão Salvar escolher Opções de segurança ...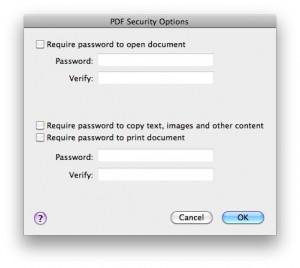 Ativar a senha para abrir caixa de seleção Exigir documento. Em seguida, especificar a sua senha escolhida. Uma vez que você salvar o documento o seu conteúdo não poderá ser visto usando o Quick Look ou no Finder e a senha correta deve ser digitada para que seja aberta em Visualizar.
Passo 3 - Senha para copiar o conteúdo e / ou Impressão de um PDF

Estas são as minhas favoritas absolutas senhas para aplicar a um PDF. É frequentemente o caso que eu quero compartilhar meus rascunhos de materiais de meu treinamento com os outros para que eles, e apenas eles, podem lê-los, mas não têm acesso fácil a cópia de qualquer um dos meu conteúdo. Nesta situação, a criação de um PDF que requer uma senha para ser aberta não protege os meus dados.
No PDF clique em janela de Opções de segurança na Exigir senha para copiar, textos, imagens e outros conteúdos checkbox para desabilitar o usuário de copiar e colar o seu trabalho árduo ou materiais com direitos autorais em seus próprios documentos.
Clique no Exigir senha para imprimir caixa de seleção de documentos para evitar que o seu PDF de ser impresso através de uma impressora física ou ser impresso a um PDF.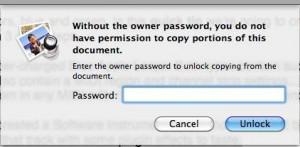 O truque aqui é que você pode definir uma senha para permitir a abertura do documento e uma senha separada para ativar a impressão ou cópia de conteúdo. Apenas certifique-se de suas senhas não são fáceis de adivinhar, mas são fáceis de lembrar!
Também gostaria de exortá-lo a considerar métodos de criptografia ainda mais poderosa para dados extremamente sensíveis, como dados bancários, números de pinos cartão Visa, etc Interessado em saber mais sobre como manter o seu computador e arquivos seguros e protegidos? Este tutorial irá mostrar-lhe o caminho.