Finding the file you're looking for can often be a drag. (Pun intended). Have you ever had a bunch of picture/audio/video/Word/Pages/etc files and you're not sure which is the one you're looking for?
Finden Sie die Datei, die Sie suchen oft eine drag werden. (Wortspiel beabsichtigt). Haben Sie überhaupt ein Bündel von Bild / Audio / Video / Word / Pages / etc-Dateien und du bist nicht sicher, die Sie suchen? Wäre es nicht wäre, wenn Sie hineinschauen eine Datei ohne es zu öffnen in der jeweiligen Anwendung bequem? Mac OS X macht es einfach, schnell in der Vorschau-Dateien direkt vom Desktop oder Finder-Fenster mit Quick Look.
Dieser arbeitet mit einem überraschend hohe Zahl von verschiedenen Dateitypen. Ich verwende oft Quick Look zu spähen in Word, Powerpoint und Excel-Dokumente, auch wenn ich keine eigenen Microsoft Office zu tun. Das gleiche gilt für PDF-und Audio-und Videodateien. Sobald Sie die Datei, die Sie auf der Suche nach dann ist es einfach, um es zu öffnen, wenn Sie es wünschen, oder vielleicht ist es nicht erforderlich sind gefunden.
In jedem Fall sind diese Quick Look schnelle Tipps unerlässlich, die Ihnen helfen, das Beste aus dieser wunderbaren Feature in Mac OS X.
01 - Sneak Peek
Aktivieren Quick Look könnte nicht einfacher sein als dieses. Wählen Sie einfach eine Datei im Finder und drücken Sie die Leertaste.
A window containing a preview of the file (a graphic in my example below) pops up. To close the Quick Look window either hit Space Bar again or click on the cross "X" in the top left corner.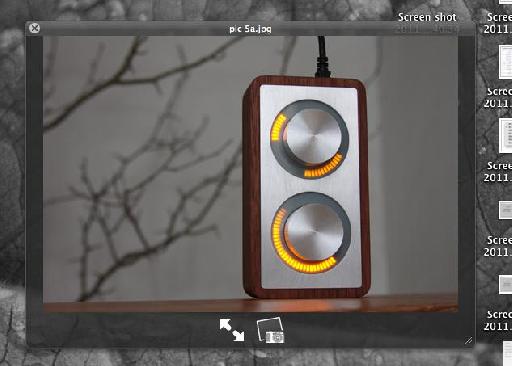 Sie können auch wählen Sie die Datei und wählen Sie Datei
Additionally, if you want to preview a file within a Finder window you can choose the Quick Look icon (the eye) in the Finder window's Tool bar.


02 - Navigieren mit Quick Look
Ich verwende oft Quick Look durch Öffnen eines Finder-Fenster mit den Dateien, die ich wünsche, um eine Vorschau und dann drücken Sie die Leertaste. Mit der Quick Look-Fenster zu öffnen, ich benutze die Pfeiltasten auf der Tastatur auf eine andere Datei auszuwählen. Die Quick Look-Fenster wird automatisch aktualisiert, um eine Vorschau der aktuell ausgewählten Datei anzuzeigen.
Zwei weitere Optionen sind in der Quick Look-Display zur Verfügung. Die Full-Screen-Modus (zwei diagonal Pfeile) wird geben Vollbild-Modus, der ideal für Displays oder Präsentationen. Sie können Vollbild-Modus entweder durch Drücken der Esc-Taste oder Klick auf den Vollbildmodus beenden Symbol beenden.
The Camera icon will appear if you're using Quick Look on image files. It will add the selected file to your iPhoto Library.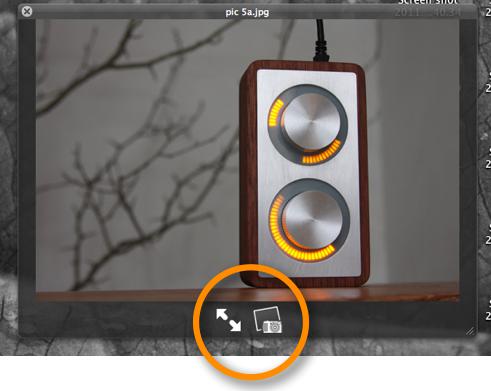 Bei der Vorschau von Audio-oder Videodatei, die Sie werden bemerken, dass die Quick Look-Fenster sehr ähnlich wie ein QuickTime X Fenster sieht. Sie können Wiedergabe, Pause, Stummschaltung und Gestrüpp entlang der Zeitachse alle innerhalb Quick Look!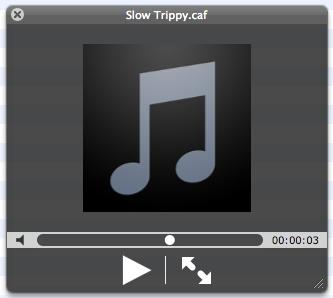 Einige mehrseitiges Dokument-Dateien, wie Keynote-Präsentationen, PDF-, Word-Dateien, wird etc können Sie auch durch das gesamte Dokument zu blättern, oder wählen Sie eine Seite / Folie ... und das alles von Quick Look!
03 - Zooming
This is a little-known tip and one of my favourites. This is useful when previewing image files. Select the file, hit Space Bar and then hold down the Option key and scroll with your mouse to zoom in to the image within the window.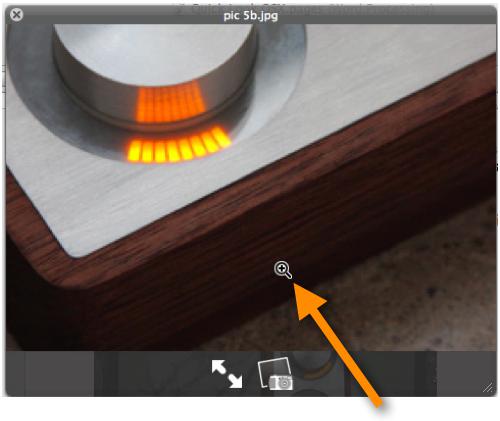 Beachten Sie, wie Sie den Mauszeiger in eine Lupe verwandelt beim Zoomen.
Sobald Sie in gezoomt und veröffentlichten die Wahltaste gedrückt, schaltet sich der Cursor in eine Schriftrolle Symbol. Sie können innerhalb des Bildes bewegen, um zu blättern oder benutzen Sie das Scrollrad / Trackpad, um zu blättern.
Darüber hinaus wird Ihr Track Pad Prise zu vergrößern Gesten mit Quick Look Arbeit zu betreten und den Vollbildmodus zu verlassen bzw..
04 - Multiple Files
Previewing file by file can still take a lot of mouse clicks or key presses to find what you want. An easier way is to select multiple files and then hit Space Bar. There are some extra options at the bottom of the preview window.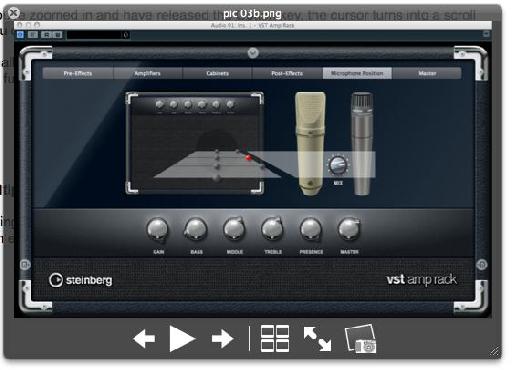 Die Pfeile links und rechts wird die vorherige und nächste gewählte Datei bzw. Vorschau. Sie können auch mit den Pfeiltasten auf Ihrer Tastatur.
Es gibt eine Play-Taste, damit Sie sich zurücklehnen und beobachten Sie eine Diashow Ihrer ausgewählten Elemente.
Schließlich wird die Ikone mit vier Scheiben erstellen Sie einen Kontaktabzug Blick auf alle ausgewählten Dateien, die Sie visuell Vorschau aller ausgewählten Bilder, Dokumente, Video-oder Audio-Dateien und wählen Sie eine, wenn Sie möchten können.
05 - Sofortige Diashow
Nachdem Sie mehrere Dateien in Quick Look, ist es leicht, sie in einer Diashow anzeigen, wie wir oben gesehen haben. Keine Notwendigkeit, iPhoto oder sogar Vorschau öffnen, dies zu tun. Aber es kommt noch besser, wenn Sie eine Tastenkombination Liebhaber sind.
Nachdem Sie die Dateien ausgewählt haben, sagen wir mal Bild-Dateien, halten Sie die Wahltaste gedrückt und drücken Sie die Leertaste oder die Verwendung einer der vorgenannten Methoden zur Aktivierung von Quick Look. Eine Diashow-Wiedergabe beginnt im Vollbild-Modus sofort. Eine gute Möglichkeit, mühelos präsentieren Fotos bei einem Familientreffen oder auch schnell eine Diashow von wichtigen Informationen während einer Geschäftsreise oder einem College-Präsentation!
Möchten Sie mehr erfahren? Schauen Sie sich diese Tutorials zu einer Leistung von Mac OS X-Benutzer zu werden .