With Mac OS X Mountain Lion launching today for only $19.99 from the Mac App Store, we've got some useful tips to share. Mike Hjorleifsson explores how to setup mirroring in the OS X.
En un artículo anterior hemos explorado con la función AirPlay del iPad para enviar vídeo o la pantalla del iPad en sí a un AppleTV dispositivo en una sala de conferencias. Bueno, la nueva versión de OS X ha traído varias características IOS para OS X 10.8 incluye la creación de reflejo AirPlay.
¿Qué reflejo AirPlay hace en OS X 10.8
AirPlay reflejo en OS X 10.8 le permite enviar su pantalla a cualquier dispositivo AirPlay habilitado como un AppleTV. Mientras que usted ha sido capaz de enviar videos desde iTunes a un dispositivo AirPlay activada, esta función no ayuda si se dicen ver un tutorial en una aplicación o en Safari. Ahora usted puede enviar toda la pantalla en modo de pantalla completa de escritorio o en cualquier dispositivo habilitado para AirPlay.
Suena complicado ¿no es cierto, pero en consonancia con las manzanas de usuario primero los principios de diseño, es realmente muy simple. Si un dispositivo AirPlay está habilitada por defecto detectado durante la instalación de Montaña del León, el sistema operativo se ponga los controles reflejan en la barra de menú automáticamente, simplemente haga clic en el icono y seleccione el dispositivo para enviar su pantalla para. De alguna manera recuerda a la serie de televisión 24, con su infame Envíeme su captura de pantalla de alta tecnología que la gente se reía de los casos. En la siguiente captura de pantalla se puede ver que tenemos dos dispositivos compatibles con AirPlay listos para recibir a la pantalla.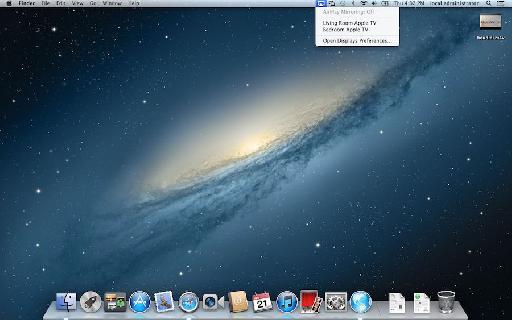 El programa de instalación
También puede abrir las preferencias de pantalla para personalizar aún más la experiencia o terminar la sesión mediante la selección de AirPlay reflejo apagado (se dirá durante una sesión.)
El Sistema de Preferencia de pantalla panel de preferencias, se ve a continuación, le permite modificar la resolución, adecuada para televisores que llevan a cabo Overscan y ajustar el brillo o dejar que los sensores en su figura Mac hacia fuera para usted.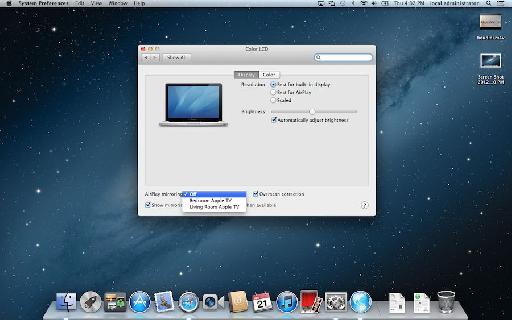 Entonces, ¿qué es esta característica útil para? Previamente había configurar mi sala de conferencias con un Apple TV conectado a un proyector de alta definición para que cualquier persona en la oficina puede transmitir un video de su iPad para el proyector para que todos la vean. Ahora, cualquier persona, siempre y cuando se ejecuta OS X Puma, puede enviar su pantalla completa en el proyector sin necesidad de cables. Es muy útil en reuniones de colaboración e incluso para la formación in situ, como usted no tiene que instalar cables por todo el lugar.
En el aspecto personal, esto significa que te tienes que dedicar un Mac Mini como su sistema de entretenimiento, cualquier Mac en tu casa se vuelve capaz de enviar videos, fotos y el escritorio a cualquier dispositivo AirPlay habilitado como el AppleTV.
Aunque puede que no sea la característica más técnica en León de la Montaña, sin duda la vida real la facilidad de uso combinada con un poco de factor 'wow' de Apple.