With Mac OS X Mountain Lion launching today for only $19.99 from the Mac App Store, we've got some useful tips to share. Mike Hjorleifsson explores how to setup mirroring in the OS X.
In un precedente articolo abbiamo esplorato utilizzando la funzione AirPlay del iPad di inviare video o lo schermo iPad stessa AppleTV ad un dispositivo in una sala conferenze. Beh, la nuova versione di OS X ha portato diverse caratteristiche iOS per OS X 10,8, tra cui mirroring AirPlay.
Che Mirroring AirPlay funziona in OS X 10,8
Mirroring AirPlay in OS X 10,8 ti permette di inviare il vostro schermo a qualsiasi dispositivo abilitato AirPlay come un AppleTV. Anche se siete stati in grado di inviare i video da iTunes ad un dispositivo AirPlay abilitato, questa funzione non ha aiutato se si dice guardando un tutorial in un'applicazione o in Safari. Ora è possibile inviare l'intero schermo in modalità a schermo intero desktop o su qualsiasi dispositivo abilitato AirPlay.
Suona complicato, non lo fa, ma coerenti con le mele primo utente principi di progettazione, è in realtà estremamente semplice. Se un dispositivo AirPlay abilitato viene rilevata durante la Mountain Lion installazione di default, il sistema operativo metterà i controlli mirroring nella vostra barra dei menu in automatico, è sufficiente fare clic sull'icona e selezionare il dispositivo a cui inviare il proprio schermo. E 'sorta di ricorda dello show televisivo 24 con la sua infame Inviatemi le vostre screen shot che la gente tecnologia utilizzata per ridere. Nella schermata sottostante potete vedere abbiamo due dispositivi abilitati AirPlay pronti a ricevere lo schermo.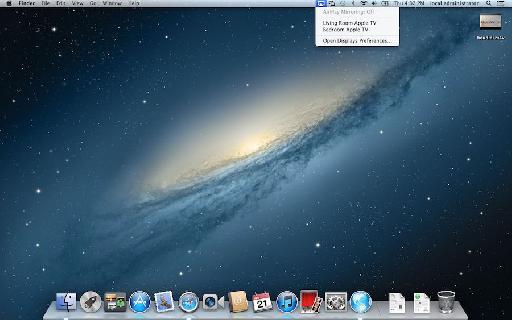 Setup
È inoltre possibile aprire le preferenze di visualizzazione per personalizzare ulteriormente l'esperienza o terminare la sessione selezionando AirPlay mirroring Off (si dirà durante una sessione.)
La preferenza di visualizzazione Pane sistema di preferenze, vede qui sotto, consente di modificare la risoluzione, corretta per i televisori che eseguono Overscan e regolare la luminosità o lasciare che i sensori nella tua figura Mac fuori per voi.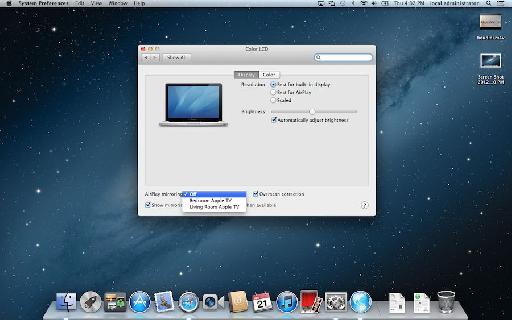 Allora, qual è questa caratteristica utile per? In precedenza avevo configurato il mio sala conferenze con AppleTV collegato ad un proiettore HD in modo che chiunque in ufficio potrebbe streaming di un video da loro iPad al proiettore per tutti di vedere. Ora, chiunque, a condizione che siano in esecuzione OS X Mountain Lion, possono inviare il loro intero schermo per il proiettore senza cavo. E 'estremamente utile nelle riunioni di collaborazione e anche per la formazione in loco, come non dovete far passare i cavi in ​​tutto il luogo.
Sul lato personale, questo significa che non dovete dedicare un Mac Mini come sistema di intrattenimento, qualsiasi Mac in casa diventa in grado di inviare video, immagini e il desktop a qualsiasi dispositivo abilitato AirPlay come l'AppleTV.
Mentre non può essere la caratteristica più tecnica in Mountain Lion, di certo l'usabilità vita reale in combinazione con un po 'di fattore di Apple' wow '.