With Mac OS X Mountain Lion launching today for only $19.99 from the Mac App Store, we've got some useful tips to share. Mike Hjorleifsson explores how to setup mirroring in the OS X.
Em um artigo anterior, nós exploramos usando o recurso AirPlay do iPad para enviar vídeo ou a tela do iPad-se a uma AppleTV dispositivo em uma sala de conferências. Bem, a nova versão do OS X trouxe várias características iOS para OS X 10,8, incluindo espelhamento AirPlay.
O espelhamento AirPlay Será que no OS X 10,8
Espelhamento AirPlay no OS X 10,8 permite que você envie sua tela a qualquer dispositivo habilitado AirPlay como um AppleTV. Embora você tenha sido capaz de enviar vídeos do iTunes para um dispositivo AirPlay habilitado, esse recurso não ajuda se você estivesse assistindo a dizer um tutorial em um aplicativo ou no Safari. Agora você pode enviar toda a sua tela em modo de ecrã completo para desktop ou qualquer dispositivo habilitado AirPlay.
Parece complicado não é mesmo, mas consistente com maçãs primeiro usuário princípios de design, é realmente muito simples. Se um dispositivo habilitado AirPlay é detectado durante a instalação padrão do leão de montanha, o sistema operacional irá colocar os controles espelham em sua barra de menu automaticamente, basta clicar sobre o ícone e selecione o dispositivo para enviar a sua tela. É uma espécie de lembra da série de TV 24 com sua infame Envie-me sua captura de tela que as pessoas tecnologia usada para rir. Na tela abaixo você pode ver, temos dois dispositivos habilitados AirPlay prontos para receber a tela.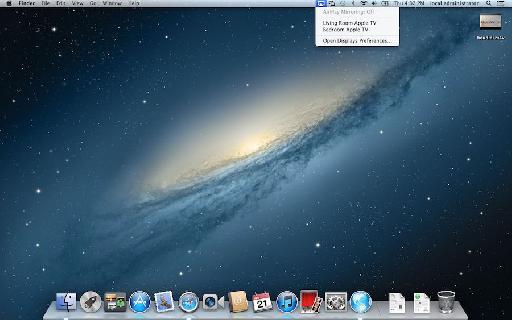 Instalação
Você também pode abrir as preferências de exibição para personalizar ainda mais a experiência ou encerrar a sessão, selecionando AirPlay Espelhando Off (ele vai dizer durante uma sessão).
A exibição de preferências Painel de Preferências do Sistema, visto abaixo, permite modificar a resolução, correto para televisores que executam Overscan e ajustar o brilho ou deixar os sensores em sua figura Mac-lo para você.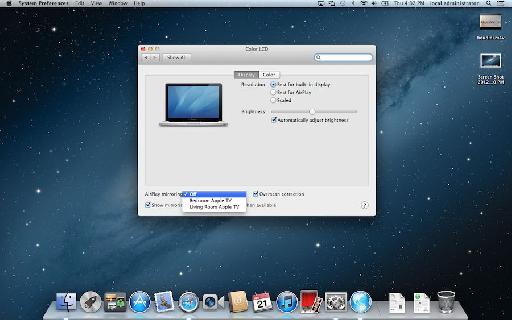 Então, o que é esse recurso útil para? Eu já tinha configurar minha sala de conferências com AppleTV ligado a um projector HD para que qualquer pessoa no escritório poderia transmitir um vídeo de seu iPad para o projetor para que todos possam ver. Agora, qualquer um, desde que estejam rodando o OS X leão de montanha, pode enviar sua tela inteira para o projetor sem fio. É extremamente útil em reuniões de colaboração e até mesmo para treinamento no local, como você não tem que passar cabos por todo o lugar.
No lado pessoal, isso significa que você não tem que dedicar um Mac Mini como seu sistema de entretenimento, de qualquer Mac na sua casa torna-se capaz de enviar vídeos, fotos e área de trabalho a qualquer dispositivo habilitado AirPlay como o AppleTV.
Embora possa não ser a característica mais técnica em Mountain Lion, certamente usabilidade vida real combinada com um pouco do fator 'wow' Apple.