Mac users buy Macs for many reasons but one of the biggest is OS X, so why would anyone want to run anything else on their Mac? Whether it's to run a program that's unavailable for OS X or just to pro
Mac users buy Macs for many reasons but one of the biggest is OS X, so why would anyone want to run anything else on their Mac? Whether it's to run a program that's unavailable for OS X or just to prove to yourself that OS X is, in fact, the best OS in town it's worthwhile to try out an alternative OS.
Over the next several posts, I will be taking you through the various ways of running both Windows or Ubuntu on your Mac. Right here and now we'll start with the least committal way of doing so via a LiveCD that will let you take Ubuntu for a test drive without actually touching your hard drive in any way.
What is Ubuntu?
Both OS X and Ubuntu have similar ancestors. OS X is based on the BSD implementation of UNIX and Ubuntu has roots in the Debian GNU Linux world. Unlike OS X, however, Ubuntu is distributed as free and open source. Ubuntu is named after the Southern African philosophy of "humanity towards others." It comes in versions for desktop computers (including notebooks), netbooks, and servers. We will be focusing on the desktop edition.
There are 2 releases of Ubuntu every year and every 4th version is labeled "LTS" for Long Term Support meaning that this version will be supported with updates for 3 years on the desktop instead of the 18-months given to non-LTS versions. If you want the most up to date applications and hardware support, you'll want to go for the latest version of Ubuntu. Therefore, I will be focusing on Ubuntu 10.10 code named "Maverick Meerkat!"
How to Get it?
Here is the link to download Ubuntu.
Additionally, you can get it via Bit Torrent using the appropriate .torrent file from here. You want to get the desktop-i386 file for either 10.04 LTS or 10.10.
32-bit vs 64-bit: much like in the world of OS X and Windows, the application and driver support is still much better in the 32-bit world. As we want to demonstrate the possibilities of Ubuntu in this installment, I would suggest you stick to the 32-bit version to make life as easy as possible.
You can either burn a CD from the .iso file or create a bootable thumb drive. The Ubuntu website suggests that Mac users stick to the CD version, so that's what I will do. If you are very interested in the thumb drive option, instructions on how to get it working are available on the download page for Ubuntu I have provided above.
Burning the CD
You can use your favorite CD burning program if it handles .iso files or do it easily with OS X's Disk Utility. First, launch Disk Utility (Applications/Utilities/ is where you'll find it) and drag the downloaded Ubuntu image file to the left pane of the window in the area underneath your disks as seen below.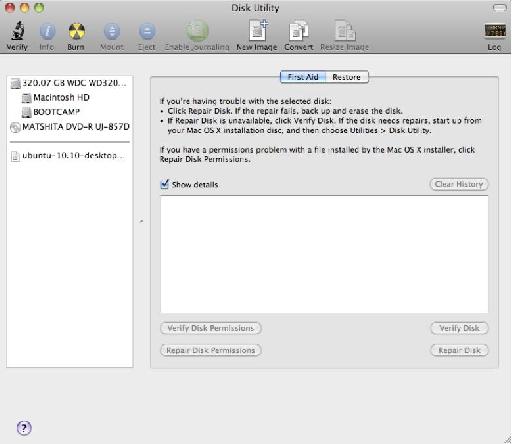 Now, select the image file by clicking on it, and click on the Burn icon. You'll get the dialog below.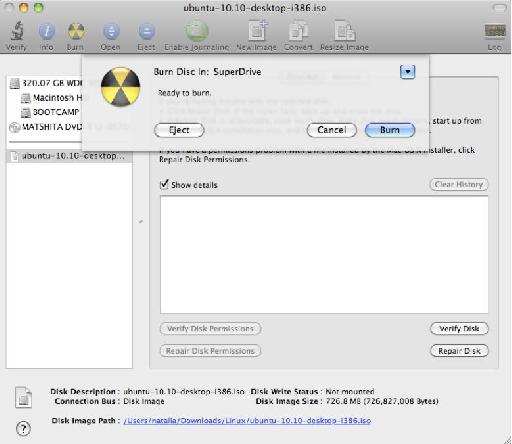 Make sure you have a blank CD-R in your drive and click Burn. Disk Utility will now burn your CD and verify the data. The disk will be ejected when the process is finished.
Booting from the CD
We are finally ready to try out our new OS. Re-insert the CD and let's restart our Mac from Ubuntu.
*** Please note that if you are using a MacBook, MacBook Pro, or MacBook Air that Ubuntu's support for the trackpad can be shoddy out of the box. Since we won't be installing Ubuntu and will be using it as-is from the CD, I would highly suggest that you hook up a USB mouse to your computer to keep frustration levels to a minimum.
To start from the Ubuntu CD, hold down the 'C' key on your keyboard as soon as you hear the magical Apple dong and keep it down until you see Ubuntu begin to boot. Note that this may take a while as the entire OS is loading from CD and loading into RAM. When Ubuntu is finally ready, you'll see the following dialog: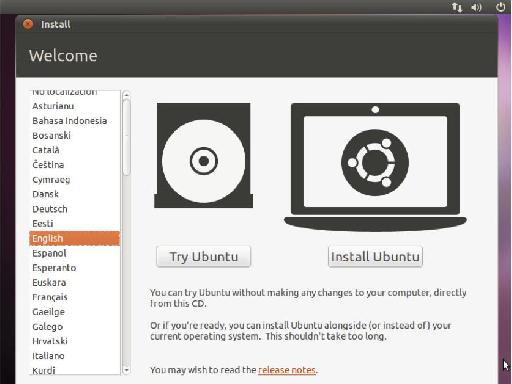 Click on 'Try Ubuntu.'
*** I will write about the various ways you can permanently install Ubuntu on your Mac in the coming weeks, so I ask that you don't attempt to do this on your own. If you decide to speed ahead, please make sure you've fully backed up your drive. Preferably cloned it with either Carbon Copy Cloner or SuperDuper!
Let's Look Around...
You will now be presented with the Ubuntu desktop. Looks kind of familiar, doesn't it? You should feel more at home with Ubuntu than Windows as many of the same desktop UI elements as OS X have made their way into the latest versions of Ubuntu. The main thing you'll find missing is the dock.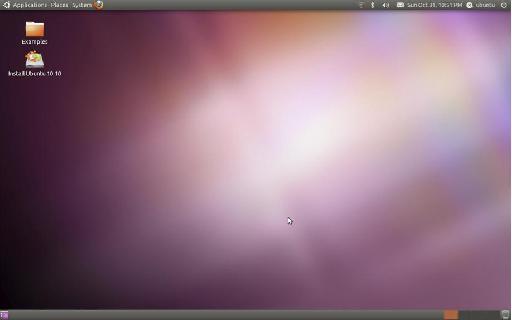 If you are using a wireless network, you'll most likely have to click on the Airport looking icon in the menu bar (as you would in OS X) to connect to the net. For instance, my network uses encryption and doesn't broadcast its SSID (network name) so I had to select 'Connect to Hidden Network' and give my network's details to be able to get online. Once you are on your network you can click the Firefox icon to verify you are indeed connected to the outside world!
From here you can web browse and run the applications that come with the Ubuntu LiveCD. To do so, click on the
Applications menu item
. Feel free to also explore the Places and System ones as well.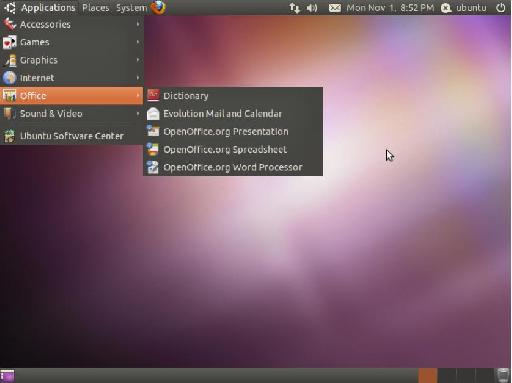 Since you don't have a hard drive to save your work, I suggest you plug in a standard USB thumb drive. Out of the box, they come pre-formatted as MS-DOS FAT32 -- which works out perfectly for our needs as Ubuntu will automatically mount the drive for you and put the icon on the Desktop as you would expect in OS X. See how my "BIGTHUMB" drive mounted below.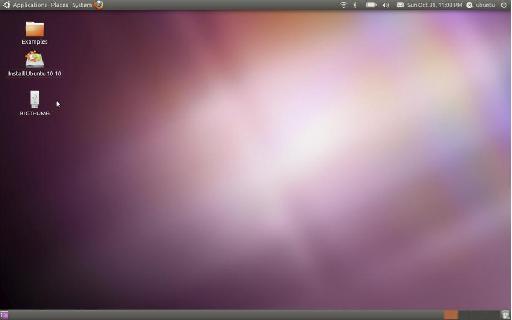 What Works out of the Box?
It is possible that some of the hardware devices on your Mac will not work perfectly or even at all out of the box. However, the latest version of Ubuntu has the best hardware support to date and runs on my MacBook 2,1 (Core2Duo 2.0) amazingly well. If you wish to check out information on what hardware is supported on the various Mac models, check out the links below but know that much of this information may be outdated in terms of discussing the latest version of Ubuntu or the latest version of your Mac hardware. Overall, the information on the MacBook is the best maintained.
Getting Back to OS X
When you're done exploring the world of Ubuntu, you can simply restart or shut down your Mac by clicking on the icon that looks like a Power Button found in the upper right corner of your desktop.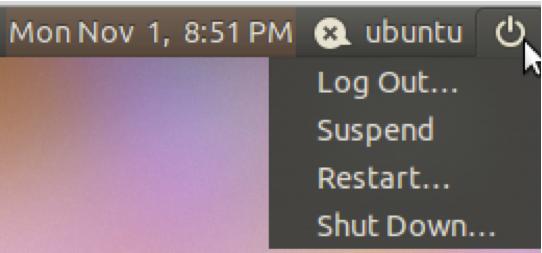 Once Ubuntu shuts down, it will eject the CD and ask you to hit the Enter/Return key to complete the process of restarting or shutting down your Mac. Now you'll be able to return to OS X without her ever knowing that you cheated!