There are lots of little-known tips and tricks for improving your day-to-day Mac OS X workflow. Sure, Spotlight, Spaces, Expose and the Dashboard have a place in the heart of most Mac users but someti
Es gibt viele wenig bekannte Tipps und Tricks zur Verbesserung der Ihren Tag zu Tag Mac OS X-Workflow. Sicher, Spotlight, Spaces, Exposé und Dashboard einen Platz im Herzen der meisten Mac-Anwender, aber manchmal ist es die Toten einfache Tricks, mit Ihrem Mac noch angenehmer zu machen und kann auch helfen, Ihre Produktivität zu steigern. Hier sind 3 einfache und äußerst effektive Workflow-Tipps für jeden Mac Einsteiger und auch fortgeschrittene Nutzer. Lesen Sie weiter, um mehr zu erfahren ...
01 - Minimieren / Wiederherstellen Alle Windows
Sie wissen vielleicht bereits die beiden wichtigsten Methoden, um ein Fenster in das Dock minimieren:
Double-click on the top area of a window's tool bar / title bar
Command+M
But what if you wish to minimize all open windows of your currently selected application? Easy. Either:
Hold down Option and double-click on the top area of a window's tool bar / title bar or
Use the shortcut: Option+Command+M
... und zur Wiederherstellung der minimierten Fenster der gleichen Anwendung? Option auf eine der Minimiert Fenster in das Dock.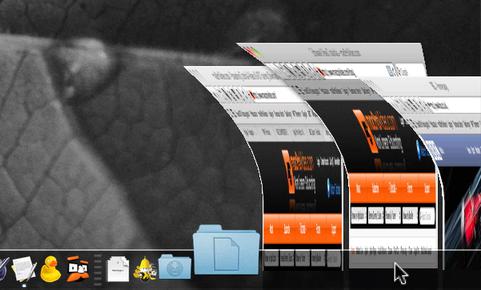 Denken Sie daran, diese Tricks werden für Finder-Fenstern und anderen Mac OSX Anwendungsfenster zu arbeiten!
02 - Umzug Hintergrund Fenster ohne Auswahl zu
Auch fortgeschrittene Expose Experten über Zeiten kommen, wenn das Fenster zu wechseln kann eine Drag (wahrsten Sinne des Wortes!) Brauche ich oft mehrere Fenster gleichzeitig geöffnet Zeit: Safari, Pages, Finder, etc. Manchmal brauche ich nur in der Lage sein, einige Informationen siehe in einem Hintergrund-Fenster, die aus Sicht verdeckt sein können. Natürlich, die Auswahl, indem Sie auf das Fenster bringt es auf der Front, die oft nicht, was ich will.
There's a simple solution not may Mac users know about: Hold down the Command key and drag the background window from an empty area of it's Title Bar. The background window can be dragged anywhere on the screen without disturbing the surrounding window layout.


Achten Sie darauf, Command-Klick auf einen leeren Bereich des Safari-Fensters Tool oder Titelleiste. Wenn Sie auf den Namen der Website wird es nicht funktionieren.
03 - Finden Sie schnell die Position eines Dokuments in Ihrer Anwendung
Einer meiner Favoriten und am meisten verwendete! Du bist weg, die in Pages / Keynote / Logic / etc, etc auf einem Dokument. Wenn Sie den Speicherort des Dokuments / der Datei vergessen, wie können Sie mühelos finden? Spotlight ist eine Option. Sie Datei
Auf das Symbol / Name des Dokuments, wie in der oberen Mitte der Tool-Leiste angezeigt Befehlstaste. Ein Dropdown-Menü erscheint und zeigt das Finder-Fenster Hierarchie und in dem das Dokument gerade befindet.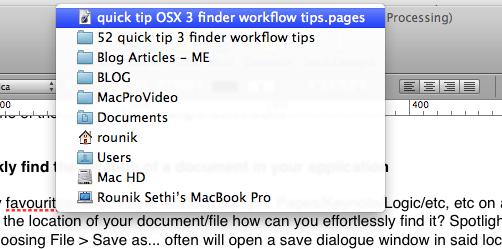 Klicken Sie einfach auf eines der Ordner-Symbole / Namen klicken, um einen neuen Finder-Fenster zeigt den Inhalt des Ordners zu öffnen.
So sind diese drei einfachen und leicht zu Mac Tipps, die ich hoffe, Sie finden nützliche erinnern. Und wenn Sie sie nützlich finden, zögern Sie nicht, um sie zu teilen!