There are lots of little-known tips and tricks for improving your day-to-day Mac OS X workflow. Sure, Spotlight, Spaces, Expose and the Dashboard have a place in the heart of most Mac users but someti
Hay un montón de poco conocido consejos y trucos para mejorar su día a día de Mac OS X de flujo de trabajo. Claro, Spotlight, Spaces, Exposé y Dashboard tienen un lugar en el corazón de la mayoría de los usuarios de Mac, pero a veces es la muerte trucos simples que hacen uso de su Mac sea más agradable y también puede ayudar a aumentar su productividad. Aquí hay 3 consejos muy simples y de flujo de trabajo efectivo para todos los principiantes y los usuarios de Mac aún más avanzada. Sigue leyendo para saber más ...
01 - Minimizar / Restaurar todas las ventanas
Usted ya sabe los dos principales métodos para minimizar una ventana en el Dock:
Double-click on the top area of a window's tool bar / title bar
Command+M
But what if you wish to minimize all open windows of your currently selected application? Easy. Either:
Hold down Option and double-click on the top area of a window's tool bar / title bar or
Use the shortcut: Option+Command+M
... y para restaurar las ventanas minimizadas de la misma aplicación? Opción + clic en una de las ventanas Minimiza en el Dock.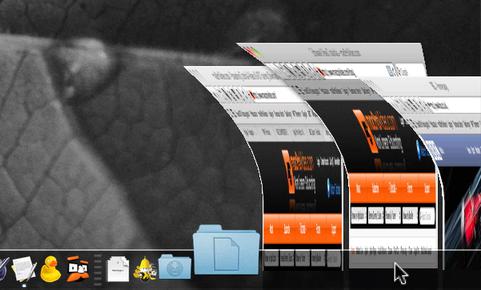 Recuerda que estos trucos funcionan para las ventanas del Finder y otras aplicaciones de Windows para Mac OSX también!
02 - Al mover las ventanas de fondo sin seleccionar los
Incluso los expertos avanzados Exponer encontrado veces al cambiar de ventanas puede ser un lastre (¡literalmente!) Que a menudo necesitan varias ventanas abiertas al mismo tiempo: Safari, Páginas, Finder, etc A veces, sólo tengo que ser capaz de ver algo de información en una ventana de fondo que puede ser oculta a la vista. Por supuesto, la selección haciendo clic en la ventana que da a la parte delantera, que a menudo no es lo que quiero.
There's a simple solution not may Mac users know about: Hold down the Command key and drag the background window from an empty area of it's Title Bar. The background window can be dragged anywhere on the screen without disturbing the surrounding window layout.


Asegúrese de Comando + clic en un área vacía de la herramienta de una ventana de Safari o barra de título. Si hace clic en el nombre del sitio no va a funcionar.
03 - Encuentre rápidamente la ubicación de un documento en la aplicación
Una de mis favoritas y más utilizadas! Que está trabajando en páginas / keynote / Lógica / etc, etc en un documento. Si olvida la ubicación del documento de archivo / ¿cómo se puede fácilmente lo que busca? Spotlight es una opción. Seleccionando Archivo
Comando + clic en el icono / nombre del documento como se muestra en la parte superior central de la barra de herramientas. Un menú desplegable aparecerá mostrando la jerarquía de la ventana del Finder y en el documento se encuentra en la actualidad.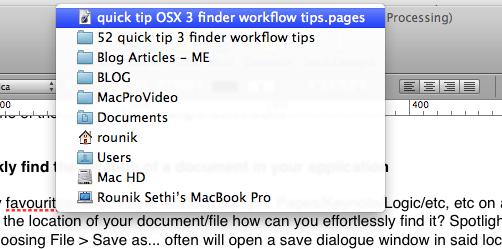 Simplemente haga clic en cualquiera de los iconos de las carpetas / nombres para abrir una nueva ventana del Finder que muestra el contenido de esa carpeta.
Por lo tanto, se trata de tres simple y fácil de recordar consejos Mac que espero que le sea útil. Y si usted encuentra útiles, por favor no dude en compartir!