Lofts have become very chic in the last several years, and with good reason. They look cool, modern, but have a simplicity to them. And we all wish to add some simplicity to our lives, right? Not long
Lofts sind sehr chic in den letzten Jahren, und das mit gutem Grund. Sie sehen cool, modern, haben aber eine Einfachheit zu ihnen. Und wir alle wollen einige Einfachheit, unser Leben zu fügen, nicht wahr? Vor nicht langer Zeit, die ich in einem wirklich, wirklich erstaunlich, Dachboden mit diesem super Feature bewegt, hat es einen zweiten Etage nur über eine Leiter!
Ich verliebte mich in die Leiter und die benutzerdefinierte Metallgeländer alle um ihn herum und zog in die zweite, dass ich es könnte. Aber ich fand bald heraus, dass die Leiter und alle benutzerdefinierten Geländer, das eine vom bewegten ein Bett oder eine große Menge von Möbeln dort oben zu halten waren. Offenbar dachte der Fire Marshall, es wäre eine schlechte Idee.
Also entschied ich mich in mein Büro nach oben gibt. Es war nicht leicht, musste ich eine Rolle, und Rucksack, und alle anderen möglichen seltsamen Apparate zu verwenden, um meine Sachen dort hinauf, und alles war toll.
Das einzige Problem, das ich in an lief war: Ich wollte nicht eine Leiter besteigt, jedes Mal musste ich Zugang zu meinem iMac. Zum Glück habe ich ein Macbook Pro als auch erlaubt diese mir eine Menge Arbeit getan unten aus dem Bett (Yep, Im Living the Dream) zu bekommen, aber ich brauche den Zugang zu beiden Maschinen manchmal, und manchmal sehr schnell! Hier Screen-Sharing ist sehr nützlich.
Zugreifen Screen Sharing
This feature can be accessed by opening up a Finder window shown below: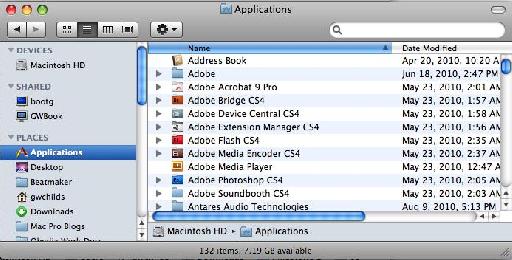 Selecting the computer you wish to share with: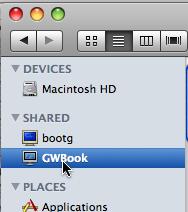 And pressing the Screen Share button.

Remember, you'll need to set up access between the two computers, but once it's done, it's a snap. See System Preferences > Sharing to set this up! Files sharing is really handy too!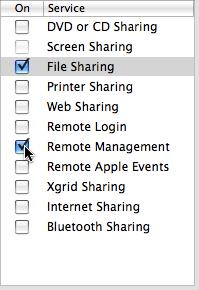 Tipp 1 - Hören Mixes aus einer Entfernung
Meine größte Musik-Maschine ist mein iMac im Obergeschoss, dessen auch bis zu meinem Studio-Monitore angeschlossen. Manchmal, wenn ich Unternehmen und Id wie für sie zu einem neuen Mix zu hören, Ill einfach in meinem Rechner einloggen von unten mit meinem Macbook Pro, und starten Sie Logic von unten, und führen Sie dann die neue Spur. Cool, oder?
Was noch besser ist, dass ich keinen Zugriff auf die QWERTY-Controller in Logic noch, ebenso, so dass ich Marmelade im Erdgeschoss können, und fügen Sie in Ideen aus dem Bett, wenn ich muss.
Tipp 2 - Mit zwei Computer miteinander
Wenn Sie bereits über MIDI-Steuerung und Audio-Eingang bis zwischen den beiden Computern eingerichtet, es ist ziemlich einfach: man umschalten auf den zweiten Computer und zwicken Filter, bringen neue Patches, ändern Trommelschläge, und auch ändern, Step-Sequenzer in Echtzeit während der andere Computer macht einen komplett anderen Job wie ... Starten Sie Ihren kompletten Song!
Auch, wenn youre einer der glücklichen, die eigenen großen Sample-Libraries wie EastWests Symphonic Choirs, die Tonnen von Computer-Ressourcen verwendet. Lassen Sie einfach Ihren zweiten Computer gewidmet der großen Bibliothek, und es von Ihrem Hauptrechner!
Tipp 3 - Engineer ein Mix Remotely
Nicht alle von uns (vor allem Mieter) haben den Luxus, in der Lage, Kabel durch die Wände unserer Wohnstätten für Momente, wo Sie wollen einen Schrank für eine Gesangskabine nutzen zu bohren. Aber durch Screen-Sharing auf einem anderen Computer, können Sie Ihre Lieblings-Audio-Anwendung von einem anderen Raum zu steuern, während ein Sänger in den Schrank-Aufnahmen direkt in dem anderen Computer (was natürlich ist, ein Mikrofon angeschlossen ist). Dies minimiert Hintergrundgeräusche zu minimieren Zimmer Ambiente und fügt Intimität der Aufnahmen. Zugegeben, müssen Sie die Dateien über eine spätere Übertragung von einer Maschine zur anderen, und positionieren Sie die Dateien entsprechend. Aber youre einmal auf diese Art zu arbeiten, erleichtert seine viel, als Sie denken verwendet.