Lofts have become very chic in the last several years, and with good reason. They look cool, modern, but have a simplicity to them. And we all wish to add some simplicity to our lives, right? Not long
Lofts sont devenus très chic dans les dernières années, et avec raison. Ils ont l'air cool, moderne, mais d'une simplicité à eux. Et nous souhaitons tous d'ajouter quelques simplicité à nos vies, non? Il n'ya pas longtemps, j'ai déménagé dans un loft vraiment, vraiment étonnant avec cette seule caractéristique impressionnante, il a un deuxième étage uniquement accessible par une échelle!
Je suis tombé en amour avec l'échelle, et les grilles métalliques sur mesure tout autour de lui, et a déménagé dans la seconde que je pouvais. Toutefois, j'ai vite découvert que l'échelle et de toutes les grilles personnalisées ont été de garder un mouvement à partir d'un lit, ou une grande quantité de meubles là -haut. Apparemment, le chef des pompiers pensé que ce serait une mauvaise idée.
Alors, j'ai décidé de passer mon bureau là -haut. Ce n'était pas facile, j'ai dû utiliser une poulie, et sac à dos, et toutes autres sortes de bidules bizarres pour obtenir mes trucs là -haut, et tout était génial.
Le seul problème que j'ai couru dans d'été: je ne voulais pas monter sur une échelle chaque fois que je besoin d'accéder à mon iMac. Heureusement, j'ai un Macbook Pro, ainsi, cela me permet d'obtenir un grand nombre de travaux réalisés bas du lit (Ouais, Im vivant le rêve), mais je ne doivent avoir accès aux deux machines, parfois, et parfois très rapidement! C'est là que le partage d'écran est très pratique.
Accès Partage d'écran
This feature can be accessed by opening up a Finder window shown below: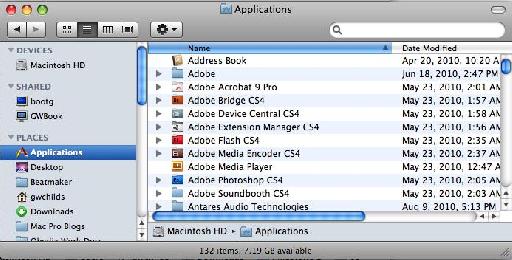 Selecting the computer you wish to share with: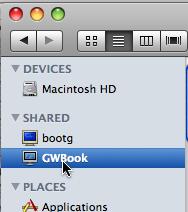 And pressing the Screen Share button.

Remember, you'll need to set up access between the two computers, but once it's done, it's a snap. See System Preferences > Sharing to set this up! Files sharing is really handy too!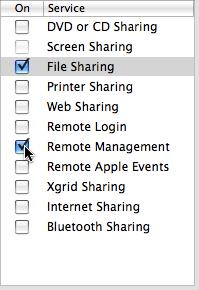 Astuce 1 - Écoute de Mélanges d'une distance
Ma machine principale est la musique de mon iMac à l'étage, c'est aussi relié à mes moniteurs de studio. Parfois, lorsque je avoir de la compagnie et Id comme pour eux d'écouter un nouveau mix, Ill suffit de vous connecter à mon ordinateur d'en bas en utilisant mon Macbook Pro, Logic et de commencer d'en bas, puis exécutez la nouvelle piste. Cool, hein?
Quoi de mieux encore, c'est que j'ai accès au contrôleur QWERTY dans Logic encore, ainsi, je peux donc en bas, de la confiture et ajouter dans les idées de son lit si je dois.
Astuce 2 - Utilisation de deux ordinateurs entre eux
Si vous avez déjà un contrôle MIDI et une entrée audio mis en place entre vos deux ordinateurs, son assez simple d'y faire passer à la deuxième ordinateur et modifier les filtres, mettre en place de nouveaux correctifs, modifier battements de tambour, et aussi modifier les séquenceurs pas à pas en temps réel tandis que l'autre ordinateur fait un travail complètement différent, comme ... Exécution de votre chanson entière!
Aussi, si vous êtes un des chanceux qui propres bibliothèques d'échantillons grand comme Symphonic Choirs EastWests, qui utilise des tonnes de ressources informatiques. Il suffit que votre deuxième ordinateur dédié à la grande bibliothèque, et il le contrôle de votre ordinateur principal!
Astuce 3 - Ingénieur une distance Mix
Pas tous d'entre nous (surtout les locataires) ont le luxe d'être en mesure de percer les câbles à travers les murs de nos lieux d'habitation pour des moments où vous voulez utiliser un placard pour une cabine vocale. Mais, à travers le partage d'écran sur un autre ordinateur, vous pouvez contrôler votre application audio préférée d'une autre pièce, tandis que le chanteur dans le placard des dossiers directement dans l'autre ordinateur (qui, bien sûr, est relié à un microphone). Cela permettrait de minimiser le bruit de fond, de minimiser ambiance de la pièce, et d'ajouter l'intimité aux enregistrements. Certes, vous aurez besoin de transférer les fichiers sur plus tard, d'une machine à l'autre, et la position des fichiers de manière appropriée. Mais, une fois vous êtes habitués à ce mode de travail, son beaucoup plus facile que vous le pensez.