Lofts have become very chic in the last several years, and with good reason. They look cool, modern, but have a simplicity to them. And we all wish to add some simplicity to our lives, right? Not long
Lofts sono diventati molto chic negli ultimi anni, e con buona ragione. Sembrano fresco, moderno, ma hanno una semplicità a loro. E noi tutti vogliamo aggiungere un po 'la semplicità alla nostra vita, giusto? Non molto tempo fa, mi sono trasferito in un loft molto, molto sorprendente, con questa funzione uno impressionante, ha un secondo piano accessibile solo da una scala!
Mi sono innamorato con la scala, e le ringhiere in metallo personalizzati tutto intorno, e si è trasferito nel secondo che potevo. Tuttavia, ho presto scoperto che la scala e tutte le ringhiere sono stati personalizzati per mantenere uno da spostare un letto, o una grande quantità di mobili lassù. A quanto pare, il maresciallo fuoco pensato che sarebbe una cattiva idea.
Così, ho deciso di spostare il mio ufficio lassù. Non è stato facile, ho dovuto usare una carrucola, e zaino, e tutti gli altri tipi di aggeggi strani per ottenere la mia roba lì, e tutto era fantastico.
L'unico problema che ho incontrato per stato: non volevo salire su una scala ogni volta che aveva bisogno di accedere al mio iMac. Per fortuna, ho un Macbook Pro e, questo mi permette di ottenere un sacco di lavoro al piano di sotto dal letto (Sì, Im vivendo il sogno), ma ho bisogno di accedere a entrambe le macchine a volte, ea volte molto velocemente! Qui è dove la condivisione dello schermo è molto utile.
Accesso alla condivisione dello schermo
This feature can be accessed by opening up a Finder window shown below: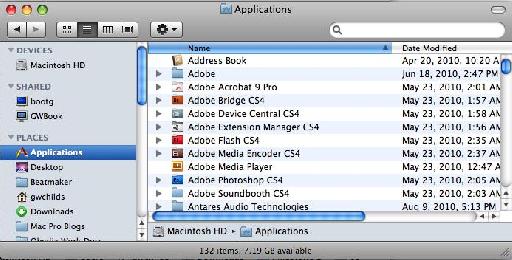 Selecting the computer you wish to share with: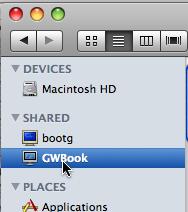 And pressing the Screen Share button.

Remember, you'll need to set up access between the two computers, but once it's done, it's a snap. See System Preferences > Sharing to set this up! Files sharing is really handy too!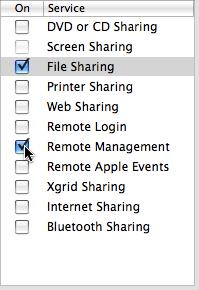 Suggerimento 1 - Ascoltare Mix da una distanza
La mia macchina principale è la musica il mio iMac al piano di sopra, la sua anche collegato al mio monitor da studio. A volte, quando ho compagnia e Id come per loro di ascoltare un nuovo mix, Ill è sufficiente accedere al mio computer dal piano di sotto usando il mio MacBook Pro, Logic e iniziare dal piano di sotto, e quindi eseguire la nuova pista. Bello, no?
Che cosa ancora migliore è che io ho accesso al controller di QWERTY in Logic ancora, così, così posso aggiungere al piano di sotto marmellata e di idee da letto, se ne ho bisogno.
Suggerimento 2 - Utilizzo di due computer
Se hai già il controllo MIDI e l'ingresso audio istituito tra due computer, è del tutto semplice per passare poco più per il secondo computer e modificare i filtri, aprire nuove patch, modificare percussioni dei tamburi, e anche modificare step sequencer in tempo reale mentre l'altro computer sta facendo un lavoro completamente diverso, come ... In esecuzione la vostra canzone intera!
Inoltre, se youre uno dei fortunati che possiedono librerie di campioni di grandi dimensioni come EastWests Cori Sinfonica, che utilizza le tonnellate di risorse del computer. Basta avere il vostro secondo computer dedicato al grande biblioteca, e controllare dal vostro computer principale!
Suggerimento 3 - Ingegnere un mix remoto
Non tutti noi (soprattutto affittuari) hanno il lusso di essere in grado di perforare i cavi attraverso i muri delle nostre abitazioni per i momenti in cui si desidera utilizzare un armadio per uno stand vocale. Ma, attraverso la condivisione dello schermo su un altro computer, è possibile controllare la vostra applicazione preferita audio da un'altra stanza, mentre un cantante nell'armadio registra direttamente al computer di altri (che, naturalmente, è collegato ad un microfono). Questo ridurrà al minimo il rumore di fondo, ridurre al minimo riverbero ambiente e aggiungere intimità per le registrazioni. Certo, sarà necessario trasferire i file su più tardi, da una macchina all'altra, e posizionare il file in modo appropriato. Ma, una volta youre abituati a questo modo di lavorare, la sua molto più facile di quanto si pensi.