Lofts have become very chic in the last several years, and with good reason. They look cool, modern, but have a simplicity to them. And we all wish to add some simplicity to our lives, right? Not long
Lofts은 지난 몇 ë…" 동안, ê·¸ë¦¬ê³  좋은 ì´ìœ ë¥¼ 매우 ì"¸ë ¨ë˜ì—ˆë‹¤. 그들은 현대 근사하지만, 그들에게 단순이 있습니다. ê·¸ë¦¬ê³  우리는 괜찮아요, 우리의 삶에 ì–´ë–¤ 단순를 ì¶"ê°€í•˜ë ¤ë©´? 얼마 ì ", 내가이 멋진 기능을 ì •ë§, ì •ë§ 놀라운 다락방에 이동, 그것은 사다리에 의해서만 ì•¡ì"¸ìŠ¤í•  수 층에있다!
나는 사다리와 사랑에 ë¹ ì¡Œë‹¤ê³ , ê·¸ë¦¬ê³  사용자 ì •ì˜ 금속 난간 모두 주위, ê·¸ë¦¬ê³  ì œê°€ ê·¸ 두번째 이사. 그러나, 나는 곧 사다리 및 사용자 ì •ì˜ 난간 모ë"  침대, 또는 거기에 가구의 대량 이동에서 하나를 ìœ ì§€í•˜ëŠ" 것을 알아 냈어. 분명히, 화재 마샬은 좋은 생각이 ë  거라 생각 했어요.
그래서, 거기에 사무실을 이동 ì" 출. 그것은 쉬운 일이 ì•"ë‹ˆë¼ê³ , 거기 ë'´ 물건 ì •ë¦¬ë¥¼ 다 얻을 수있는 도르래, ê·¸ë¦¬ê³  ë°°ë'­, ê·¸ë¦¬ê³  이상한 contraptions의 모ë"  다른 종류를 ì'¬ìš©í–ˆê³ , 모ë"  것이 좋았어요.
내가에 흐르는 ìœ ì¼í•œ ë¬¸ì œê°€ 발생했습니다 : ë'´ê°€ 사다리에게 ë'´ 아이맥에 대한 액세스를 필요한 때마다 오르 싶지 않았어. 이 ë'  침대 (예, IM은 꿈을 사는)에서 업무 수행 아래층을 많이 얻을 수뿐만 아니라 다행히, ë'œ 맥북 프로를 ê°€ì§€ê³  있지만 때로는 둘 다 컴퓨터에 대한 액세스가 í•"ìš"í•˜ê³ , 때로는 매우 빨리! 화면 ê³µìœ ëŠ" 매우 ìœ ìš© 곳입니다.
화면 ê³µìœ ë¥¼ 액세스
This feature can be accessed by opening up a Finder window shown below: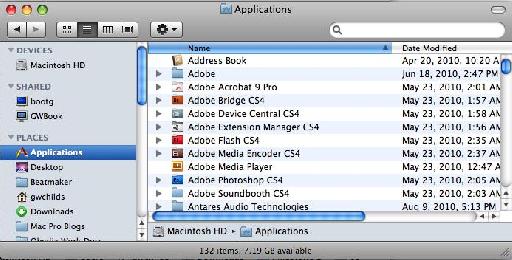 Selecting the computer you wish to share with: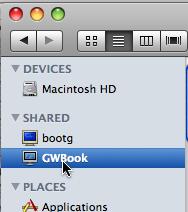 And pressing the Screen Share button.

Remember, you'll need to set up access between the two computers, but once it's done, it's a snap. See System Preferences > Sharing to set this up! Files sharing is really handy too!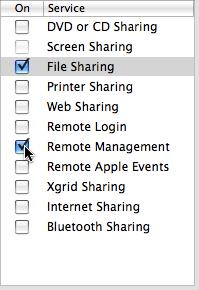 팁 1 - 거리에서 믹스 듣기
ë'´ 메인 음악 기계가 ë'´ 윗층 아이맥, ê·¸ 또한 ë'´ 스튜디오 모니터에 매여있다. 때로는 새로운 혼합을 ë"£ê³  회사 및 그들과 같은 ID를 í•  ë•Œ, 몸이 단순히 아래층 ë'´ 맥북 프로를 사용 ë'´ 컴퓨터에 ë¡œê·¸ì¸í•˜ê³ , 아래층에서 논리를 시작한 다음 새 트랙을 실행합니다. ë©‹ì§€ì£ ?
더 나뿐만 아니라, 그래서 ì œê°€ ìž¼ 아래층 수, ì—¬ì "히 로직의 QWERTY 컨트롤러에 ì•¡ì"¸ìŠ¤í•  수 ìžˆê³  필요하면 침대에서 아이디어를 추가한다는 뜻입니다 ë­ì£ .
팁 2 - 두 컴퓨터를 사용
ë‹¹ì‹ ì€ 이미 컴퓨터의 양쪽 사이에 ì"¤ì • MIDI 컨트롤과 오디오 ìž…ë ¥ì´ìžˆë‹¤ë©´, ê·¸ ê·¸ì € 두 번째 컴퓨터로 ì "í™˜í•˜ê³ , 필터를 ì¡°ì •í•  새로운 패치를 ê°€ì§€ê³ , 드럼 비트를 ìˆ˜ì •, 또한 실시간으로 단계 sequencers를 ìˆ˜ì •í•˜ëŠ" 것은 매우 간단합니다 다른 컴퓨터와 같은 ì™"ì "히 다른 일을하는 동안 ... ì "ì²´ 노래를 실행!
또한, 행운 중 하나를 개봉된 경우 사람의 컴퓨터 자원의 톤을 사용 EastWests 교향곡의 성가대와 같은 ìžì‹ ì˜ 큰 샘플 라이브러리. 단순히 큰 도서관에 í—Œì‹ í•˜ì—¬ 두 번째 컴퓨터를 ê°€ì§€ê³  ìžˆê³ , 메인 컴퓨터에서 그것을 ì œì–´!
팁 3 - 원격 엔지니어 믹스
우리 모두 (특히 임대인)는 보컬 부스에 옷장을 ì'¬ìš©í•˜ë ¤ëŠ" 순간 우리의 주거 장소의 벽을 통해 케이블을 드릴 수있게되는 사치를 누릴 수 없습니다. 옷장에 가수가 다른 컴퓨터 (어떤은 ë¬¼ë¡ , 마이크에 ì—°ê²°)에 직ì ' 기록하면서 그러나, 다른 컴퓨터에서 화면 ê³µìœ ë¥¼ 통해, ë‹¹ì‹ ì€ 다른 방에에서 좋아하는 오디오 응용 프로그램을 ì œì–´í•  수 있습니다. 이것은 ë°°ê²½ 잡음을 최소화 객실 분위기를 최소í™"í•˜ê³ , 녹음에 친밀감을 추가합니다. 허락 í•˜ì‹ ë‹¤ë©´, 다른 í•œ 컴퓨터에서 나중을 통해 파일을 ì "ì†¡í•´ì•¼í•˜ê³ , ì ì ˆí•˜ê²Œ 파일을 위치합니다. 그러나, 일단 ë‹¹ì‹ ì´ 생각하는 것보다 ìž'ì—…, ê·¸ 훨씬 더 쉽게이 방법에 사용 개봉된.