Lofts have become very chic in the last several years, and with good reason. They look cool, modern, but have a simplicity to them. And we all wish to add some simplicity to our lives, right? Not long
Lofts tornaram-se muito chic no último diversos anos, e com razão. Olham cool, moderno, mas tem uma simplicidade a eles. E todos nós desejamos acrescentar algumas simplicidade para nossas vidas, certo? Não muito tempo atrás, eu me mudei para um loft realmente, realmente incrível, com este recurso uma incrível, ele tem um segundo andar somente acessível por uma escada!
Eu caí no amor com a escada, e os trilhos de metal personalizado ao redor dela, e se mudou no segundo que eu poderia. No entanto, eu logo descobri que a escada e todos os trilhos foram personalizadas para manter um de mover uma cama, ou uma grande quantidade de móveis lá em cima. Aparentemente, o marshall de fogo pensei que seria uma má idéia.
Então, eu eleitos para mover o meu escritório lá em cima. Não foi fácil, eu tive que usar uma roldana, e mochila, e todos os outros tipos de engenhocas estranho para buscar as minhas coisas lá em cima, e tudo foi ótimo.
O único problema que eu corri para foi: Eu não queria subir uma escada cada vez que eu precisava de acesso para o meu iMac. Felizmente, eu tenho um Macbook Pro, bem como, isso me permite ter um monte de escadas trabalho feito a partir do leito (Yep, estou vivendo o sonho), mas eu preciso de acesso a ambas as máquinas, às vezes, e às vezes muito rapidamente! Este é o local onde o compartilhamento de tela vem em muito acessível.
Acessando o compartilhamento de tela
This feature can be accessed by opening up a Finder window shown below: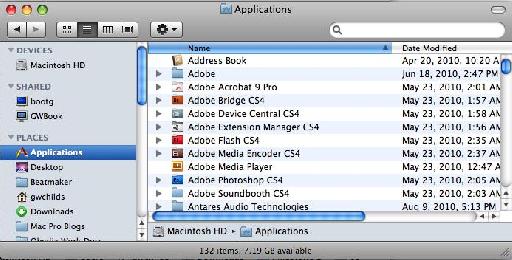 Selecting the computer you wish to share with: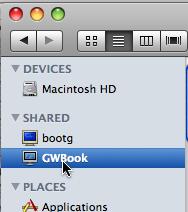 And pressing the Screen Share button.

Remember, you'll need to set up access between the two computers, but once it's done, it's a snap. See System Preferences > Sharing to set this up! Files sharing is really handy too!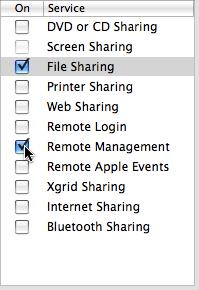 Dica 1 - Ouvir Mixes à Distância
Minha máquina de música principal é o meu iMac no andar de cima, a sua também ligado a monitores de meu estúdio. Às vezes, quando tenho companhia e eu gostaria que eles ouvissem um novo mix, Ill basta fazer login em meu computador do andar de baixo usando o meu Macbook Pro, e começar a Lógica do andar de baixo, e depois executar a nova faixa. Legal, não?
Qual é o melhor mesmo é que eu tenho acesso ao controlador de QWERTY em Logic ainda, assim, para que eu possa andar de baixo jam e adicionar em idéias da cama se eu precisar.
Dica 2 - Usando dois computadores
Se você já tem o controle MIDI e entrada de áudio estabelecido entre ambos os computadores, é bem simples apenas para passar para o segundo computador e ajustar filtros, trazer novos patches, modificar batidas de tambor, e também modificar passo sequenciadores em tempo real enquanto o outro computador está fazendo um trabalho completamente diferente, como ... Executando a sua música inteira!
Além disso, se você for um dos afortunados que possuem bibliotecas de amostra grande como Coros EastWests Sinfônica, que usa de toneladas de recursos do computador. Basta ter o seu segundo computador dedicado à grande biblioteca, e controlá-lo de seu computador principal!
Dica 3 - Engenheiro de uma mistura remotamente
Nem todos nós (especialmente inquilinos) têm o luxo de ser capaz de perfurar os cabos através das paredes dos nossos locais de moradia para momentos em que você deseja usar um armário para uma cabine de voz. Mas, por meio de compartilhamento de tela em outro computador, você pode controlar o seu aplicativo de áudio favoritos de um outro quarto, enquanto um vocalista no armário registros diretamente para o outro computador (que, é claro, é conectado a um microfone). Isso irá minimizar o ruído de fundo, minimizar ambiência, e adicione intimidade para as gravações. Concedido, será necessário transferir os arquivos mais tarde, a partir de uma máquina para outra, ea posição os arquivos de forma adequada. Mas, uma vez que você está acostumado a esse modo de trabalhar, o seu muito mais fácil do que você pensa.