On February 24, 2013, macProVideo.com turns 8! macProVideo.com's Founder & CEO, Martin Sitter, looks back on the year that passed and recalls some highlights of the company's 8th year.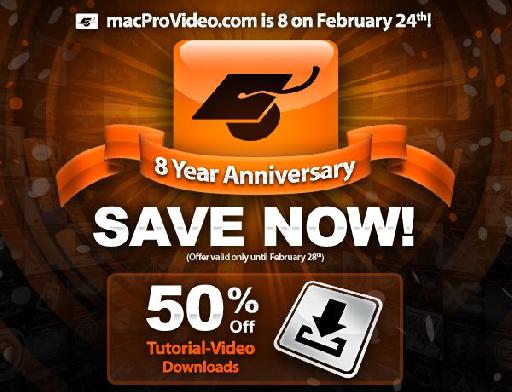 macProVideo.com Turns 8 on February 24th, 2013
On February 24th, macProVideo.com turns 8! To celebrate, we're having a party. Until the end of the month, you can save 50% off the cover price of ALL HD Download tutorials using the coupon code below:
Coupon Code: Save 50% - 13bday50
Year 8 - The Journey Continues
In eastern mythology, the number 8 holds great significance. It is a lucky number, and the sign of great things to come. As macProVideo.com turns 8, it is a pleasure to look back and see how interesting year 8 was for our business.
One important thing to happen last year was our acquisition of AskVideo.com. With AskVideo.com now in the MPV family, we are able to bring dozens of great new titles to our Online Course Library. Of course, all relationships are reciprocal, so we've also provided AskVideo.com's pre-existing member base with access to all MPV titles as well. Your library pass at MPV also works at AskVideo.com, and vice versa, so login to either site to watch our online courses.
macProVideo.com's N.E.D.i iPhone App was one of the first 1,000 apps in the app store. Last year we renamed N.E.D.i to the "macProVideo" App, and it's still an amazing way access our Online Course Library on your iPad or iPhone. Speaking of Apps, we've released hundreds of them ... you can get most or our courses as standalone Apps in the iOS App Store and Mac OS App Store. Last year we also dramatically expanded our App Program, bringing our Apps to the Android Market Place and also the Windows 8 Store & Windows Phone Store.
Magazine & Ninjas
One of our best Apps is the MPVHub Newsstand App. This App provides digital access to our MPVHub Print Magazine. And year 8 was also the first year of the mag! I can certainly say we've had a great time making this magazine, and I think the quality shows - this is the best audio magazine on the market today! We send this magazine to all MPV Library Pass Holders for FREE! But you can also buy your own copy at Guitar Center and most other music stores, for $4.99 per issue.
While I'm on the topic of Apps, we've been focusing hard on creating a catalogue of iOS and Windows development courses, and those courses will be hitting our library soon. At MPV, we don't just teach - we also DO! To gain even more experience in this area than we already have, last year we created a subsidiary video game company called zemaGamez.com! If you want to see what's coming in our iOS Dev courses, check out our first big game: Finger Ninjas: Zombie Strike-Force, which was just released last week.
Revolutionary Web Player
Closer to home, macProVideo.com expanded substantially. We took over the floor below us in our office building, and now inhabit 8,500 square feet of beautiful office space overlooking downtown Vancouver. Our mothership is now home to over 35 employees, and we look forward to continued growth as year 9 passes!
But the single most significant thing to happen over the last year was the massive leap forward in the technology that powers our Online Course Library. In order to provide the best learning experience on the web today, we made extensive improvements to our WebPlayer and it's underlying technology. In the last year we brought HD Video, Continuous Playback, HyperLearn, Favourites & Notes, Achievements & MPV Points, and a dramatically improved design to our online learning environment. At MPV, we don't just pop a Flash player like everyone else in the industry ... we've put a huge amount of time & effort into making our player simply the best anywhere. The result is, you will learn faster, and retain information better when you use MPV.
Looking Forward
So that was the year that passed ... as I look back on year 8, it seems incredible to think that we actually accomplished everything that we did. In my eyes, the last year was one of setting new foundations for solid future growth. We have the best trainers in the industry, coupled with the best online learning system available, and the result is you will get more of the excellent creative computer training you've come to expect from MPV!
With all the above in mind, let me finally thank YOU, our valued MPV members! Without you, we couldn't do what we do. At MPV, we love our jobs because we come to work every morning knowing we make a positive difference in the lives of tens of thousands of people each and every day. It's a great feeling ... :)
Thank you sincerely, for your continued support of macProVideo.com!
_______________
Martin Sitter
CEO
macProVideo.com