Whether you are a new or accomplished musician, learning how to work with MIDI is essential. GW Childs explains the basics of MIDI Quantisation and how to tighten by the timing on your recordings.
En mi último artículo sobre MIDI , le puso al corriente de lo que es MIDI, no es y cómo le puede beneficiar. En este artículo de seguimiento, identificación, como para mostrar una característica en la mayoría de todos los DAW, pero sobre todo Garageband, que puede hacer su vida MIDI mucho, mucho mejor.
Esta característica particular, como el título anterior regala, se conoce como cuantificación. Y, si usted está recibiendo en la producción de música en un ordenador ... Que realmente necesita saber acerca de ella.
[Ed-Para obtener un tutorial muy en profundidad, informativos y de entretenimiento en MIDI, puedes ver los MIDI 101 - MIDI vídeo Demystified Tutorial .]
Como ya he mencionado en el artículo anterior, cuando Garageband, o cualquier otro registro DAW que tocar un instrumento MIDI, no te la grabación en el sentido clásico. Su única grabación de la pulsación de teclas, no el sonido de los instrumentos MIDI sí mismo. También mencionó que esto es increíblemente genial, porque youre capaz de volver atrás y editar el calendario, ubicación, clave, etc de las notas particulares youve jugado.
Esto puede llegar a ser extremadamente aburrida sin embargo. Piense en esto: Un par de medidas por valor de notas puede agregar hasta algún lugar entre 16-32 notas, y eso es si usted es un jugador muy básico. ¿De verdad quieres volver atrás y tener que corregir todos los youve pequeña nota jugado? Bueno, algunos lo hacen. Aquellos que tienden a ser los tipos que quieren el control total en todos los aspectos de la producción, o los jugadores que son taaaan bien, que tienen muy pocas ediciones.
El resto de nosotros sólo quieren hacer nuestra canción rápida, y sonar bien, ¿verdad?
Introduzca cuantización! Para cuantificar los medios que en realidad el equipo se mueven notas particulares sobre el valor de la nota más cercana sobre la base de los criterios youve asignado.
Permite explorar cuantificación juntos aquí en Garageband . Tengo esta parte de piano que no es necesariamente malo ... Es sólo un poco picado. Vamos a ver cómo cuantificación rápidamente puede arreglar esto!
[Audio id = "7244"]

Paso 1 - Haga doble clic en su región Grabado
Al grabar MIDI en GarageBand, la parte grabada aparece como una región pequeña de colores con pequeños puntos en medio de ella. Los puntos, por supuesto, representan notas youve jugado.

Al hacer doble clic en una región registró, se abre el Editor de teclado en la parte inferior de la interfaz de GarageBand.

Paso 2 - Activar sincronización Nota cuantización de Piano Roll
Si te fijas bien en las notas que he jugado, aviso youll que se encuentran dentro de una cuadrícula.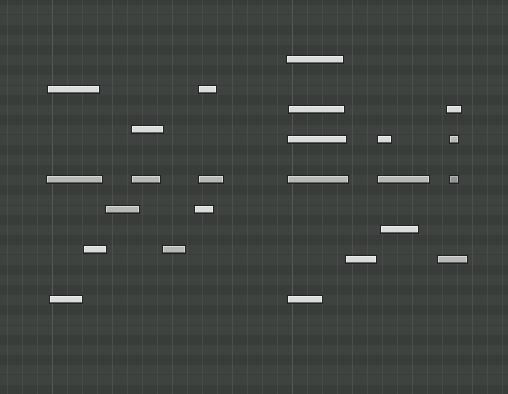 Las líneas de cuadrícula indica el momento adecuado, ya que el equipo lo ve. Las notas, sí, a veces dentro de las líneas de cuadrícula, a veces no. Este es mi tiempo. Cuando se reproduce la parte grabada con mi tiempo, que puede sonar bien a veces ... y muy mal a veces. Si yo uso el ratón para mover a las notas que no están alineados en la parrilla, esto arreglar mi tiempo. Aunque, como he mencionado antes, tener que mover cada nota a su lugar apropiado en el tiempo puede ser un ejercicio de paciencia.
Heres donde se pone divertido ... A su vez en 'Tiempo de cuantización Nota "en el rincón izquierdo de la pianola. Observe cómo todas mis notas son exactamente en las líneas de cuadrícula ahora ... Cool, ¿eh? Le permite escuchar su pronunciación también!

[Audio id = "7241"]
He puesto mi tiempo a la nota 1/8o, porque estoy jugando en realidad en las notas de octava. Sé que esto ... Pero, si usted no está seguro acerca de su tiempo, acaba de elegir algunos ajustes y ver lo que funciona. Los ajustes más comunes son 8 y 16. Estos son buenos lugares de partida, pero yo siempre recomiendo experimentar. Cuantificación, incluso puede darle nuevas ideas!
Conclusión
Ahora, usted puede notar que suena un poco demasiado fuerte, en algunos casos. Aquí es donde la cuantificación puede tomar un poco de la humanidad de su música. En el siguiente tutorial, voy a hablar con usted acerca de la humanización equipo MIDI grabada. Nos vemos allí!
Hay mucho más para MIDI que la mayoría de nosotros pensamos. Tome un entretenido viaje al mundo de MIDI con Logic experto, maestro MIDI y compositor exitoso, Peter Schwartz en MIDI 101 - MIDI Demystified .