Whether you are a new or accomplished musician, learning how to work with MIDI is essential. GW Childs explains the basics of MIDI Quantisation and how to tighten by the timing on your recordings.
Dans mon dernier article sur le MIDI , je vous remplis en ce qui MIDI est, n'est pas et comment il peut vous être utile. Dans cet article, suivi, identification aiment vous montrer une caractéristique dans la plupart de chaque logiciel DAW, mais surtout de Garageband, qui peut rendre votre vie MIDI beaucoup, beaucoup mieux.
Cette caractéristique particulière, comme le titre ci-dessus donne l'écart, est connue comme la quantification. Et, si vous êtes à la production de faire de la musique sur un ordinateur ... Vous avez vraiment besoin de savoir à ce sujet.
[Ed-Pour un tutoriel vraiment en profondeur, informative et divertissante sur le MIDI, consultez les 101 MIDI - MIDI Tutoriel vidéo démystifiée .]
Comme je l'ai mentionné dans le dernier article, quand Garageband, ou tout autre logiciel DAW dossiers que vous jouer d'un instrument MIDI, ce n'est pas vous enregistrer dans le sens classique du terme. Son seul enregistrement de votre clé-presses, et non pas le bruit provenant de l'instrument MIDI lui-même. J'ai aussi mentionné que cela est incroyablement cool, parce que vous êtes en mesure de revenir en arrière et modifier le timing, l'emplacement, clés, etc des notes particulières youve joué.
Cela peut devenir extrêmement fastidieux si. Pensez-y: Un couple de mesures représentant de notes peut ajouter jusqu'à quelque part entre 16 à 32 notes, et c'est si vous êtes un joueur vraiment basique. Voulez-vous vraiment revenir en arrière et avoir à corriger chaque youve petite note jouée? Eh bien, certains le font. Ceux tendance à être soit des types qui veulent un contrôle total dans tous les aspects de la production, ou les joueurs qui sont juste tellement belle, qu'elles ont très peu de modifications.
Le reste d'entre nous veulent juste pour obtenir notre chanson fait rapidement, et sonnant bien, non?
Entrez la quantification! Pour quantifier les moyens d'avoir l'ordinateur de déplacer des notes plus particulièrement à la valeur de note la plus proche sur la base des critères youve assigné.
Permet d'explorer la quantification réunis ici à Garageband . J'ai cette partie de piano qui n'est pas forcément mauvais ... C'est juste un peu agitée. Voyons comment la quantification peut rapidement corriger cela!
[Audio id = "7244"]

Étape 1 - double cliquer sur votre région a enregistré
Lorsque vous enregistrez du MIDI dans GarageBand, la partie enregistrée apparaît comme une petite région coloré avec des petits points dans le milieu. Les points, bien sûr, représentent les notes youve joué.

Lorsque vous double-cliquez sur une région enregistrée, vous ouvrez l'éditeur Piano Roll au bas de l'interface de GarageBand.

Étape 2 - Activer timing Quantification de Piano Roll
Si vous regardez attentivement les notes qui Ive a joué, avis youll qu'ils sont à l'intérieur d'une grille.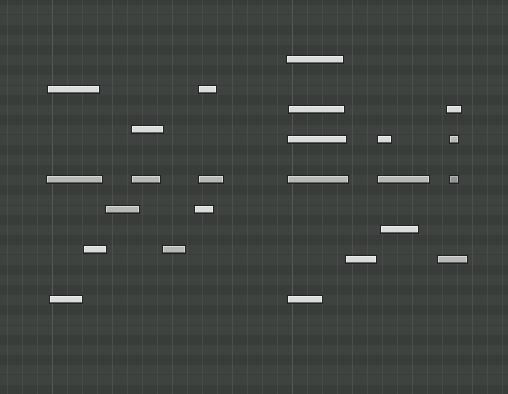 Les lignes de la grille indiquent bon timing, comme l'ordinateur le voit. Les billets, eux, sont parfois à l'intérieur des lignes de grille, parfois non. Ceci est mon timing. Quand vous jouez la partie enregistrée avec mon calendrier, il peut sembler bonne, parfois ... et très mauvais parfois. Si j'utilise ma souris pour se déplacer sur des notes qui ne sont pas alignés sur la grille, ce sera réparer mon timing. Bien que, comme je l'ai mentionné plus tôt, avoir à se déplacer chaque note à sa juste place dans le temps peut être un exercice de patience.
Hères, où ça devient amusant ... Tournez sur la «Quantification Remarque Timing» dans le coin gauche du Piano Roll. Remarquez comment l'ensemble de mes notes sont exactement sur les lignes de grille maintenant ... Cool, hein? Permet l'entendre aussi!

[Audio id = "7241"]
Ive mis mon timing de noter 1/8e, car Im jouer réellement dans les notes 8e. Je sais que cela ... Mais, si vous n'êtes pas sûr au sujet de votre calendrier, il suffit de choisir certains paramètres et de voir ce qui fonctionne. Les paramètres les plus courants sont 8ème et 16ème. Ce sont de bons endroits de départ, mais je recommande toujours à expérimenter. Quantification peut même vous donner des idées nouvelles!
Conclusion
Maintenant, vous remarquerez peut-être que ça sonne un peu trop serré, dans certains cas. C'est là que la quantification peut prendre un peu de l'humanité hors de votre musique. Dans le prochain tutoriel, Im va vous parler de l'humanisation de l'ordinateur MIDI enregistrées. Vous y voir!
Il ya tellement plus à MIDI que la plupart d'entre nous pensent. Faites un voyage divertissant dans le monde du MIDI avec Logic experts, MIDI Maestro et compositeur de succès, Peter Schwartz MIDI 101 - MIDI démystifié .