Whether you are a new or accomplished musician, learning how to work with MIDI is essential. GW Childs explains the basics of MIDI Quantisation and how to tighten by the timing on your recordings.
Em meu último artigo sobre MIDI , enchi-lhe sobre o MIDI é, não é e como pode beneficiá-lo. Neste artigo acompanhamento, eu gostaria de mostrar-lhe um recurso encontrado na maioria dos DAW todos, mas especialmente Garageband, que pode tornar sua vida MIDI muito, muito melhor.
Esta característica particular, como o título acima dá a distância, é conhecido como quantização. E, se você está começando para a produção de música em um computador ... Você realmente precisa saber sobre ele.
[Ed-Para um tutorial realmente em profundidade, informativo e divertido sobre MIDI, confira o MIDI 101 - Vídeo Tutorial MIDI Demystified .]
Como mencionei no último artigo, quando Garageband, ou todos os registros DAW que você tocar um instrumento MIDI, não a sua gravação que no sentido clássico. Sua única gravação de sua chave-pressiona, e não o som que vem do instrumento MIDI em si. Eu também mencionou que este é incrivelmente legal, porque você é capaz de voltar e editar o timing, a colocação, de chaves, etc de notas especial youve jogado.
Isto pode ficar extremamente entediante embora. Pense nisso: Um par de medidas no valor de notas pode adicionar até em algum lugar entre 16-32 notas, e isso se você for um jogador realmente básico. Você realmente quer ir para trás e tem que corrigir todos os youve pequena nota tocada? Bem, alguns fazem. Aqueles tendem a ser os tipos que querem o controle completo em cada aspecto da produção, ou jogadores que são apenas soooo bom, que eles têm muito poucas edições.
O resto de nós só quero pegar a nossa música feito rápido, e com um som bom, certo?
Digite quantização! Quantizar significa realmente ter o computador move notas particular sobre o valor mais próximo nota com base nos critérios youve atribuído.
Permite explorar quantização juntos aqui no Garageband . Eu tenho essa parte de piano que não é necessariamente ruim ... Seu justo um pouco agitado. Vamos ver como quantização pode corrigir isso rapidamente!
[Audio id = "7244"]

Passo 1 - Clique duas vezes a sua Região Gravado
Quando você grava MIDI no Garageband, a parte gravada aparece como uma pequena região colorido com pequenos pontos no meio dela. Os pontos, é claro, representam notas youve jogado.

Quando você clicar duas vezes em uma região gravada, você abrir o editor rolo Piano na parte inferior da interface do Garageband.

Etapa 2 - Ativar Tempo Nota Quantize no Piano Roll
Se você olhar atentamente para as notas que Ive jogado aviso prévio, youll que estão dentro de uma grade.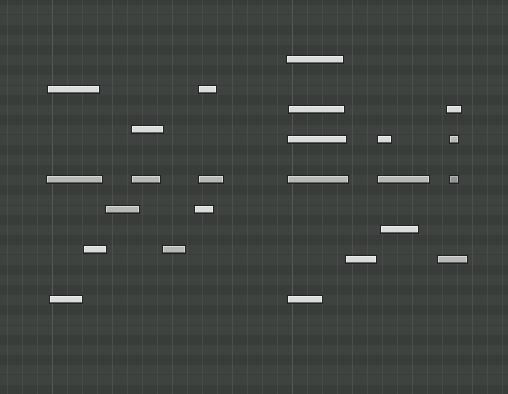 As linhas de grade indicam momento adequado, como o computador vê-lo. As notas, eles próprios, são por vezes dentro das linhas de grade, às vezes não. Este é o meu tempo. Quando você reproduzir a parte gravada com o meu momento, pode soar bem, às vezes ... e muito ruim às vezes. Se eu usar o meu mouse para mover mais de notas que não estão alinhados na grade, isso vai corrigir o meu timing. Embora, como já referi anteriormente, ter que se deslocar todas as notas para o seu devido lugar no tempo pode ser um exercício de paciência.
Heres onde fica divertido ... Ligue "Quantize Nota Tempo 'mais no canto esquerdo do piano roll. Note como todas as minhas notas são exatamente sobre as linhas de grade agora ... Legal, hein? Permite ouvi-lo também!

[Audio id = "7241"]
Ive definir o meu tempo a nota 1/8th, porque Im realmente jogar em notas 8. Eu sei que isto ... Mas, se você não está certo sobre o seu calendário, basta escolher algumas configurações e ver o que funciona. As configurações mais comuns são 8 e 16. Estes são bons lugares de partida, mas eu sempre recomendo experimentar. Quantização pode mesmo dar-lhe novas idéias!
Conclusão
Agora, você pode perceber que isso soa um pouco apertado, em alguns casos. Este é o lugar onde quantização pode tirar um pouco da humanidade da sua música. No próximo tutorial, Im indo falar com você sobre humanização do computador registrou MIDI. Vemo-nos lá!
Há muito mais para MIDI que a maioria de nós pensam. Faça uma viagem divertida ao mundo de MIDI com Logic perito, maestro e compositor de sucesso MIDI, Peter Schwartz no MIDI 101 - MIDI Demystified .