When it comes to mixing your musical creations, there's tips and then there's tips... In this article Mike Watkinson shares what he feels are five of the most essential tips you need to know.
Tip 1 - Warm Up, Take Breaks, Ask Others
Mixing is a bit like training for sport. You need to warm up, you need to take frequent breaks for refreshment, you need the input of others to make faster progress.
So warm up by playing a couple of tracks that you know really well to balance your readers to the system you are mixing on. I might put on a track from Donald Fagen's '˜The Nightfly' (produced by Gary Katz). If I can get close to the balance on that record it will be a good day's work! I might follow this by listening to something more in the style of the music I'm mixing. If the commercial track sounds bass heavy then my mix properly should be as well'¦
Take breaks - not only for your back and to avoid RSI but also for your ears! Listening fatigue is real and can result in a complete loss of perspective. And for that reason, ask the opinion of others - experts, relatives, friends... It may hurt to be told that the cello is too loud - but you probably secretly knew that anyway!

Tip 2 - Love Your Bottom End
If you look after the low frequencies in a mix, the rest usually takes care of itself, and the overall sound will be clearer and more energetic. Try these two ideas:
1. Bass drum and bass instrument EQ
If you are boosting low frequencies instruments, for example a kick drum and bass guitar, make sure you boost different frequencies! Maybe the kick drum at 60 Hz and the bass guitar at 90 Hz (there are no hard and fast rules about these numbers), or the other way round, but definitely not the same! You could even try scooping out the frequency in one to make way for the other.
2. Sub Only
If you're running a 2.1 system, try turning off the two nearfield speakers and listening to the sub only. If what you hear is rumbly nonsense, then some work needs to be done! Look out for overuse of bass enhancement plug-ins such as Logic Pro Sub Bass - it might sound instantly gratifying on your puny monitors, but if their frequency response only extends down to 50 Hz, you could be creating a lot of trouble for owners of full-range systems!
Tip 3 - Two Reverbs
Reverb typically applied as an auxiliary send, so that one reverb plug-in serves many channels for many good reasons, but there is a place for insert reverb on certain sounds. Vocals especially can benefit from having a very short intense reverb as an insert to add body, which combines very well with a longer brighter reverb applied as an auxiliary send.
Vocal with no reverb:
Vocal with '˜body' reverb:
Vocal with '˜body' reverb and aux send reverb:
Tip 4 - Compressing the Whole Mix
There are several scenarios in which compresses and/or limiters may be found in the main output channel of the DAW, but not always for the right reason. If you have compressors and/or limiters in the main output channel in order to increase the volume and guard against clipping the main output, then this is actually a mastering process and might be better carried out in a separate project. Try removing these plug-ins and avoiding clipping and maximizing volume by making considered mixed decisions instead. You can always apply mastering style dynamics to the bounced stereo file of your mix in a separate project later on.
You may be using bus compression to '˜glue' a mix together, but again if the mix doesn't work without it, is not likely to be magically made to work by having it there, so always bypass the bus compressor regularly to check how much you're relying on it.

Some genres of music require exaggerated pumping buss compression (bonjour, House music de France!) - in this case you are excused - fire at will!
Pumping bus compression:

Tip 5 - Faders are Faders!
The majority of a fader's travel is from 0 dB downwards, not upwards! For that reason use them to turn things down, not up. So if one track is too quiet, avoid the temptation to turn that track up and aim to turn everything else down instead. With today's systems, you have masses of dynamic range so signal-to-noise ratio shouldn't be an issue, and it's far better to avoid digital clipping at any point in your system.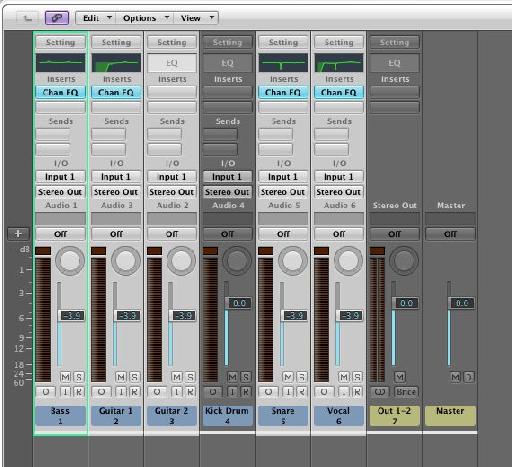 Turn up the kick drum by turning everything else down - make a temporary group of all channels except the one you want to leave as is.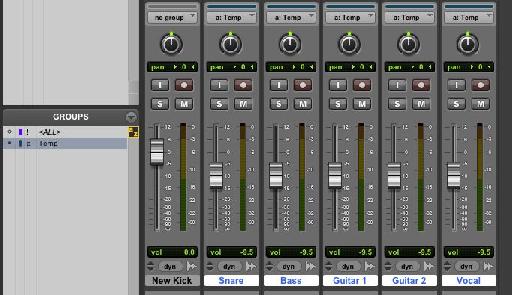 To move a bunch of faders together in Pro Tools you need to create a group - just select tracks and hit Command-G. To move a bunch of faders together in Pro Tools you need to create a group - just select tracks and hit Command-G.
Alternatively, select clips in the Edit Window, then hold down Shift-Control and slide up on your Magic Mouse to lower the clip gain of selected clips.