How do you get elements in your mix to gel when they clash? Before you ditch the parts read and listen to the examples in this tutorial by Mo Volans as he uses auto-panning to solve this problem.
En algunas mezclas puede que te encuentres en una situación en la que desea (o necesita) para utilizar dos sonidos que son muy similares en tipo y frecuencia. Por ejemplo, yo tengo dos partes de percusión que Id gusta mezclar juntos aquí que chocan ligeramente.
Este tutorial mostrará un posible método para desarrollar el espacio entre estas piezas usando nada más que los datos de la sartén. Esto se aleja del EQ tradicional y tratamientos basados ​​en dinámicas que normalmente se utilizan aquí y te da una alternativa sólida y creativa.
Los dos bucles de problemas
A pesar de estos lazos no viven exactamente de la misma gama de frecuencias, que son bastante similares en tono al choque bastante fuerte cuando se mezclan. Los elementos individuales en cada bucle se enmascaran en cierta medida, e incluso pensaban que la combinación no es desagradable que sería bueno crear un cierto grado de separación aquí.
El primer bucle de forma aislada:
[Audio id = "15757"]
... Y el segundo bucle:
[Audio id = "15758"]

Vamos a crear un contraste entre estos bucles usando simples de datos basados ​​en la cacerola de automatización. Bueno, a ver cómo se hace esto en el siguiente paso. Usted puede tratar de esto con su propia combinación de bucles o incluso dos grupos de partes de batería.
Los dos bucles mixto es un poco confuso:
[Audio id = "15759"]

Programación Los datos Pan
Para conseguir los dos bucles se mueven a través del campo estéreo sólo tiene que utilizar sus datos de automatización pan DAWs. Puede grabar esto en forma manual, si lo prefiere un ambiente más humano o dibujarlo a mano como lo he hecho aquí.
Las medidas en las que se utilizan los datos de la cacerola aquí son totalmente de usted, pero tratan de programar sus movimientos de izquierda a derecha de manera regular. Usted puede ver mi patrón en la pantalla de abajo. Una vez que haya programado algunas barras puede simplemente copiar los datos para abarcar todo el ciclo.
Ahora programar la información exactamente lo contrario en el segundo bucle. Usted puede ajustar la intensidad de cada lado en ese momento para que el efecto más o menos amplio. Tiendo a encontrar que el 70-80% funciona bastante bien en la mayoría de los casos.

Los datos de panorama está completo.
Ahora debe encontrar que los lazos se paneo muy bien y de repente tienen una buena cantidad de separación. El efecto es bastante trippy en la naturaleza y puede meterse con la cabeza un poco. Esto es parte de la razón por la que me gusta usar, pero en última instancia, es sólo una gran manera de crear un espacio valioso en su mezcla.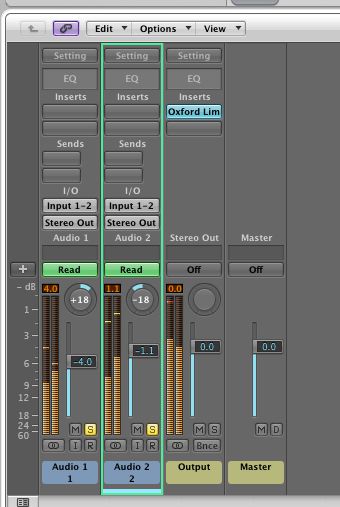 Los datos de panorama en la acción.
Los dos bucles ahora la sartén y tener una mejor separación:
[Audio id = "15760"]

Algunos de procesamiento adicional
Si lo desea, puede añadir un poco de procesado extra a los de los dos bucles, agrupándolos y agregar el mismo efecto a ambos sonidos. Creo que esto añade cierta cohesión a los procedimientos y, a menudo hace que los bucles de sonido un poco más unificado.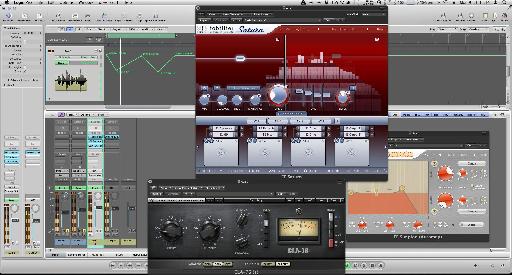 Algunos de procesamiento adicional puede ayudar a unificar los bucles.
Se añade el procesamiento extra:
[Audio id = "15762"]

Para este ejemplo he utilizado un poco de compresión pesada, la saturación y el filtrado de paso bajo. Usted puede tratar de cualquier efecto encadenan te gusta y espero que usted encontrará todo el proceso muy útil en algún momento de sus producciones.