Whenever you need to remove low frequency from a sound, you may reach for your newest equalizer plug-in. This is fine but a simple high pass filter will often suffice. This approach can save time and
كلما كنت في حاجة إلى إزالة التردد المنخفض من الصوت ، قد تصل لأحدث التعادل الخاص في المكونات. هذا على ما يرام ولكن بسيطة تصفية النجاح العالية لن يكون كافيا في أغلب الأحيان. هذا النهج يمكن أن توفر الوقت وحدة المعالجة المركزية. كل شعبة النهوض بالمرأة ، من المنطق أن ابلتون Live لابوك لPro أدوات لديه عالية PAS التصفية.
دعونا ننظر في هذه التقنية بسيطة عظمى.
01 -- اختيار الأصوات التي تريد علاج
هذا هو بسيطة مثل التقاط الأصوات التي تحتاج إلى إزالة نهاية منخفضة. في معظم يمزج فإن عددا كبيرا من العناصر تحتاج ترددات أقل من تصفيتها إلى حد ما. في الواقع ، انه في كثير من الحالات أن الأصوات الوحيدة التي الهروب هذه العملية هي نهاية مخصص انخفاض
02 -- إدراج مرشحات الخاص السامي ممر
الآن ما الذي المكونات في استخدام هنا تختلف تطبيق النموذج إلى التطبيق. وكقاعدة عامة من الإبهام هو ، واستخدام أبسط المعالج المتاحة. هناك نقطة صغيرة في استخدام بارامترية بالكامل ، EQ المرحلة الخطية لعلاج ارتفاع تمرير بسيطة.
محاولة تصفية ما لا يقل عن 100 هرتز من الأصوات التي لم يتم تقديم أي نهاية الفعلية منخفضة إلى المزيج الخاص بك. يمكن تصفيتها تردد أعلى الأصوات العالية حتى مع القيم. يمكنك أن تجرب حتى تصل الى 300 هرتز ، وطالما كنت لا تلوين الصوت أو إزالة أي الترددات المطلوبة كنت على ما يرام.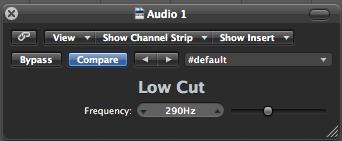 "قطع قليلة" منطق بسيط في المكونات في السوبر
بعض غربان الزرع ميزة مخصصة مرشحات تمرير عالية ، في حين أن الآخرين سوف تشمل المعادلات جردت بانخفاض التي هي مثالية للقيام بهذه المهمة. أدناه هو صورة من ابلتون الحياة.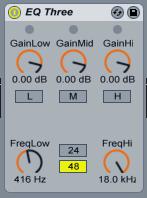 ويعيش 8 جردت أسفل EQ three
03 -- احصل على المزيج الخاص بك!
مع كل ما تبذلونه من الأصوات تصفيتها بما فيه الكفاية ، والتمييز بين العناصر التي لطيفة نهاية المنخفضة والعالية يمكن أن تذهب الآن إلى الأمام ومزيج المشروع الخاص بك. يجب أن تجد عملك مع الأشياء تنظيف كاملة تنزلق إلى مكان أكثر سهولة.
لمعرفة المزيد تحقق من هذه ابلتون الحياة و دروس المنطق .