Whenever you need to remove low frequency from a sound, you may reach for your newest equalizer plug-in. This is fine but a simple high pass filter will often suffice. This approach can save time and
Wenn Sie auf niedrige Frequenz von einer Schallquelle entfernen müssen, können Sie für Ihr neuestes Equalizer-Plug-in zu erreichen. Das ist in Ordnung, aber ein einfaches Hochpassfilter wird oft ausreichen. Dieser Ansatz spart Zeit und CPU. Jeder DAW, von Logic zu Ableton Live, Cubase, um Pro Tools verfügt über eine hohe pas-Filter.
Lassen Sie uns dieses super einfache Technik zu suchen.
01 - Wählen Sie die gewünschten Sounds zu behandeln
Das ist genauso einfach wie das Abnehmen der Töne, die am unteren Ende müssen Entfernen. In den meisten Mischungen eine große Anzahl der Elemente müssen ihre niedrigeren Frequenzen gefiltert zu einem gewissen Grad. In der Tat ist es oft der Fall, dass die einzigen Geräusche, dass dieser Prozess zu entkommen die dedizierte Low-End werden
02 - Legen Sie die Hochpassfilter
Nun, was Plug-in Sie hier bilden je nach Anwendung variieren. Die Faustregel ist, verwenden Sie am einfachsten Prozessor zur Verfügung. Es macht wenig Sinn in der Verwendung eines voll parametrischen, Linear Phase EQ für einen einfachen Hochpass Behandlung.
Versuchen Sie, Filterung von mindestens 100 Hz aus Klängen, die nicht versorgt sind keine eigentlichen Low-End, um Ihren Mix. Höhere Frequenzen können mit noch hohe Werte gefiltert werden. Sie können sogar versuchen werde bis zu 300 Hz, solange Sie sich nicht färbende Ihren Sound oder Entfernen Sie alle erforderlichen Frequenzen sind gut zu gehen.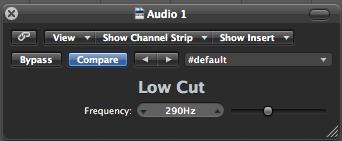 Logic ist super einfach "Low Cut"-Plug-in
Einige DAWs verfügen über eine dedizierte High-Pass Filter, während andere abgespeckte Equalizer, die perfekt für die Aufgabe sind enthalten wird. Unten ist ein Bild von Ableton Live.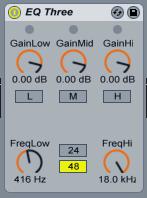 Live 8 ist ab EQ drei beraubt
03 - Holen Sie sich Ihren Mix auf!
Mit all Ihre Sounds ausreichend gefiltert und eine schöne Unterscheidung zwischen Low und High-End-Elementen können Sie jetzt gehen Sie vor und mischen Sie Ihr Projekt. Sie sollten mit Ihrem Reinigung Job abzuschließen Dinge in Platz rutschen viel leichter.
Um mehr zu erfahren sehen Sie sich diese Ableton Live und Logic-Tutorials .