Whenever you need to remove low frequency from a sound, you may reach for your newest equalizer plug-in. This is fine but a simple high pass filter will often suffice. This approach can save time and
Siempre que necesite para eliminar la baja frecuencia de un sonido, puede llegar a su nuevo ecualizador plug-in. Esto está bien, pero un simple filtro de paso alto es suficiente a menudo. Este enfoque puede ahorrar tiempo y CPU. Cada DAW, de la lógica de Ableton Live en Cubase a Pro Tools cuenta con un filtro de alto pas.
Echemos un vistazo a esta técnica super simple.
01 - Elija el sonido que desea tratar
Esto es tan sencillo como recoger los sonidos que hay que eliminar de gama baja. En la mayoría de mezclas de un gran número de los elementos que necesitan que sus frecuencias más bajas se filtra en algún grado. De hecho, es frecuente que los únicos sonidos que escapan a este proceso son el extremo inferior dedicada
02 - Introduzca su filtro de paso alto
¿Y ahora qué plug-in utiliza aquí variará el formulario de solicitud de la aplicación. La regla general es, usar el más simple de procesador disponible. No tiene mucho sentido en el uso de una completamente paramétrico, el ecualizador de fase lineal para un tratamiento de alto paso simple.
Trate de filtrar al menos 100 hz de sonidos que no son el suministro de cualquier extremo inferior real a su mezcla. Mayor frecuencia de los sonidos se pueden filtrar con valores incluso alta. Puede incluso intentar subir a 300 Hz, siempre y cuando usted no está para colorear el sonido o la eliminación de las frecuencias requeridas que son buenos para ir.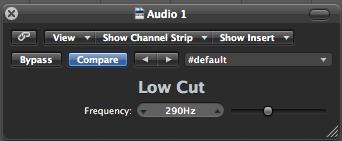 'Corte bajo "super simple lógica del plug-in
Algunas DAWs función dedicada filtros de paso alto, mientras que otros incluyen ecualizadores desmontado que son perfectas para la tarea. A continuación se muestra una imagen de Ableton Live.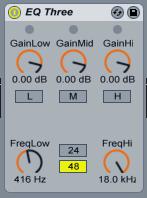 Live 8 es despojado ecualizador de tres
03 - Haga que su mezcla de!
Con todos sus sonidos suficientemente filtrada y un agradable distinción entre los elementos de bajo costo y de alta ahora puede seguir adelante y mezcla de su proyecto. Usted debe encontrar las cosas con su trabajo de limpieza completa de deslizamiento en el lugar con mayor facilidad.
Para obtener más información visite estos Ableton Live y tutoriales lógica .