Whenever you need to remove low frequency from a sound, you may reach for your newest equalizer plug-in. This is fine but a simple high pass filter will often suffice. This approach can save time and
Si vous avez besoin pour retirer de basse fréquence d'un son, vous pouvez rejoindre pour votre plus récent égaliseur plug-in. C'est bien, mais un filtre passe-haut simples suffiront souvent. Cette approche peut économiser du temps et du CPU. Chaque DAW, de la logique à Ableton Live à Cubase à Pro Tools a une haute Pas de filtre.
Regardons cette technique super simple.
01 - Choisissez les sons que vous voulez traiter
C'est aussi simple que la cueillette des sons qui ont besoin de bas de gamme enlever. Dans la plupart des mixages un grand nombre d'éléments auront besoin de leurs fréquences inférieures filtrée dans une certaine mesure. En fait, c'est souvent le cas que les seuls sons qui s'échappent de ce processus sont la fin dédié aux basses
02 - Insérez votre filtres passe-haut
Maintenant, ce plug-in que vous utilisez ici peuvent varier d'application sous forme d'application. La règle générale est, l'utilisation la plus simple processeur disponible. Il ya peu d'intérêt à l'aide d'un paramétrique, l'égaliseur à phase linéaire pour un traitement simple, passe-haut.
Essayez de filtrage d'au moins 100 Hz à partir de sons qui ne sont pas fournir toute fin effective faible à votre mix. Sons de fréquence plus élevée peut être filtré avec des valeurs encore plus élevées. Vous pouvez même essayer d'aller jusqu'à 300 Hz, aussi longtemps que vous n'êtes pas colorant le son ou de retirer toutes les fréquences nécessaires, vous êtes bon pour aller.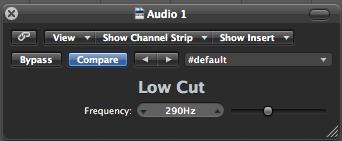 "Coupe-bas" super simple logique plug-in
Certains DAW fonction dédiée filtres passe-haut, tandis que d'autres comprennent des égaliseurs dépouillé qui sont parfaits pour cette tâche. Voici une image d'Ableton Live.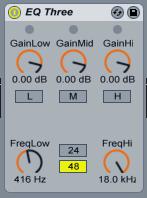 Live 8 a dépouillé EQ trois
03 - Obtenez votre Mix sur!
Avec tous vos sons suffisamment filtré et une distinction faite entre les éléments belle fin de basse et haute, vous pouvez maintenant aller de l'avant et mélanger votre projet. Vous devriez trouver des choses avec votre travail de nettoyage complet de glissement en place beaucoup plus facilement.
Pour en savoir plus consultez les Ableton Live et Logic tutoriels .