Whenever you need to remove low frequency from a sound, you may reach for your newest equalizer plug-in. This is fine but a simple high pass filter will often suffice. This approach can save time and
Ogni volta che è necessario rimuovere bassa frequenza da un suono, si può raggiungere per il vostro nuovo equalizzatore plug-in. Questo va bene, ma un semplice filtro passa-alto, spesso sufficiente. Questo approccio consente di risparmiare tempo e CPU. Ogni DAW, dalla logica di Ableton Live a Cubase a Pro Tools ha un alto pas filtro.
Diamo un'occhiata a questa tecnica super semplice.
01 - Scegli i Suoni si desidera trattare
Questa è semplice come scegliere i suoni che hanno bisogno di fascia bassa rimozione. Nella maggior parte dei mix un enorme numero di elementi dovranno abbassare le loro frequenze filtrate in una certa misura. In realtà , è spesso il caso che gli unici suoni che sfuggono questo processo sono la fine dedicato bassa
02 - Inserire i filtri passa alto
Ora quello che il plug-in si usa qui varierà modulo di domanda per l'applicazione. La regola generale è, usare il più semplice processore disponibile. Ci ha molto senso usare completamente parametrico, EQ lineare di fase per un trattamento semplice passa-alto.
Prova di filtraggio almeno 100 hz da suoni che non forniscono alcun fine effettiva basso al mix. Suoni di frequenza più elevata può essere filtrato con valori anche elevati. Si può anche provare ad andare fino a 300 hz, finché non si è colorare il vostro suono o rimuovere qualsiasi frequenze necessarie vi sono buone per andare.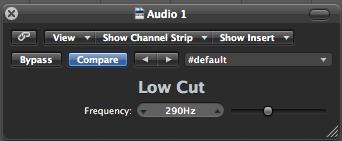 'Taglio basso' super semplice logica di plug-in
Alcuni DAW caratteristica dedicato filtri passa-alto, mentre altri sono equalizzatori ridotta che sono perfetti per l'attività . Di seguito è riportato un quadro di Ableton Live.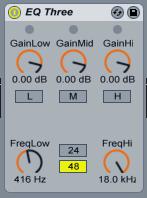 Live 8 è ridotta EQ a tre
03 - i tuoi Mix su!
Con tutti i suoni sufficientemente filtrato e una bella distinzione tra gli elementi di fascia bassa e alta è ora possibile andare avanti e mescolare il vostro progetto. Si dovrebbe trovare con le tue cose lavoro di pulizia completa scivolare in posizione molto più facilmente.
Per saperne di più prova anche questi live Ableton e tutorial Logic .