Whenever you need to remove low frequency from a sound, you may reach for your newest equalizer plug-in. This is fine but a simple high pass filter will often suffice. This approach can save time and
Sempre que você precisar remover baixa freqüência de um som, você pode chegar para o seu mais novo equalizador plug-in. Isso é bom, mas um filtro passa-alta simples, muitas vezes, suficiente. Esta abordagem pode economizar tempo e CPU. Cada DAW, a partir de Logic para Ableton Live para Cubase para o Pro Tools tem uma alta pas filtro.
Vamos olhar para esta técnica super simples.
01 - Escolha os sons que você quer tratar
Isto é tão simples como escolher os sons que necessitam de remoção de gama baixa. Na maioria dos mixes um grande número de elementos terão suas freqüências mais baixas filtrada em algum grau. Na verdade, é frequentemente o caso que os únicos sons que escapam desse processo são o fim dedicada baixo
02 - Insira o seu Filtros High Pass
Agora, o que plug-in que você usa aqui vai variar aplicativo de formulário da aplicação. A regra geral é, use a mais simples processador disponível. Há pouco ponto em usar um totalmente paramétrico, EQ fase linear para um tratamento simples passam alta.
Tente filtragem pelo menos 100 hz de sons que não está fornecendo qualquer fim real baixo para o seu mix. Sons de alta freqüência pode ser filtrado com valores ainda elevado. Você pode até tentar ir até 300 hz, contanto que você não é colorir o seu som ou remover quaisquer frequências necessárias que você é bom para ir.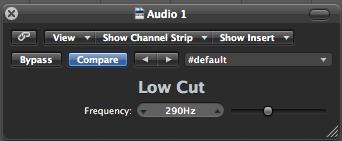 Plug-in 'corte Low' super simples lógica de
Alguns DAWs rubrica dedicada à filtros passa-alta, enquanto outros incluem equalizadores despojado que são perfeitos para a tarefa. Abaixo está uma imagem do Ableton Live.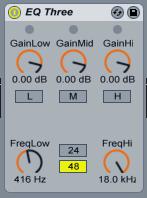 Live 8 é despojado EQ três
03 - Obtenha seu Mix on!
Com todos os seus sons suficientemente filtrado e uma distinção feita entre elementos agradável fim de baixa e alta, agora você pode ir em frente e misturar seu projeto. Você deve encontrar com o seu trabalho completo de limpeza coisas escorregar em lugar muito mais facilmente.
Para saber mais confira essas Ableton Live e tutoriais Logic .